Al-Haq's last three months highlights, and end of the year message!
Al-Haq's last three months highlights, and end of the year message!
Dear Friends and Partners,

As we conclude the year, we want to thank you for your continuous support and solidarity. 2022 witnessed serious, alarming, and aggravated human rights violations in Palestine, and an increased crackdown on the Palestinian human rights movement. Despite all, we have relentlessly continued our work for a better reality; a reality in which human rights are enjoyed, perpetrators are held accountable, and justice is achieved.

In this email, we would like to share with you key moments of our work, and highlight Al-Haq's efforts in the past three months.

We wish you happy holidays and a happy New Year. May 2023 bring us all freedom, justice, and new opportunities.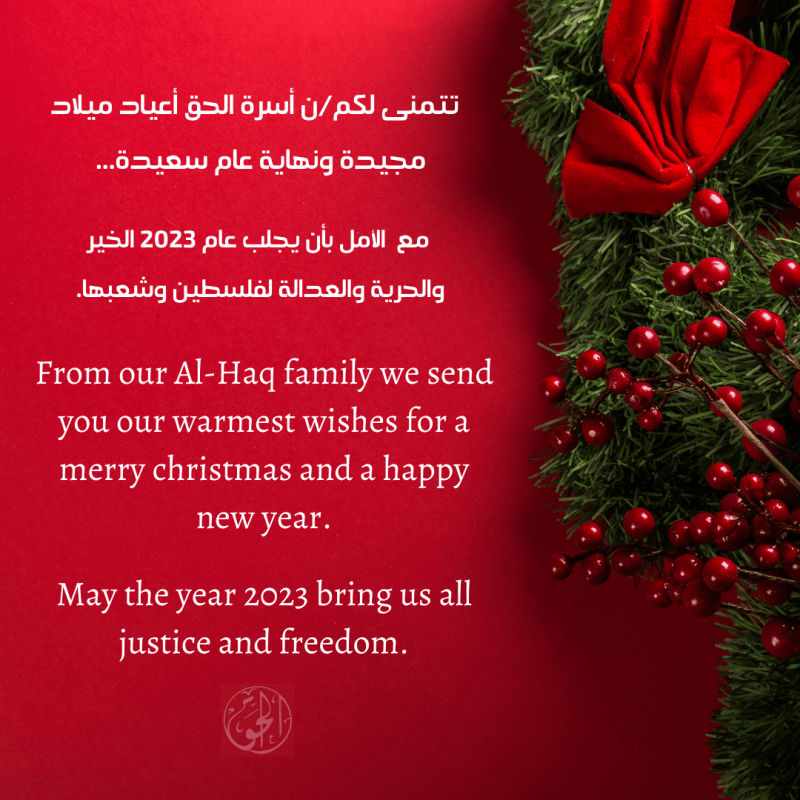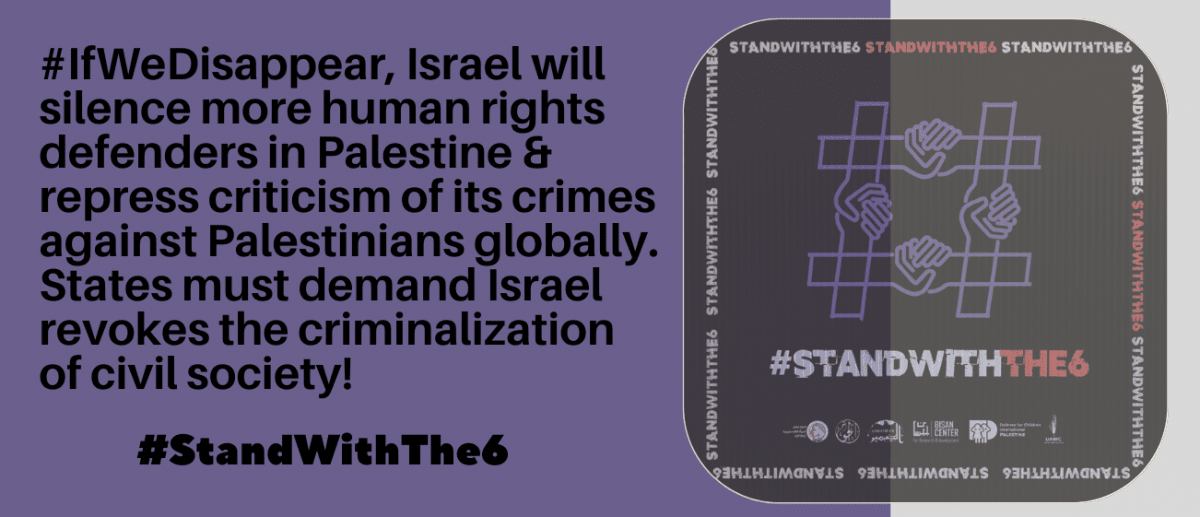 On 19 October 2022, we marked one year since the unlawful designation and criminalization of six prominent Palestinian civil society organizations. Partners and States have only issued statements of condemnations, and the EU instead of pressing Israeli to revoke the criminalization of civil society, it rewarded Israel for its human rights violations by relaunching the EU-Israel Association Council. A step that we see as a sign of serious double standards by Europe in advancing relations with a state that continues to violate human rights of the Palestinian people.
On the one-year 'anniversary', we carried out a social media action titled (#IfWeDisappear), we painted the picture of a world without the civil society - a dystopian outcome of the designations that is a real possibility, if serious political pressure and actions are not taken against Israeli apartheid and its practices. We call upon all our friends, human rights defenders, and states to continue to stand for human rights everywhere.
Congress woman Rashida Talib, writer and lawyer Noura Erakat, artist Molly Crabapple and Dr. Cornel West joined the campaign in support of the targeted Palestinian civil society and human rights organistions.

On 26 October 2022 during the 41st congress sessions of the International Federation for Human Rights (FIDH), member organistions adopted the Apartheid resolution proposed by Al-Haq on Israel's apartheid regime practiced over the Palestinian people. This Congress marked 100 years since the formation of the FIDH. It is composed of 188-member organistions, including Al-Haq, and has representatives from every inhabited continent. At this congress, a colleague from Al-Haq was also elected to be a vice president of the FIDH.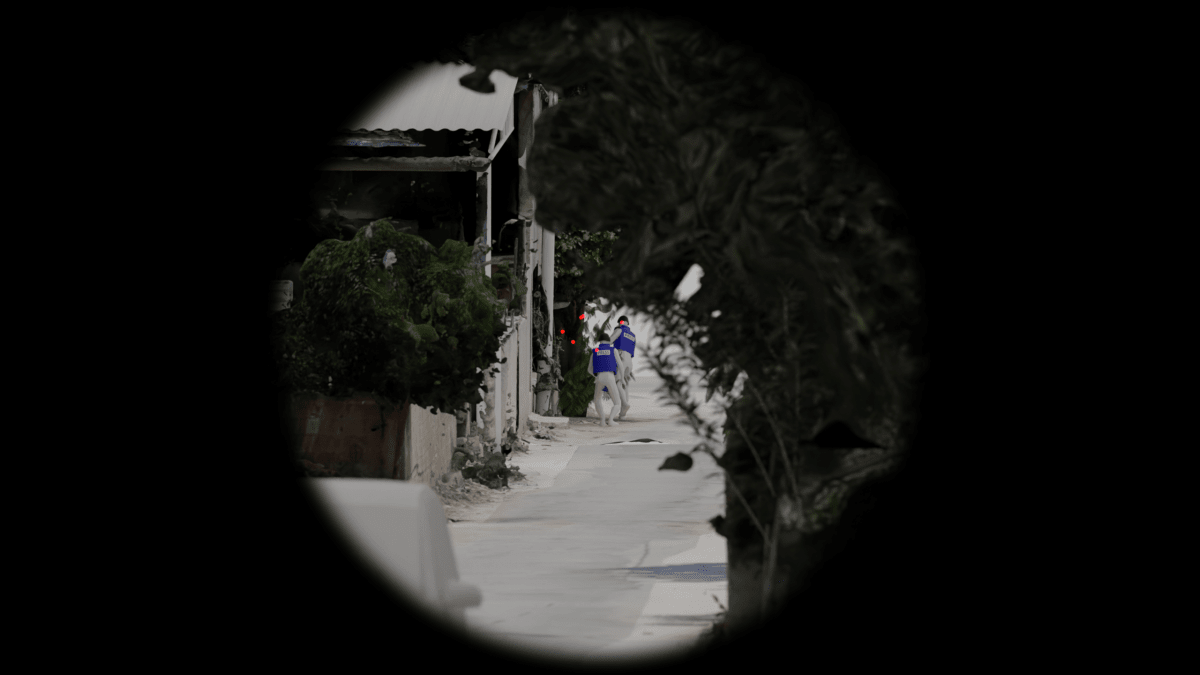 On 3 November 2022, we launched our ground-breaking full investigation carried out in partnership with Forensic Architecture.
Our investigation is the first to employ a precise digital reconstruction of the incident. Using advanced spatial and audio analysis, we tracked the location and movements of the various key actors throughout the unfolding incident—journalists, civilians, and military vehicles. We analysed a previously unseen video recorded by an Al Jazeera cameraperson at the scene, directly obtained other videos taken by witnesses to the incident and gathered other available open-source videos of the events. Altogether we examined, synchronised and geolocated dozens of videos and photographs.
We were given special access to unpublished autopsy documents and examined images of the bullet extracted from Shireen's head. With its distinctive green tip, we identified the bullet as an M855 SS109 5.56 x 45mm armour-piercing bullet, the type of munition common to Israeli Occupying Forces marksmen. See our full investigation here, and read our legal brief here.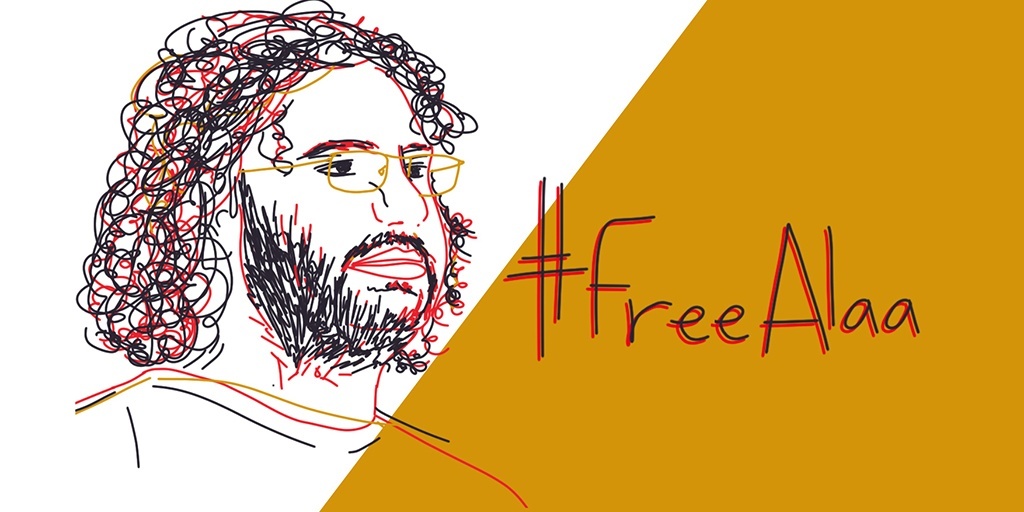 As the United Nations Climate Change Conference (COP27) was launched in Sharm El Sheikh, Egypt on 6 November, we launched a joint statement in support of British-Egyptian human rights defender (HRD) and prisoner of conscious, Alaa Abdel Fattah imprisoned in Egypt. Al-Haq has also discussed what it means to cooperate with Israel for climate and the right of the Palestinian people for self-determination; a cooperation that entrenches colonial climate vulnerability of Palestinian, and we have also highlighted the truth behind Israel's greenwashing delegation.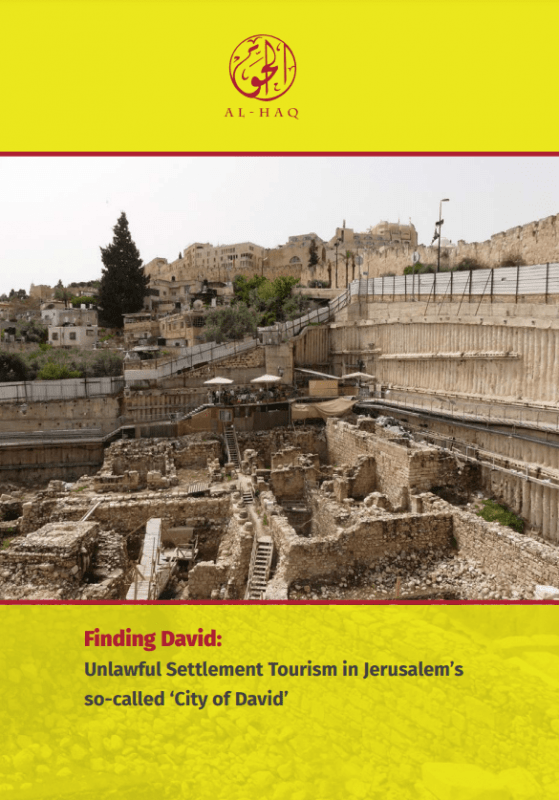 On 16 November 2022, Al-Haq released its report on the 'City of David,' an illegal Israeli settlement and archaeological tourist site located in the Palestinian village of Silwan in annexed Jerusalem. Unlawfully built on appropriated Palestinian land, the fake 'City of David' was created upon the forced evictions of Palestinians and demolition of Palestinian homes. Using bogus archaeology and delegitimate excavations, the 'City of David' advances a false, colonial narrative that the history of the site is mainly, if not only, Jewish, in an attempt to erase the site's ancient Palestinian, Muslim, and other non-Jewish heritage.
The report outlines the many violations of international law the settlement perpetuates and examines how private corporations not only sustain, but profit from the settlements, oppression and erasure of the Palestinian people.
Read the full report here and watch the accompanying animated film titled: Finding David: Bogus Archaeology and the Fake City of David, in Arabic here.

On 16 November 2022, the Association France Palestine Solidarité, Al-Haq, the Confédération générale du travail (CGT), the Fédération commerces et services de la CGT (CGT trade and services federation), the Ligue des droits de l'Homme Human Rights League), the Plateforme des ONG françaises pour la Palestine (French NGO platform for Palestine) and the Union syndicale Solidaires (Trade Union Federation "Solidaires") published a report entitled "Les liaisons dangereuses du groupe Carrefour avec la colonisation israélienne" (The Carrefour group's dangerous links with Israeli colonisation) . In March 2022, the French group Carrefour signed an agreement with the Israeli companies Electra Consumer Products and Yenot Bitan to franchise their retail brands. These companies are direct and indirect actors in the colonisation of Palestine by Israel, a war crime condemned by the UN. Read the full report in French here.
Al-Haq's legal action against CIDI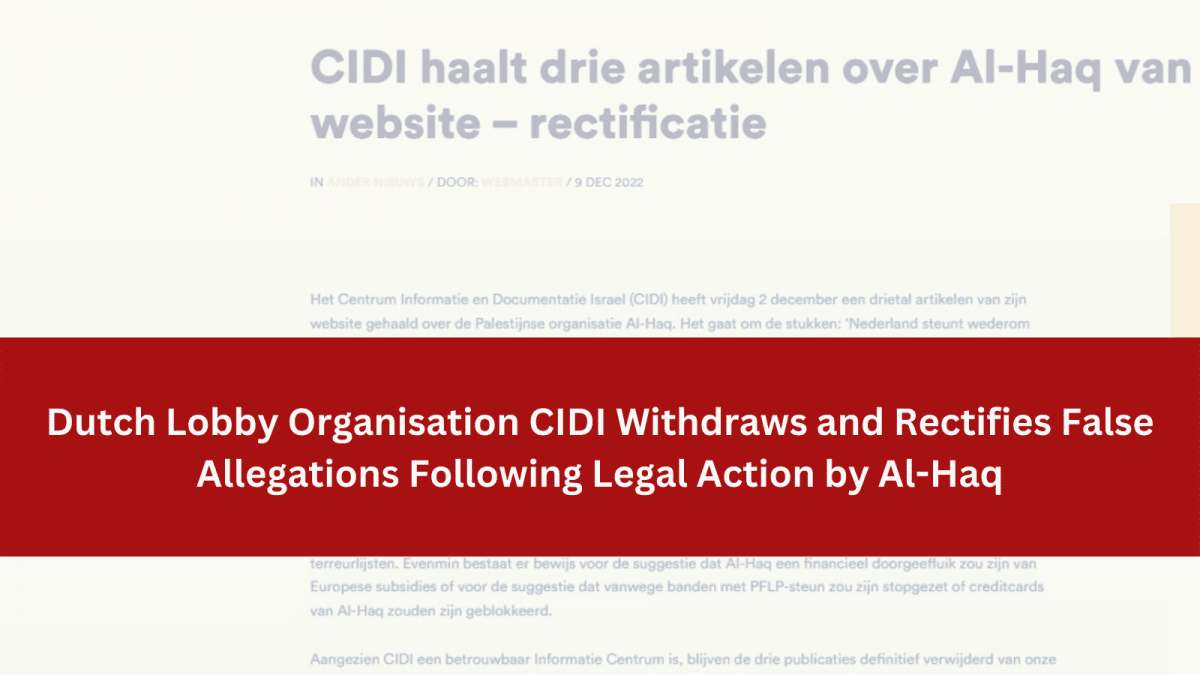 In November, Al-Haq has taken legal action against the Center for Information and Documentation Israel (CIDI), a lobby organisation in the Netherlands. Al-Haq found dozens of articles published by CIDI during the past years, which we perceive as inciting against Palestinian civil society organizations and as delegitimizing their vital work of defending human rights and holding Israel accountable for grave and systematic violations of international law, including war crimes and crimes against humanity.
On 28 November 2022, Al-Haq's lawyer Brechtje Vossenberg, affiliated with the reputable law firm Prakken d'Oliveira Human Rights Lawyers in Amsterdam, delivered a liability notice to CIDI summoning it to withdraw and rectify three articles it had published in May and June 2022, in addition to filing a criminal complaint. These articles were riddled with factual mistakes and false and unsubstantiated allegations harming Al-Haq's reputation and work in defending and promoting the human rights of the Palestinian people.
On 2 December 2022, CIDI removed the three articles from its website and social media accounts. On 9 December 2022, CIDI published a rectification on its website.
For more on this, read this update here.
On the International Day of Solidarity with the Palestinian People, 29 November 2022, General Director of Al-Haq, Shawan Jabarin addressed the UNGA highlighting the human rights situation in Palestine. In his intervention Mr. Jabarin addressed the severity of criminalizing human rights organizations and human rights defenders carried out by Israel. He pointed out that all such efforts by Israel attempt to silence and suppress all resistance to Israel's settler colonial apartheid regime. In his statement he also called on the Prosecutor of the International Criminal Court to expedite the investigation into the Situation of Palestine.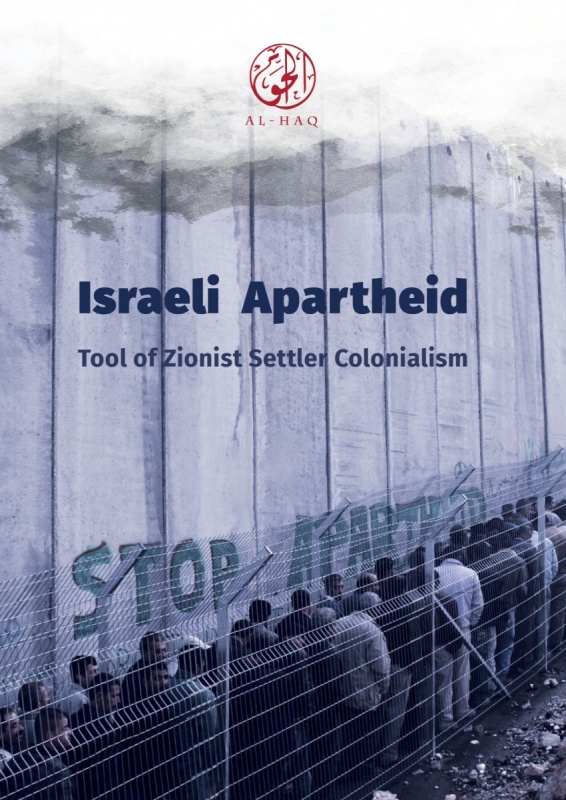 On 29 November 2022, Al-Haq and partners launched the landmark coalition report titled: 'Israeli Apartheid: Tool of Zionist Settler Colonialism'. The report explores Israel's settler colonial and apartheid regime imposed on the Palestinian people, and is a major Palestinian publication to expand the current international discourse on apartheid, and importantly, examines apartheid as a structural element of furthering Zionist settler colonialism on both sides of the Green Line and against the Palestinian people as a whole. Further, the report illustrates the additional need to end Israel's settler colonialism and the fulfilment of the Palestinian right to self-determination. The report adds clear Palestinian voices and analysis to the wider international calls demanding an end to Israel's apartheid regime. In the report, Palestinian civil society demand decolonisation and dismantling of Israel's settler colonialism and apartheid regime, the fulfilment of the inalienable right of the Palestinian people to self-determination, systematically denied since the British mandate, and the right of refugees and exiles in the diaspora to return.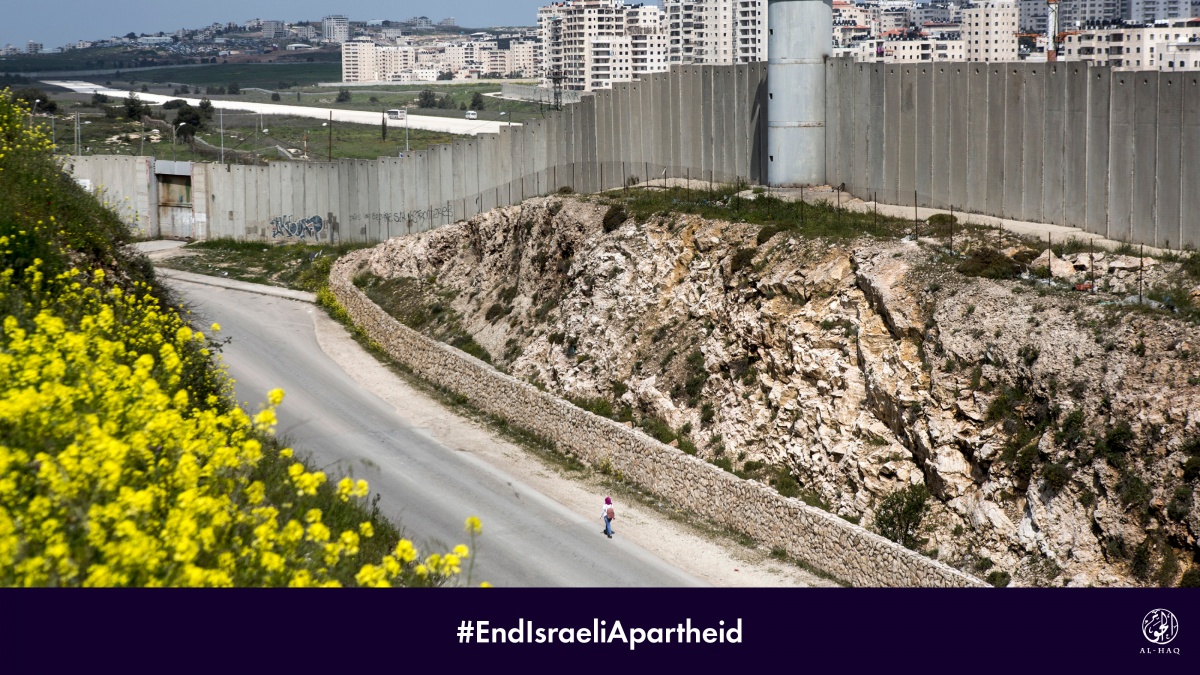 Read our full report here. Endorse this report here.
On 2 December 2022, Al-Haq, Addameer, Al-Haq, Bisan Center for Research and Development, Defense for Children International - Palestine, Union of Palestinian Women's Committees, and the Union of Agricultural Work Committees were awarded the Middle East Studies Association Award for the Academic Freedom 2022 in Denver, Colorado. The six Palestinian civil society and human rights organizations arbitrarily criminalized by Israel in October 2021 received the prestigious Academic Freedom Award 2022 in honor of their decades-long "pursuit of academic freedom, courageous resilience, and contributions to the field of Middle East Studies." The organizations were presented with the award virtually during its 56th annual meeting in Denver, Colorado.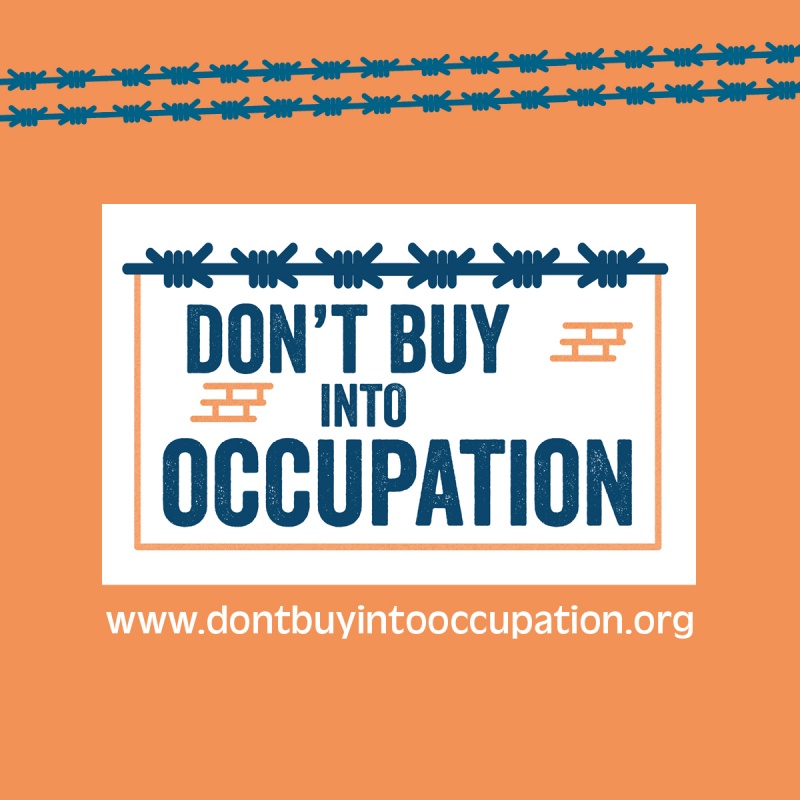 On 5 December 2022, a coalition of 24 European and Palestinian organisations in seven European countries - revealed, for the second year in a row, that hundreds of European financial institutions are heavily invested in companies shoring up illegal Israeli residential, agricultural and industrial settlements in the Occupied Palestinian Territory.
More than 700 European banks, asset managers, insurance companies and pension funds hold stocks and bonds worth USD 115 billion in 50 companies involved in activities that, according to the UN, raise particular human rights concerns. Company activities include settlement construction, service provision, demolition of Palestinian homes and surveillance of Palestinians. European financial institutions are also providing USD 171 billion in lending and underwriting to such companies.
Read the full joint report here.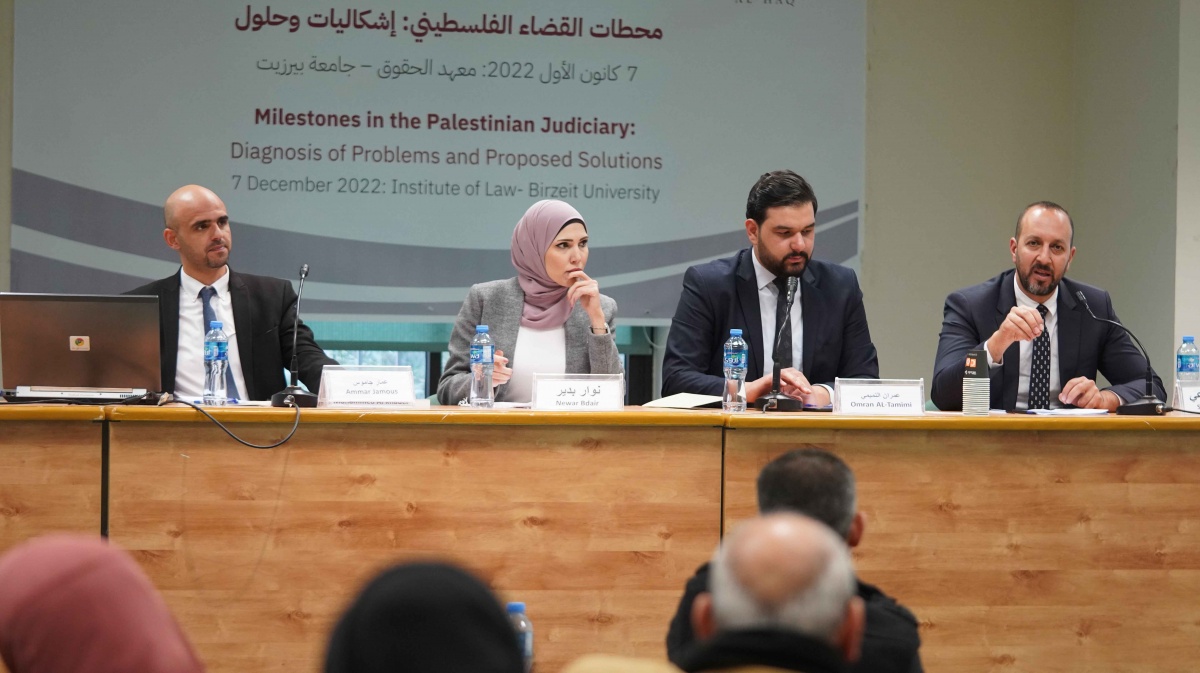 On 7 December 2022, Al-Haq and the Institute of Law at Birzeit University held a conference titled "Milestones in the Palestinian Judiciary: Diagnosis of Problems and Proposed Solutions". During the conference Al-Haq launched its report on the same theme.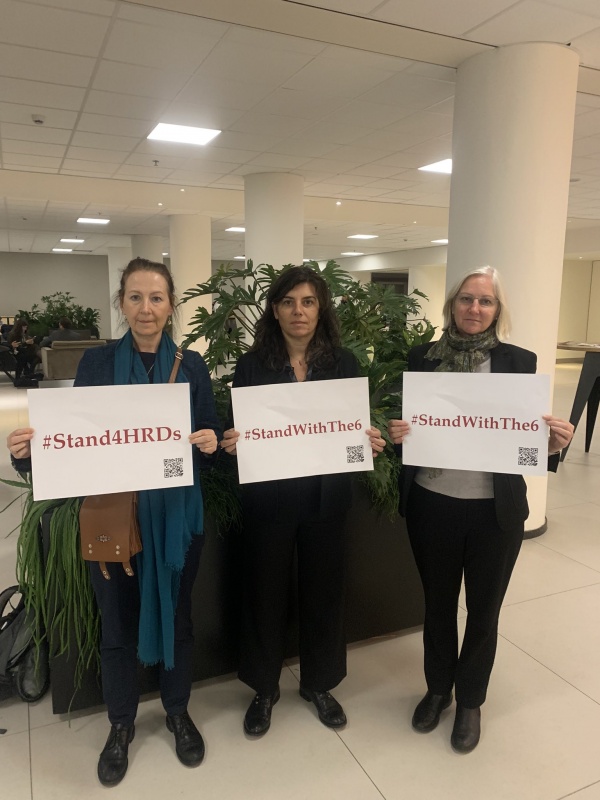 Between 5 to 9 December 2022, Al-Haq attended the twenty-first session of the Assembly of States Parties (ASP) to the Rome Statute of the International Criminal Court (ICC) held at the World Forum Convention Center in the Netherlands. In his speech before the ASP, the ICC Prosecutor Mr Karim Khan declared that one of his objectives next year is to visit the Occupied Palestinian Territory (OPT). Al-Haq welcomes Prosecutor Khan's announcement and stresses the importance of this visit to Palestinian victims of Israel's settler-colonial and apartheid regime who have been craving justice for decades. Throughout the 21st session (ASP21), Al-Haq delivered and joined two joint statements at the general debate, co-organized two side events and joined several side events organized by partners.
During the ASP, civil society organistions and human rights defenders from all around the court showed heart-warming solidarity with Palestinian civil society organistions, especially with the six organistions brazenly outlawed by the Israeli settler-colonial apartheid regime.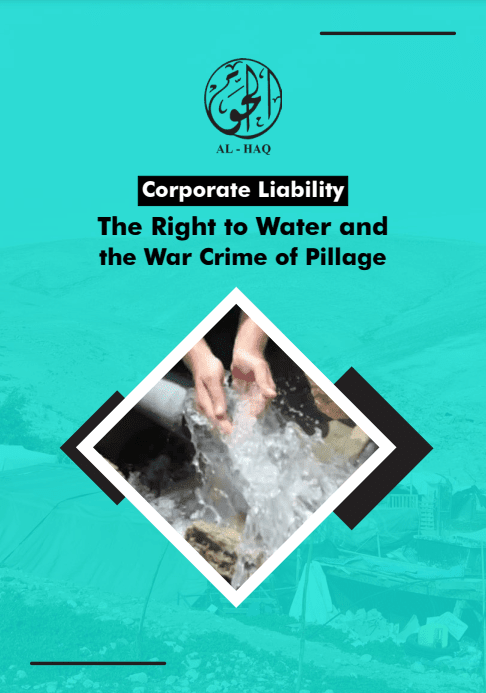 Marking the International Human Rights Day, Al-Haq released its report: "Corporate Liability: The Right to Water and the War Crime of Pillage". The report exposes the 'water apartheid' that Israel imposes upon Palestinians living in the Occupied Palestinian Territory (OPT) and the corporations that maintain it. This water-apartheid constitutes a systematic attack on the Palestinian people's right to water and sanitation, that actively endangers the health of Palestinians and holds the Palestinian economy captive to corporations who exploit this market for commercial profit. In addition to the report, we have launched a short-animated film that illustrates water apartheid and corporate complicity.
See our full report here and animated film in Arabic here.
Joint statement by 86 human right and civil society organizations, and academic institutions condemning Israel's smear campaign against UNSR on the OPT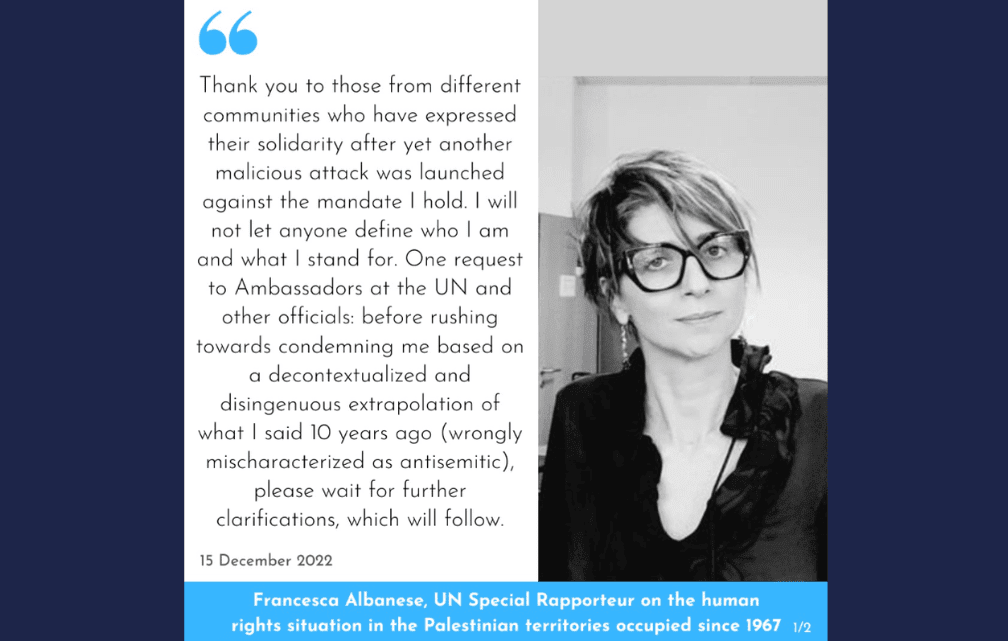 The statement warn, that this smear campaign against UNSR Albanese constitutes the latest manifestation in a pattern of Israeli attacks aimed at silencing any legitimate criticism of the inhuman manner in which it treats Palestinians in the Occupied Palestinian Territory (OPT). Previously, Israel objected to the appointment of Francesca Albanese as UN Rapporteur, arguing that she "harbors significant bias against the Jewish State", a reference directed to her widely acclaimed joint academic treatise on "Palestinian Refugees in International Law", published by the prestigious, Oxford University Press. Such attempts to undermine the expertise of the UN Special Rapporteur to discredit the mandate are of particular concern given the importance of its functions: protecting at-risk communities, promoting transparency and calling for accountability of the perpetrators of rights abuses.
Read (and join) the full statement here.
Finally, we would like to ask you to support the European Citizens Initiative by signing the petition and making sure trade with illegal settlements comes to an end.
Sign the petition here.