Al-Haq Releases New Report and film on Israel's Water Apartheid
Al-Haq Releases New Report and film on Israel's Water Apartheid

Marking the International Human Rights Day, Al-Haq released its report: "Corporate Liability: The Right to Water and the War Crime of Pillage". The report exposes the 'water apartheid' that Israel imposes upon Palestinians living in the Occupied Palestinian Territory (OPT) and the corporations that maintain it. This water-apartheid constitutes a systematic attack on the Palestinian people's right to water and sanitation, that actively endangers the health of Palestinians and holds the Palestinian economy captive to corporations who exploit this market for commercial profit. In addition to the report we are launching a short film that illustrates water apartheid and corporate complicity.
The report details how, through the curtailment and policing of water access, the destruction of Palestinian water infrastructure, and the pillaging of Palestinian water sources, Israel uses businesses to appropriate Palestinian water sources and sell this pillaged water back to Palestinians at ever increasing prices, as a captive market.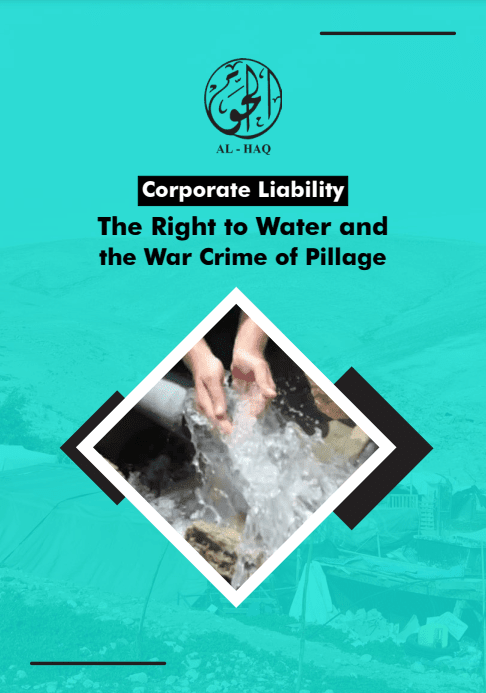 The report names companies like Merkorot Water Company Ltd., Hagihon Company, TAHAL Group International B.V., Hyundai, Caterpillar Inc., JC Bamford Excavators Ltd., and Volvo Car Group as remaining actively complicit in the violation of the Palestinian right to self-determination and permanent sovereignty over natural resources, as well as the war crime of pillage and inhumane acts of expropriation of natural resources amounting to the crime of apartheid.
Below are four short stories describing Israel's system of water apartheid:
Water apartheid is DISCRIMINATION
By virtue of their identity, Palestinians are subject to a discriminatory apartheid system denying access to their own water. Israel's apartheid regime is founded upon discriminatory laws, policies and practices which enable the Israeli military authorities to hold complete control over all water resources and water-related infrastructure in the Occupied Palestinian Territory (OPT). In Area C of the occupied West Bank, under full Israel military and civilian control, Israel controls and denies Palestinian access to water reservoirs and pumping sites, routinely destroys water wells, and imposes a discriminatory and arbitrary permit regime for the implementation of any water related project.
For example, if you are Palestinian living in the OPT, you must obtain permission from Israel, the Occupying Power to drill a new water well or repair an old one. However, for Palestinian's these permissions are routinely denied. For many, proposals to build any sort of water infrastructure, especially in Area C, will be automatically rejected. If you are Palestinian living in the OPT and you build without a permit through necessity, these water structures will be demolished. However illegally transferred in Israeli settlers face no such restrictions, and enjoy an abundance of water, well-irrigated farmlands, and access to swimming pools. The discriminatory policies and practices of Israel, the Occupying Power are reflective of Israel's institutionalized discrimination against the Palestinian people, which may amount to the crime of apartheid a crime against humanity prosecutable by the International Criminal Court.
Water apartheid is DISPOSSESSION
The Israeli authorities restrict Palestinians' access to water by denying or restricting their access to large parts of the West Bank. Arbitrary military orders enable Israeli authorities to seize Palestinian land which includes water sources, under the auspices that it is public or state land, such as nature reserves or military zones. Access to land on these areas is lost; land which inevitably incorporates Palestinian water resources such as springs or wells. Palestinians are forbidden from returning to these lands, they receive no compensation nor are they offered alternative water structures. Under international law, Israel is merely the administrator of the occupied land of the Palestinian Territory and therefore, any extraction of natural resources, for example water, should be for the benefit of the occupied population only, and not for the Occupying Power. Denying Palestinians access to water, demolishing Palestinian water structures, or profiting from opportunities created by human rights violations is in direct contravention to international law.
Water apartheid is SEGREGATION
Segregation is enabled through a bureaucratic system of water restriction that is driven by Israel and corporate actors. While Israel plays a central role in perpetuating the colonisation of water resources through its practices and policies, corporations increasingly support this appropriation by restricting Palestinian access to water and by using water as a political tool to pressure and oppress Palestinian communities. One Israeli company, Mekorot, has taken over the entire water supply in the West Bank; both for Palestinian communities and for the illegal Israeli settlements. The company holds complete discretion over the water supply to Palestinian villages and applies double standards in water provision. This unequal integrated water infrastructure explains the enormous disparity in water consumption and allocation between Palestinians and Israelis. It is estimated that Israeli settlers, illegally residing in the OPT, consume three to eight times more water than the entire Palestinian population of the West Bank, excluding East Jerusalem. The agricultural industry in the illegal Israeli settlements is thriving due to abundance of water extracted and appropriated from Palestinian land.
Palestinian water structures are also demolished using bulldozers from international companies, such as Bobcat, JCB, Volvo and Caterpillar. Companies who fail to exercise human rights due diligence run the legal risk of committing or contributing to war crimes and being subject to claims for damages under civil litigation.
Water Apartheid is DOMINATION
Both Israeli and foreign companies profit from Israel's desalination project (the process of making saltwater potable), as a solution to the water-apartheid it has forced upon Palestinians. Instead of fulfilling Palestinians' right to sovereignty over their water resources, Israel touts desalination as the best answer to the lack of water it has made available to Palestinians. Yet, desalination is the least economically efficient and sustainable method of managing water shortages. Desalination plants not only negatively affect the environment but are also an impediment to economic development in the OPT. The expensive equipment and large amounts of energy required to power desalination plants force Palestinian dependence on Israeli industries, as well as foreign markets and manufacturers. This further entrenches the captive market in which Palestinians must rely on for safe and accessible water. This enables Israel, and private corporate actors, to continually profit from Palestinians' lack of water access and lack of control over their natural resources. Israel uses desalination as a tool to obscure the consequences of its occupation and longstanding water-apartheid, while actively violating Palestinians' right to water.
In addition to the report, we are launching a short film entitled: Water Apartheid and Corporate Complicity
Read our full report here.