Human Rights Day 2021: No Equality for Palestinians under Israel's Apartheid and Settler Colonisation
Human Rights Day 2021: No Equality for Palestinians under Israel's Apartheid and Settler Colonisation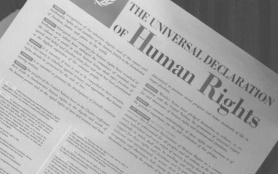 Date: 10 December 2021
Every year on 10 December, the world commemorates the day the United Nations General Assembly adopted the Universal Declaration of Human Rights (UDHR), in 1948. In the occupied Palestinian territory (OPT), 1948 saw the forced expulsion of thousands of Palestinians from their homes and lands during the Nakba, the "catastrophe". Today, the Israeli Occupying Power still enforces its settler-colonial and apartheid regime, repeatedly violating the most basic human rights of Palestinians on both sides of the Green Line.
This year, the theme of the Human Rights Day is "equality", the importance of which is highlighted in Article 1: "All human beings are born free and equal in dignity and rights". The content of the UDHR reflects norms of customary international law and is considered alongside the International Covenant on Civil and Political Rights and the International Covenant on Economic, Social and Cultural Rights as constituting an international bill of rights. Yet, Israel has constantly violated the UDHR principles, in particular equality. Over the past year, the Israeli authorities have continued to commit widespread and systematic violations of human rights, carried out with total impunity to further entrench and maintain Israel's apartheid regime.
In the first place, Israel has maintained its unlawful practices of arbitrary killings as well as arbitrary arrests of Palestinians. In the first six months of 2021, 42 Palestinians were killed by the Israeli Occupying Forces in the West Bank. Of these, 15 were killed in circumstances described as "calm", while 27 were killed during peaceful protests or military raids. By doing so, Israel violates Palestinians' most fundamental human right, their right to life.
Israel has also pursued its apartheid-based building and housing policies, carrying out arbitrary houses demolitions and imposing forced evictions on Palestinians, while encouraging the transfer in of Israeli Jewish settlers into the occupied territory. Last year, near 800 demolition orders were issued for Palestinian-owned structures in Area C of the West Bank, while less than one percent of the Palestinian requests for construction permit were approved. Meanwhile, the ongoing forced displacement in Sheikh Jarrah as well as in other, less mediatised, Jerusalemite neighbourhoods such as Silwan continues. Moreover, in 2021, the Israeli authorities have advanced its project to expand settlements in Jerusalem's E1 area with more than 3,000 building units, and promoted the creation of other settlements in Palestinian-inhabited neighbourhoods. These acts of population transfer into the occupied territory constitute grave breaches of Geneva Conventions and amount to war crimes.
Seriously violating human rights and committing grave breaches of international law do not suffice for the Israeli Occupying Power; in addition, Israel has long targeted human rights defenders who have relentlessly denounced Israeli human rights violations and abuses and sought for accountability for Israeli war crimes and crimes against humanity before the International Criminal Court. This year, the Israeli authorities have stepped up their efforts to prevent human rights defenders from conducting their necessary human rights and accountability work. The most cynical assault on independent civil society organisations has been their designation as "terror organisations" by the Israeli Minister of Defence on 19 October 2021; later, in November, Israel took alarming steps to execute and implement its designations. The designations are not only intended to effectively outlaw the organisations, placing them and their staff at risk of imminent reprisal, but it also aims to cut off their funding and other forms of support from international partners and supporters. Other Israeli attacks in the last months demonstrate how the Israeli authorities relentlessly pursue its campaign of persecution aimed at gradually normalizing its inhuman acts of persecution and apartheid towards Palestinian human rights defenders; from systematic harassment, defamation campaigns against Al-Haq and death threats against its staff members. In November, Front Line Defenders discovered through forensic investigation of devices belonging to human rights defenders of the six targeted organisations that six mobile phone devices had been infected with Israeli NSO Group's Pegasus spyware. These attacks are clear attempts from the Israeli authorities to prevent human rights defenders from documenting the Israeli human rights violations, aimed at maintaining Israel's apartheid and settler-colonial regime.
Today, 73 years after the adoption of the Universal Declaration of Human Rights, and 73 years after Israel started to impose its colonial domination on the Palestinian people, infringing Palestinians' most basic human rights, including their right to self-determination, it is more than time to put an end to Israel's impunity and to bring the perpetrators of war crimes and crimes against humanity to justice at the International Criminal Court.