Al-Haq Welcomes Médecins du Monde Report on "The Labyrinths to Health in Gaza"
Al-Haq Welcomes Médecins du Monde Report on "The Labyrinths to Health in Gaza"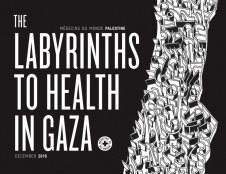 On Thursday, 12 December 2019, Al-Haq joined Médecins du Monde (MdM) for the launch of their new report titled "The Labyrinths to Health in Gaza." The report examines obstacles to fulfilling the right to the highest attainable standard of physical and mental health for Palestinians in the Gaza Strip, in light of Israel's prolonged military occupation and 12 years of illegal closure, which has made Gaza uninhabitable, as repeatedly warned by the United Nations (UN). The MdM report examines barriers to adequate healthcare provision, movement and access restrictions imposed on Palestinian patients, Israel's discriminatory permit regime for treatment outside of Gaza, and the denial of the underlying determinants of health necessary for Palestinians' well-being, as rooted in Israel's active de-development of the Gaza Strip.
Al-Haq welcomes MdM's new report and is pleased to have contributed 44 documented cases of violations of the right to health in Gaza, which were included in the study. The affidavits provided by Al-Haq, covering the period from 2007 to 2018, describe what Palestinian patients and their companions endure when applying for permits for treatment outside Gaza and during their journeys when crossing out of Gaza and coming back, as they are forced to navigate the many obstacles imposed by the Israeli occupying authorities on access to healthcare. Al-Haq welcomes MdM's highly needed report, which not only highlights the violations of the right to health of Palestinians in Gaza, but also looks at the broader context of these violations and their root causes.
The launch event included opening remarks from MdM Spain, a presentation of the report by MdM France, as well as presentations by Al-Haq on the violations of the right to health in Gaza and by a health worker involved in the treatment of Palestinian cancer patients from Gaza at Augusta Victoria Hospital in East Jerusalem.
Presenting the report on behalf of MdM France, Mr Marcos Tamariz highlighted the main obstacles Palestinian patients in Gaza face in accessing healthcare. He stressed that health should not be politicised or used to achieve political or other non-health related objectives. He also called attention to general recommendations outlined by the report, mainly urging third States to ensure that Israel, the occupying power, lifts its blockade and closure of the Gaza Strip and ends its prolonged occupation at large, also encouraging the Palestinian Authority to ensure adequate funding of healthcare for all Palestinians. During his presentation, Mr Tamariz argued that the current short-term humanitarian funding schemes directed to Gaza's health sector do not address the medium and longer-term development needs of a sector trapped in protracted conflict; hence, the focus of the work carried out should be directed at the roots of the problem rather than at humanitarian aid.
Speaking as a health worker involved in the treatment of Palestinian children from Gaza, Dr Khadra Salami, paediatric haematology-oncology specialist at Augusta Victoria Hospital, outlined the challenges in the unpredictable referral process for patients from Gaza due to Israeli-imposed restrictions on travel. In particular, she noted that delays and denials of access lead to patients missing appointments, which in turn significantly affects prognosis. Dr Salami emphasised the importance of early detection and treatment of cancer, stressing that "every cancer patient is an urgent case." She further highlighted the need for children to be accompanied by their parents when receiving treatment in hospitals outside of Gaza, with their presence critical for mental support. Yet, a number of Palestinian children continue to be referred for treatment outside of Gaza without their parents or other family members by their side.
Speaking on behalf of Al-Haq, Ms Shahd Qaddoura, Al-Haq's legal research and advocacy assistant, stressed that providing healthcare to Palestinian patients is not a sign of Israel's desire or goodwill. As occupying power, Israel has obligations to fulfil the right to health of all Palestinians within its jurisdiction and territory of effective control. Instead, Israeli policies and practices, ranging from widespread collective punishment to excessive use of force and the torture of detainees, negatively impact the physical and mental health of Palestinians in the occupied Palestinian territory (oPt). Ms Qaddoura argued that Israel's discriminatory restrictions on access to healthcare illustrate Israel's intention to punish the Palestinian civilian population of the Gaza Strip, having imposed a lengthy referral process on Palestinians in Gaza, which may be regarded as an intentional stalling policy.
Addressing the context of Israel's 52-year military occupation and 12 years of illegal closure, Al-Haq highlighted Israel's de-development of Gaza's health sector, as a result of which Palestinian patients – including cancer patients – are forced to rely on access to hospitals in the West Bank, including East Jerusalem, and Israel for treatment. She stressed that the coercive environment created by Israel's prolonged occupation and closure is emblematic of Israel's persistent disregard for Palestinian life, health, and dignity, and outlined how Israel exploits Palestinians' need for treatment as a method of subjugation and control.
Underlining the importance of accountability to put an end to Israel's pervasive impunity, Al-Haq called for the implementation of the recommendations of the UN Commission of Inquiry into the Great Return March, which called on Israel, as occupying power, to lift its blockade on Gaza with immediate effect and to ensure all Palestinians injured during the demonstrations are granted prompt access to hospitals outside the Gaza Strip. The Commission of Inquiry also called on Israel to revise its rules of engagement for the use of live fire, and to bring them in line with international human rights law. These recommendations have still not been implemented by third States, even though they were adopted by members of the UN Human Rights Council on 22 March 2019 in accountability resolution 40/13, which also created a mandate for the Office of the UN High Commissioner for Human Rights to follow up on the implementation of these recommendations.
Overall, Israel's prolonged occupation and closure of Gaza remain a major impediment to the full realisation of Palestinians' economic, social, and cultural rights, including the right to the highest attainable standard of health, and severely deprive the Palestinian people of their collective right to self-determination, including permanent sovereignty. Al-Haq recalled the obligations of third States to investigate, prosecute, and bring to an end grave breaches of international law committed in the oPt, stressing that the recommendations of the UN Commission of Inquiry, amongst others, provide a clear path forward in terms of justice, accountability, and the fulfilment of Palestinians' rights. Finally, Al-Haq thanked MdM for their new report on The Labyrinths to Health in Gaza, and hoped this report can serve as an advocacy tool to promote and advocate for the right to health of all Palestinians.
To read MdM's new report on The Labyrinths to Health in Gaza, click here.
For some of Al-Haq's previous work on the right to health, see:
– ENDS –