In the Aftermath of COP26: A Rights-Based Solution to Climate Change is Needed to Counter Israel's Greenwashing 
In the Aftermath of COP26: A Rights-Based Solution to Climate Change is Needed to Counter Israel's Greenwashing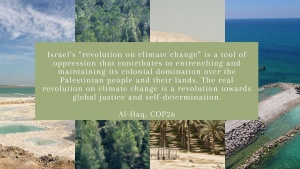 Israel's unusually large delegation to the Conference of the Parties to the United Nations Framework Convention on Climate Change (COP26) held from 31 October to 12 November 2021 boasted of its comprehensive arsenal of tech-based solutions to the climate change predicament in Palestine.[1] Disturbingly, these form part of Israel's greenwashing strategy to normalize its trampling of Palestinians' human rights under the veil of environmental concerns that deeply resonate within the international community.
A "Revolution on Climate Change" Grounded in Apartheid Oppression
Israeli Prime Minister Bennett's address to the COP boasts Israel's technological advances and innovative industry, and its potential in providing durable mitigation and adaptation solutions to climate change challenges, underlining Israel's world leadership.[2] Positioning itself as a leading actor in tackling climate change is both ironic and outrageous given how its environment-related policies and practices in fact largely contribute to irreversible environmental damage to Palestinian lands and natural resources.
The 120+ Israeli delegation to the COP26 featured parliament and government ministries officials, members of the civil society, scholars, and business actors. The latter was led by Nitzan Moshe of Israel Chemicals Ltd,[3] notorious for providing white phosphorous used to manufacture the Israeli army's projectiles against Palestinians, including in the Gaza Strip.[4]
Bennett's discourse further exploited the traditional Zionist narrative of the 'blooming desert,' underlining that "we (sic) may be in one of the driest places on earth but we've (sic) managed to become the world's number one country in water innovation."[5]Except that Israel's exploitation of water is premised upon practices and policies of water resources appropriation through discriminatory zoning and planning, corporate over-extraction, curtailment, policing and resale of water resources for Palestinians, amounting to the crimes of appropriation and pillage.[6] Israel's colonial appropriation of 87 percent of Palestinian water,[7] and other natural resources is a major pillar of Israel's ever-entrenching apartheid, a crime against humanity under Article 7(1)(j) of the Rome Statute of the International Criminal Court.[8]
Israel's pledge to cut greenhouse gas emissions to net zero by 2015, as well as to phase out of the use of coal by 2025, simultaneously relies upon the development of solar energy and the intensified exploitation of Palestinian natural gas. Israel's naval closure policy of the Gaza Strip has accelerated Israel's pillage of oil and gas resources from the contiguous Palestinian border field off Gaza's coast, while preventing Palestinian development in waters surrounding the Mari-B platform. Notably, Israel's solar energy tech, is also premised upon the prevention of Palestinian development of sustainable energy, and the systematic demolition of Palestinian solar panels that are sometimes the only source of energy to provide for Bedouin communities in Area C of the West Bank.
As Israel signs the Declaration on Forest and Land Use to end deforestation by 2030,[9] and prides itself on counting more trees by the end of the 20th century than at its onset, it fails to mention that afforestation inside the Green Line is essentially rooted in the Jewish National Fund's colonial enterprise aimed at concealing Palestinian villages and rural towns ethnically cleansed during the Nakba in 1948. It also forgets that since 1967, Israel has uprooted 2.5 million trees in the occupied Palestinian territory, through a combination of policies and practices ranging from the military uprooting of trees for so-called security purposes, state-condoned settler violence, to building and expansion of the apartheid wall and settlements.
The Revolution on Climate Change is a Revolution on Self-Determination
Israel's "revolution on climate change" is a tool of oppression that contributes to entrenching and maintaining its colonial domination and oppression over the Palestinian people and their lands. Capitalizing on climate change tech and innovation and an eco-friendly discourse that is appealing to an international audience, forms part of Israel's strategy to normalize its relationship with European Union states and the United States.
The biggest challenge to tackling climate change in Palestine is Israel's settler colonial apartheid regime and military occupation that prevent the Palestinian people from confronting the adverse effects of climate change through the legitimate exercising of their inalienable right to self-determination, which includes the free disposal of their natural resources, a paramount principle of customary international law. Their ability to enjoy their right is the only sustainable solution to challenge the apartheid structure, towards the setting and implementation of viable mitigation and adaptation strategies.
The Preamble of the Paris Agreement requires that due consideration is given to human rights obligations when addressing climate change.[10] It is urgent to adopt an intersectional approach to climate change-related challenges, as loss and damage are mostly felt by the most vulnerable communities, and ensure that self-determination and participation are placed at the core of the humanity fight against climate change.
---