COP26: Jerusalem Wildfires in Summer 2021, When Climate Change-Related Wildfires Expose the JNF's Colonial Afforestation Project
COP26: Jerusalem Wildfires in Summer 2021, When Climate Change-Related Wildfires Expose the JNF's Colonial Afforestation Project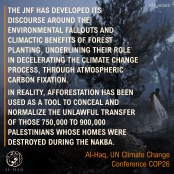 This brief is part of a series on climate change, its adverse effects and the Israeli colonial-apartheid regime, published in the context of the UN Climate Change Conference COP26.
"Palestine is not only found beneath the forests. Palestine is with us today as well. Not much has changed since your predecessors buried the Palestine that had been destroyed. That's why your awareness of the Palestine that has been destroyed must be accompanied by awareness of how Palestine and the Palestinian people are also treated today [...]."[1]
Jerusalem Wildfires in Summer 2021, Revealing the Palestinian Identity of the Land
Climate change intensifies and aggravates forest fires and accelerates their spreading due to drier conditions.[2] The occurrence of wildfires has been dangerously accelerating in the whole of historic Palestine over the past decade, due to more severe drought and heat waves episodes, including incidents in Mount Carmel in 2010 and Haifa in 2016.[3]
From 15 to 19 August 2021, intense and widespread wildfires destroyed 20,000 dunams [2,000 hectares] of European pine tree forests planted in Jerusalem's mountains.[4] After the fires were extinguished, and the flames put out, the landscape looked substantially different, and uncovered the ruins of Palestinian villages destroyed and forcibly cleansed during the Nakba, as well as 400-year-old agricultural terraces used by farmers to cultivate the land.[5] These terraces used to be planted with local original tree species including olive trees, fig trees and vines, that used to define the Palestinian landscape.[6]
Jewish National Fund Afforestation: A Tool to Camouflage International Crimes of Forcible Transfer
Keren Kayemeth LeIsral - Jewish National Fund (KKL-JNF) has significantly contributed to the expropriation of Palestinians forcibly expelled from their destroyed villages during the Nakba, and afforestation policies have constituted an ideological and political tool to durably expropriate Palestinian landowners and prevent the return of Palestinian refugees.[7]
On 16 August 1948, KKL-JNF established a 'Subcommittee for the Cultivation and Maintenance of Abandoned Lands' to manage lands leased from the Ministry of Agriculture, before acquiring legal ownership over 1,085,607 donums [108,560 hectares] directly from the State in January 1949,[8] and an additional 1,271,734 donums [127,173 hectares] in October 1950 from the Custodian of Absentee Property.[9] In total, 160,000 donums [16,000 hectares] of the second land bid were exploited for afforestation purposes.[10] Fulfilling its mandate of exclusive Jewish settlement, KKL-JNF facilitated the transfer of Jewish settlers into Palestinian towns and cities under its control and the building of new settlements to prevent Zionist fear of so-called "infiltration" through the armistice lines: "The infiltration of individual Arabs, ostensibly for reaping and threshing, alone, could in time bring with it the re-establishment [of the refugees] in the villages, something which could seriously endanger many of our achievements during the six months of the war."[11]
From 1947, prior to the Nakba, to 1950, more than 4,300,000 new trees were planted over a period of 3 years,[12] in an attempt to erase Palestinian cleansed villages from memory, and prevent the return of Palestinian refugees. More than 67 percent of KKL-JNF forests and parks have been planted on the remains of 89 Palestinian villages ethnically cleansed in 1948, and two in 1967.[13]
KKL-JNF's forest planting project has been following the wider colonial pattern that has pervaded Israeli practices and policies as a whole: Jewish, European, and environment-friendly. The Judeization of Palestinian localities has taken part in a process described by Ilan Pappe as a "memoricide of the Nakba."[14] A committee of archeologists and theologists was created in 1920 to determine Hebrew names for ethnically cleansed localities. The committee subsequently became a JNF sub-department in 1949.[15] Conifers - particularly 58 percent pine and cypress trees - were preferred to the native flora - making only 25 percent of the total species -[16] to give a European cover to the new colonial landscape, as well as to feed the Jewish-Israeli rising wood production.[17] Last, KKL-JNF motivated its afforestation efforts by deference to environmental preservation and sustainable development pretexts.
Jewish National Fund's Environmental Discourse and Climate-Washing Lobbyism
The JNF has developed its discourse around the environmental fallouts and climactic benefits of forest planting, underlining their role in decelerating the climate change process, through atmospheric carbon fixation.[18] KKL-JNF boasts itself of having made Israel "one of the only nations in the world that has more trees today than it did a hundred years ago, an important step to mitigate climate change."[19] It further notes that "since its inception, KKL-JNF has planted over 230 million trees on a million dunams of land, which help mitigate climate change."[20] This eco-friendly rhetoric completely disregards the kind of tree species chosen by both the British Mandatory and the JNF to colonize Palestinian lands: the pine tree, a foreign European species highly inflammable under dry and hot climate.[21]
In reality, the intention is to cover the remains of Palestinian villages and erase their memory, while exploiting their ruins to fit the traditional Zionist discourse of 'redeeming land from desolation' as conspicuous in the 1961 KKL-JNF-Israeli Government Covenant.[22] It has been made clear by JNF officer Michal Katorza: "In fact, a large portion of JNF parks where Palestinian villages used to stand, and the forests are intended to camouflage this."[23]
Afforestation has been used as a tool to conceal and normalize the unlawful transfer of those 750,000 to 900,000 Palestinians whose homes were destroyed and/or appropriated between 1947 and 1949.[24] It should be recalled that Article 49(1) of the Fourth Geneva Convention strictly prohibits "individual or mass forcible transfers, as well as deportations of protected persons from occupied territory to the territory of the Occupying Power or to that of any other country, occupied or not, are prohibited, regardless of their motive."[25]
Joseph Weitz, Director of KKL-JNF's Department of Lands and Afforestation, dubbed "the father of forests:"
"Amongst ourselves it must be clear that there is no room for both peoples in this country… With Arab transfer the country will be wide-open for us… [T]he only way is to transfer the Arabs from
here to neighboring countries [...]. Not a single village or a single tribe must be left… There is no other solution."[26]
By transforming the landscape, turning urban villages into natural sites, KKL-JNF has enabled conditions of lack of physical space as a stumbling block preventing the implementation of Palestinian refugees' right of return.
The right of return of any refugees to their homes and properties is secured in international law, and specifically recognized for Palestine refugees.[27] Article 11 of the UN General Assembly Resolution 194(III) of 11 December 1948 provides that "[...] the refugees wishing to return to their homes and live at peace with their neighbours should be permitted to do so at the earliest practicable date, and that compensation should be paid for the property of those choosing not to return and for loss of or damage to property [...]."[28] The aforementioned provisions do not only apply to first-generation refugees but to further generations[29] - including nearly 13 million living outside of Mandatory Palestine.[30]
Afforestation has provided a perfect mechanism to prevent the return of refugees "to their homes," and "at the earliest practicable date." Priority given to return over other durable solutions is a well-entrenched customary principle of human rights law. Article 13(2) of the Universal Declaration of Human Rights reads that "Everyone has the right to leave any country, including his own, and to return to his country."[31] It is confirmed under Article 12(4) of the International Covenant on Civil and Political Rights according to which "No one shall be arbitrarily deprived of the right to enter his own country."[32]
---