Al-Haq Recalls Global Struggle against Institutionalised Regimes of Racial Domination and Oppression on International Day for the Elimination of Racial Discrimination
Al-Haq Recalls Global Struggle against Institutionalised Regimes of Racial Domination and Oppression on International Day for the Elimination of Racial Discrimination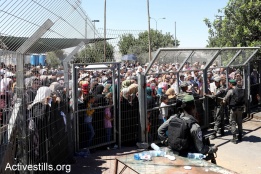 On 21 March 2021, the anniversary of the 1960 Sharpeville Massacre, wherein 69 peaceful protestors were killed with live fire by police in apartheid South Africa, and now the International Day for the Elimination of Racial Discrimination, Al-Haq once again recalls the importance of global solidarity in the international struggle against institutionalised regimes of racial domination and oppression, through which the apartheid regime in South Africa was ultimately defeated.
For decades, Israel has established and maintained an apartheid regime over the Palestinian people as a whole, living on both sides of the Green Line and as refugees denied their right of return, through an interconnected mosaic of laws, policies, and practices. This reality was identified in a 2017 report by the UN Economic and Social Commission for Western Asia and subsequently in a 2019 submission to the United Nations Committee for the Elimination of Racial Discrimination, both of which recognised the strategic fragmentation of the Palestinian people as the primary means by which Israel ensures the continuation of its racial domination.
Therefore, on this day of remembrance and celebration of the fall of apartheid in South Africa, Al-Haq urges the United Nations, and the international community at large, to fully implement the myriad of Security Council, General Assembly, and Human Rights Council resolutions pertaining to the racial domination of Palestinians, including those living under military occupation in the West Bank, including East Jerusalem, and the Gaza Strip, living within Israel, and those living as refugees and exiles across the world. As part of these measures, we note the need to ensure coercive measures against Israel, as previously recommended by the 2018 United Nations Commission of Inquiry into attacks against protestors as part of the Great March of Return, and the importance of supporting the International Criminal Court in its investigation into suspected international crimes committed in the Occupied Palestinian Territory.