Israeli Apartheid Undermines Palestinian Right to Health Amidst COVID-19 Pandemic
Israeli Apartheid Undermines Palestinian Right to Health Amidst COVID-19 Pandemic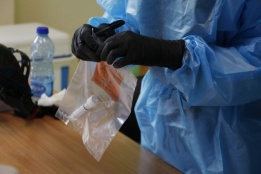 Joint Statement
This year we mark World Health Day as the novel coronavirus disease (COVID-19) continues to sweep across the globe, disproportionately impacting those subjected to situations of institutionalised oppression, discrimination, and injustice. For the Palestinian people, COVID-19 has brought to the forefront Israel's apartheid regime of systematic racial domination and oppression over all Palestinians,[i] which for decades has led to the fragmentation and de-development of the healthcare system of the occupied Palestinian territory, particularly in the occupied Gaza Strip,[ii] and denied Palestinians the right to the enjoyment of the highest attainable standard of physical and mental health.[iii]
To read the full statement please click here.
---
[i] See Al-Haq, "Palestinian, regional, and international groups submit report on Israeli apartheid to UN Committee on the Elimination of Racial Discrimination," 12 November 2019, available at: http://www.alhaq.org/advocacy/16183.html. See also Rania Muhareb and Nada Awad, "COVID-19 and apartheid," This Week in Palestine, April 2020, available at: https://www.thisweekinpalestine.com/covid-19-and-apartheid/; Osama Tanous, "Coronavirus outbreak in the time of apartheid," 24 March 2020, Al Jazeera, available at: https://www.aljazeera.com/indepth/opinion/coronavirus-outbreak-time-apartheid-200324151937879.html.
[iii] International Covenant on Economic, Social and Cultural Rights (adopted 16 December 1966, entry into force 3 January 1976) 993 UNTS 3 (ICESCR), Article 12(1).