Al-Haq Field Report on Human Rights Violations in 2021
Al-Haq Field Report on Human Rights Violations in 2021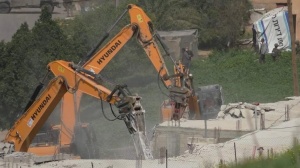 Compared to 2020, 2021 marked a setback in human rights both at the internal level as well as in relation to Israeli practices and international community's responsibilities towards the occupying Power. 2021 ushered in political optimism. On 15 January, President Mahmoud Abbas passed a decree on holding legislative, presidential, and Palestinian National Council (PNC) elections consecutively.[1] In early March, the Office of the Prosecutor of the International Criminal Court (ICC) announced the opening of a full criminal investigation into the situation in Palestine.[2]
In late April 2021, however, the general elections were put off, reflecting a political setback. As a result, significant political activism on the Palestinian stage demonstrated a disappointment for Palestinians, who were thirsting for a democratic transition.[3] Once reactions to cancelled elections came to end, Palestinian protests erupted in the Sheikh Jarrah neighbourhood of the occupied city of Jerusalem against Israeli colonial settlement activity. Protests spread throughout other cities in the West Bank, cities within the Green Line, and besieged Gaza strip.
In the meantime, the Israeli occupying authorities launched a military offensive on the Gaza Strip. Over 11 days, intensive bombardment by air, land and sea targeted civilian and military objects across Gaza, causing extensive damage and significant loss of human life. The uprising engaged all Palestinian people on both sides of the Green Line. Colonial practices and policies affected the Palestinian people from across the spectrum.
In June, Palestinian security agencies murdered Nizar Banat, a political activist, during an attempt to arrest him. Consequently, protests broke out in a number of West Bank cities, particularly Ramallah. Protestors called for justice and retribution against the perpetrators. Calls reached a climax when protestors demanded the overthrow of the regime of the Palestinian Authority. To eliminate them, protests were met with a campaign of systematic repression, violence, threats, defamation, and arbitrary detention of activists.
In 2021, violations escalated on all levels. The Israeli occupying authorities killed 84 Palestinians, including 15 children. In addition, 240 Palestinians were killed during the Israeli military offensive on Gaza, bringing the total number of Palestinian martyrs to 324.
The Israeli occupying authorities demolished 233 Palestinian homes in the West Bank, including Jerusalem. During the military offensive on Gaza, 1,313 residential units were completely destroyed and another 6,367 units sustained partial damage.[4]
The Israeli occupying authorities also demolished 367 Palestinian privately-owned structures in the West Bank. Another 787 private structures were destroyed during the Israeli offensive on Gaza. In comparison to seven in the West Bank, the Israeli Occupying Forces (IOF) destroyed 871 public structures during the military offensive on Gaza.
In 2021, Palestinian security agencies committed hundreds of human rights abuses, including arbitrary detention against the background of freedom of opinion and political activism. Violations affected fair trial procedures, dispersal of peaceful protests by force, seizure of funds and electronic devices, house raids and searches, and other encroachments on the right to liberty and security.
See the full Al-Haq Field Report on Human Rights Violations in 2021 here.
---