Al Mezan Center for Human Rights, the Palestinian Center for Human Rights (PCHR) and Al-Haq are jointly publishing a statistical report that documents the human and material losses suffered by Palestinians during Israel's full-scale military offensive on
Al Mezan Center for Human Rights, the Palestinian Center for Human Rights (PCHR) and Al-Haq are jointly publishing a statistical report that documents the human and material losses suffered by Palestinians during Israel's full-scale military offensive on
Download file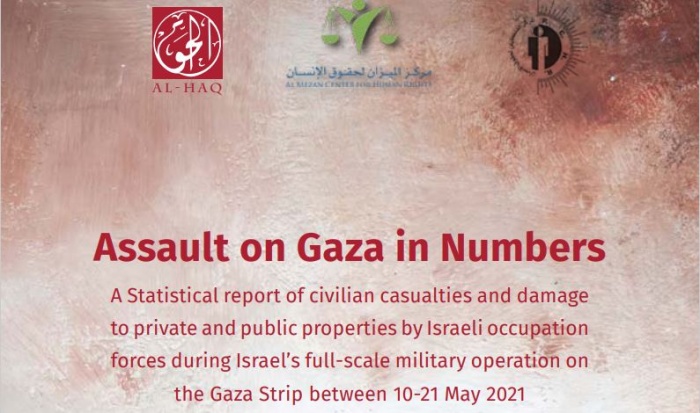 The information presented in the report is a compendium of the monitoring and documentation carried out by the three organizations, whose field monitoring and investigatory work is integral to understanding the conditions in Gaza as influenced by all parties. This information will be shared further in view of achieving accountability and justice for the victims of attacks.
The statistical report presents; the organizations' main findings regarding the Israeli military offensive; —which saw 240 Palestinians killed by Israeli occupation forces, including 151 civilians and 59 children— the information collection methodology, data entry and validation process. The figures and data presented also reflects the wounding of 1,968 Palestinians, of whom 630 are children. The report provides details of the victims in other protected categories, including people with disability, medical staff and journalists, and other facts related to the circumstances of their killing.
The report further presents information regarding the damage to civilian objects—particularly residential houses—and commercial, industrial, health, and educational facilities, places of worship, agricultural lands, water and sanitation facilities, vehicles and others. According to the organizations' fieldwork, the occupation forces destroyed 1,313 residential units and damaged another 6,367.[1] The number of forcibly displaced people due to the destruction of their house was (38020), including (17444) children and (10218) women.
The organizations reiterate their strong condemnation of the apparent crimes committed by the Israeli occupying forces in the Gaza Strip, which continue to be perpetrated while the collective punishment of the population is implemented through closure and blockade. Having engaged with the Israeli military investigative system for many years, the organizations acknowledge the systematic impunity provided to Israeli forces and government leaders and its effect in encouraging the repetition of the apparent crimes laid out in the report. Finally, they call on the international community and international legal bodies—including the International Criminal Court and the UN Independent International Commission of Inquiry on the Occupied Palestinian Territory, including East Jerusalem, and Israel—to investigate the apparent Israeli violations of IHL and human rights in the Gaza Strip and to hold perpetrators accountable.