Stark insight into Palestinian lives
Stark insight into Palestinian lives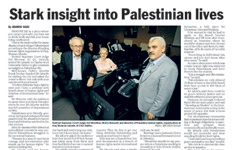 "I believe Palestine has a right to exist and I have a problem with Israel's abuse of human rights and violation of international laws," he said.
Mr Wootten told the audience he spent three months in Palestine where he met Mr Jabarin and his stay left a number of impressions on him.
Palestinians were friendly, generous, loving and caring and he was puzzled how the situation between Israel and Palestine survived in the 21st century.
After he examined the historical and political contexts he was convinced Palestinians struggled to live as normal humans.
"Shawan is a man of enormous courage and determination who stands up for human rights," he said welcoming him.
Mr Jabarin said his human rights organisation was the first to be established in the Middle East in 1979.
There were many similarities to what was happening in Palestine and what happened to Aboriginals with land being the main issue, he said. "We are the Aborigines of Palestine," he said. "They (Israel) are confiscating our land and restricting our existence but it is our land, our home."
Mr Jabarin asked the audience how they would feel if their house was taken away from them and they had limited access to natural resources such as water.
He said the Israeli occupation of land and settlement of Palestinians was a "colonial regime and apartheid".
"Is there justice (in pushing) people off their land, to demolish their houses and send them to the street homeless without taking anything with them?" he said.
"From a political perspective this works because they force people to lose hope and leave the country. They do this to get one thing: minimise Palestinians and annex as much land to Israel."
This was not a biased view, but well documented as a breach of human rights under international law.
Mr Jabarin said after a family was kicked out of their house and their land confiscated, they were stripped from any rights enjoyed by the Israeli who lived on either side of them.
Israeli military rule dictated what Palestinians could plant and several fruit and vegetables were on the forbidden list.
Avocado was banned as it was a "capital tree" which Israelis could only use, he said.
Marriage was a personal choice between a man and woman but not in Palestine.
"Would the Israelis let my partner who is a Palestinian working in Jerusalem or who lives in Jordan, join me?" he said.
"They won't because they'll lose their ID as they treat them as permanent residents and not a citizen so they have no rights.
"They are fragmenting society by separating family, confiscating the land and leaving them homeless. This is a daily struggle for Palestinians."
Mr Jabarin said a Palestinian was barred from entering Jerusalem, a holy place for Christians, Jews and Muslims.
If he wanted to visit he had to apply to the Israeli Interior Ministry and fill form after form, attend an interview where he would be abused and then thrown out of the office and denied a visiting visa - all in the name of "security reasons".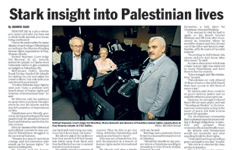 "Everything is hid behind this excuse and you don't know what they mean," he said.
Access to clean water which was a basic human right was restricted to break Palestinians and force them to flee the country. "It is a struggle and discrimination," he said.
"Palestinians are only allowed 35 litres of water a day while Israeli Jews have access to 450 litres of water a day."
Mr Jabarin said there could be no peace without justice and no stability without a peace process.
However, he strongly believed Israel did not want peace, and was "throwing an illusion" to the international community acting in the name of peace, but their actions proved the opposite.
The international community had to pressure Israel to act according to its legal obligations, to sanction and pressure them economically and politically to act.
Mr Jabarin said Palestinians would not surrender and were standing firmly for their rights. "I have faith and hope we will get peace and justice one day," he said.
"My role is to shorten the time we live in injustice. "There's no future for oppression, occupation or regimes. There is a future for a free society."
He encouraged Dubbo residents to visit Palestine and see the plight of his people with their own eyes.
"The Israelis built their future on the element of force and power but we built it on justice and hope," he said.