Al-Haq Launches the Facts on the Ground Campaign
Al-Haq Launches the Facts on the Ground Campaign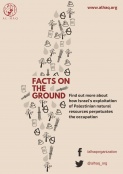 Al-Haq emphasizes that the discourse regarding Israel's prolonged occupation of Palestine needs to be expanded to address another root cause: the economic benefits Israel reaps through its exploitation of Palestinian natural resources. Consequently, the Palestinian economy is obstructed, and the Occupied Palestinian Territory as a whole is relegated to a captive market.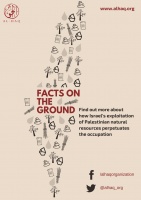 Al-Haq presented "Facts on the Ground" at the annual conference of the US Campaign for Palestinian Rights in Arlington, Virginia. While recognizing the US State Department's recent condemnation of Israel's announcement to create a new settlement, Al-Haq stresses that it occurred in the backdrop of the unprecedented US military aid deal to Israel. Accordingly, Al-Haq underscores the need for the United States, and all other countries, to implement a coherent, consistent policy in line with international law that works to bring to an end the Israeli occupation.
Al-Haq calls upon all states to respect and enforce international law, using the tools and mechanisms that states have created and used in other contexts. Al-Haq further reminds businesses that they may be found complicit in aiding and abetting human rights violations associated with Israel's settlement enterprise.