Recent Bills: Israel Seeks to Expand the Scope of the Death Penalty for Palestinians and to Illegally Annex West Bank Settlements
Recent Bills: Israel Seeks to Expand the Scope of the Death Penalty for Palestinians and to Illegally Annex West Bank Settlements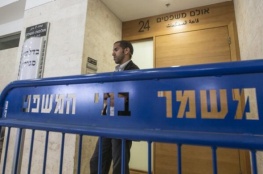 Over the past few years, Israel has escalated measures of collective punishment against Palestinians in the OPT for alleged attacks.2 Other means of punishment for alleged attacks committed by Palestinians have included extrajudicial killings.3 Nevertheless, the latest bill that was passed in a preliminary vote on 3 January 2018 at the Israeli Parliament, calls for the imposition of the death penalty against terrorists. The bill does not specify who falls within the definition of a terrorist, yet Israel's narrative and policies over the years have defined Palestinians as such. Importantly, the section of the death penalty amendment is directed at Israel's military court system, under which mostly Palestinians are tried, largely and somehow exclusively impacting Palestinian political detainees. It should be further noted that the death penalty violates the fundamental right to life, enshrined in Article 6(1) of the International Covenant on Civil and Political Rights (ICCPR), amongst various other rights.
Bills to Annex the West Bank
Earlier this month, Israel's Parliament also discussed the annexation of the occupied West Bank. On 2 January 2018, the Parliament approved an amendment to Israel's "Basic Law: Jerusalem, Capital of Israel", reaffirming Israeli sovereignty over Jerusalem and providing a legal basis for the redrawing of Jerusalem's municipal borders. The approved amendment requires a supermajority parliament vote for 'handing over sovereign control of any part of the capital to a foreign entity' and cancels any prohibitions imposed on altering the city's boundaries.4 Additionally, Israel is currently considering a number of bills related to the annexation of settlements in the West Bank. On 31 December 2017, the Central Committee of the Likud, Israel's right-wing ruling party, unanimously voted in favour of annexing the West Bank to allow for increased and unlimited construction of settlements.5
The approved amendment of the Jerusalem Basic Law comes a few weeks following the United States' recognition of Jerusalem as Israel's capital and the decision to relocate its embassy to Jerusalem. UN Security Council Resolution 478 (1980) called on Member States not to recognise the first amendment to Israel's Basic Law on Jerusalem. Numerous UN Resolutions have condemned Israel's attempts to alter the status of Jerusalem, deeming them null and void.6 Nonetheless, Israel and its officials continue to enact laws and implement policies towards eradicating Palestinian presence from Jerusalem,7 while claiming the city as the eternal capital of Israel.8
On 3 January 2018, the House Committee of the Israeli Parliament held a meeting on the "reciprocal relationship between the parliament and Israeli citizens residing in Judea and Samaria," in an attempt to extend Israeli civil law to Israeli citizens in the West Bank.9 During the meeting, Israeli Ministers and officials supported the proposal, and urged for the establishment of a specialised department at the Ministry of Justice for that purpose. The move amounts to an attempted annexation of Israeli settlements in the West Bank.
Under international humanitarian law, occupation is a temporary situation, whereby the Occupying Power does not acquire sovereign rights over the occupied territory. Under the Oslo Accords, Israel enjoys full civil and security control over most of the West Bank, administering some 83 per cent of the total area. Given the temporary nature of belligerent occupation, Israel is prohibited from annexing settlements in the occupied Palestinian territory.10 While the legality of Israel's prolonged occupation of the Palestinian territory has been questioned repeatedly,11 Israel has continued to disregard its obligations as Occupying Power under international law. It has, instead, continued to entrench its de facto annexation of occupied Palestinian land.
---
1Knesset, Death Penalty for Terrorists Bill Approved in the Preliminary Reading, 4 January 2018, available at: https://knesset.gov.il/spokesman/eng/PR_eng.asp?PRID=13714
2Al-Haq, Unremitting Collective Punishment against Palestinians, 23 October 2017, available at: http://www.alhaq.org/advocacy/targets/accountability/81-general/1145-unremitting-collective-punishment-against-palestinians
3See for example: Al-Haq, The Killing of Al-Sharif and Al-Qasrawi in Hebron, 2 April 2014, available at: http://www.alhaq.org/documentation/weekly-focuses/1037-the-killing-of-al-sharif-and-al-qasrawi-in-hebron
4Knesset, Knesset Passes Law Requiring 80-MK Majority for Giving Up Sovereignty over any Part of Jerusalem, 2 January 2018, available at: https://www.knesset.gov.il/spokesman/eng/PR_eng.asp?PRID=13709
5Jacob Magid, "Likud Top Body Votes to Urge Annexing Parts of the West Bank", (Times of Israel, 31 December 2017), available at: https://www.timesofisrael.com/likud-top-body-votes-to-annex-parts-of-the-west-bank
6See for example: UN Security Council Resolution 267(1969).
7Policies include: revoking residency and property rights as well as suppressing Palestinian political, economic, social, and cultural life. See more at: Al-Haq, Exploiting Instability to Deepen the Occupation, 3 December 2015, available at: http://www.alhaq.org/component/content/article/85-field-updates-2015/1002-east-jerusalem-exploiting-instability-to-deepen-the-occupation
8The Minister of Labour and Welfare and chair of the Likud Central Committee, Haim Katz, referred to Jerusalem and the West Bank as "an inseparable part of the land of Israel and will remain so forever". See more: Ynetnews, "Likud Party Calls for De-Facto Annexation of Israeli Settlements", 1 January 2018, available at: https://www.ynetnews.com/articles/0,7340,L-5064594,00.html
9The Knesset, Knesset Committees to Monitor Implementation of Attorney General's Directive regarding Application of New Laws to Judea and Samaria, 3 January 2018, available at: https://www.knesset.gov.il/spokesman/eng/PR_eng.asp?PRID=13713
10See: The Charter of the United Nations, Article 2(4).
11OHCHR, Report of the Special Rapporteur on the situation of human rights in the Palestinian territories occupied since 1967, 23 October 2017, UN Doc A/72/556, 23 October 2017, para 19.