International Community Must Take Immediate Action to End Israel's Attacks and Unlawful Closure of the Gaza Strip
International Community Must Take Immediate Action to End Israel's Attacks and Unlawful Closure of the Gaza Strip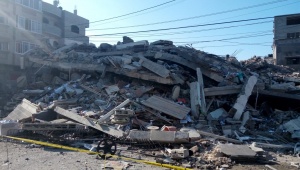 On Monday, 12 November 2018, Israeli forces carried out a series of intensive raids and missile attacks against various locations and buildings, including residential buildings, in the Gaza Strip, killing two resistance fighters, including Hamad Muhammad Al-Nahal, 23, and Mousa Iyad Abd Al-'Al, 22. On the same day, the IOF launched a missile on a site belonging to the Abu Ali Mustafa Brigades, the armed wing of the Popular Front for the Liberation of Palestine (PFLP), in Beit Lahia, in the North Gaza Governorate, killing Muhammad Zakaria Al-Tattari, 27, and Muhammad Zuhdi Odeh, 22.
Israel's barrage of missiles launched on the Gaza Strip continued until the morning of Tuesday, 13 November 2018, killing three more Palestinians. Khaled Riyad Al-Sultan, 25, was killed when the Israeli forces struck a missile on an agricultural land in Beit Lahia, killing him and injuring an eight-year-old. Meanwhile, Mosab Saeed Hawas, 21, was killed following an Israeli missile that struck a group of residents in Al-Awda Refugee Camp. On Tuesday, 13 November, at approximately 3:50 pm, Khaled Akram Ma'rouf, 29, a resistance fighter, was killed as the IOF targeted him and other resistance fighters with missiles in Beit Lahia, in the northern Gaza Strip.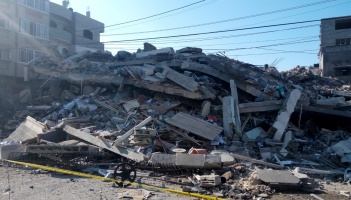 Amongst the buildings targeted in Gaza was the headquarters of Al-Aqsa TV Station, north of Gaza city. Prior to the attack, at approximately 8:40 pm, the employees of the station were ordered to evacuate within five minutes by the IOF. The building was struck with nine consecutive reconnaissance missiles and three F-16 missiles. The four-storey building was destroyed, while two neighbouring houses were severely damaged as a result. In addition, the five-storey Al-Rahma building, which houses offices for Hamas, was struck with nine reconnaissance missiles and two F-16 missiles. The Al-Amal Hotel building, consisting of five stories within a crowded residential neighbourhood, located west of Gaza city, which was recently used by the Palestinian security apparatus, was targeted with eight missiles. The five-storey Al-Yazji building in Gaza city, housing 18 residential apartments, a gym and a clothes shop, was also targeted by a round of missiles, destroying it and damaging neighbouring buildings. Moreover, residential houses were also targeted, including the residence of Talaat Qassem Abu Naji, located in Gaza city; the residence of Rashed Odeh Al-Aidi, north of Gaza city; the residence of Muhammad Abu Dheir, north of Rafah city; and the residence of Nasrallah Suleiman Al-Brim, east of Khan Younis.
Legal Analysis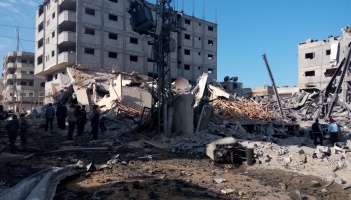 As Occupying Power, Israel is obliged to comply with international humanitarian law and international human rights law in the occupied Gaza Strip. The classification of the conflict in Gaza is a continuing international armed conflict. Within this context, and during active conflict, Israel is obliged to distinguish at all times in its targeting between civilians and combatants and between civilian property and legitimate military objectives.
In particular, Al-Haq is gravely concerned with the IOF's targeting of residential buildings, including the Al-Aqsa TV Station headquarters and Al-Rahma building. Civilian property will only become a legitimate military objective if by its nature, location, purpose, or use it would make an effective contribution to military action.[2] On 12 November 2018, an Israeli army spokesperson reported that Al-Aqsa TV was targeted for attack due to broadcasts, which the army considered "violent propaganda against the State of Israel and its civilians, and provides detail on methods and instructions [on] how to carry out attacks against civilians and IDF soldiers, how to obtain weapons and how to disrupt the IDF's activities to locate terrorists".[3] Al-Haq stresses that reasons of propaganda and bias are not sufficient to elevate the news station to a legitimate military objective. Rather, to meet this threshold the station would need to make an "effective contribution to military action" as a military communications network.[4]
Even so, an attack, which "may be expected to cause incidental loss to civilian life, injury to civilians, damage to civilian objects, or a combination thereof" will be considered excessive in relation to the direct and anticipated military advantage and therefore an unlawful and disproportionate use of force.[5] In this respect, and at a minimum, the excessive shelling of the residential buildings, the Al-Aqsa TV Station headquarters, Al-Rahma building, Al-Amal Hotel building and Al-Yazji building, leading to their complete destruction, may be considered a disproportionate excessive incidental loss to civilian property. Al-Haq further notes that the shelling of Al-Amal Hotel building also resulted in damages to Al Mezan Center for Human Rights' office in Gaza as well as surrounding residential buildings.[6]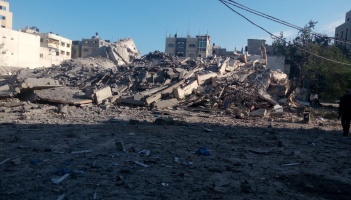 Similarly, civilians cannot be the target of military attacks which cause disproportionate loss of civilian life.[7] Al-Haq further stresses that an indiscriminate attack against the civilian population includes "an attack by bombardment by any methods or means which treats as a single military objective a number of clearly separated and distinct military objectives located in a city, town, village or other area containing a similar concentration of civilians or civilian objects."[8] In this regard, Al-Haq is particularly concerned that the barrage of missiles, leading to the deaths of civilians, may amount to an unlawful and excessive use of force.
Conclusions and Recommendations
For over 11 years, Israel has subjected the Gaza Strip to a militarily-enforced land, air and sea closure, prohibiting the entry and exit of people and goods, amounting to unlawful collective punishment,[9] and creating a human-made humanitarian crisis for the occupied Palestinian population therein, more than half of whom are Palestinian refugees. Meanwhile, three Israeli military offensives have targeted the Gaza Strip, leading to thousands of fatalities and casualties, and destroying much of Gaza's infrastructure, including water, electricity, and sewage.[10]
Since 30 March 2018, Palestinians in the Gaza Strip have been protesting against Israel's prolonged occupation and militarily-enforced closure and calling for the realisation of inter alia their inalienable right of return as Palestinian refugees, to their cities and villages of origin from which they were expelled in 1948.
Al-Haq is gravely concerned with Israel's provocative, excessive and unnecessary use of force, including lethal force, which may lead to a further escalation of violence in the occupied Gaza Strip, as well as the rest of the Occupied Palestinian Territory (OPT). Accordingly, Al-Haq reaffirms the following:
Israel, as occupying power, must abide by the principle of proportionality in attacks, whereby international humanitarian law prohibits any attack that may be expected to cause incidental loss of civilian life, injury to civilians or damage to civilian objects, or a combination thereof, which would be excessive in relation to the concrete and direct military advantage anticipated.
Extensive destruction of civilian property is in breach of Israel's obligation, as occupying power, to distinguish at all times between civilian objects and military objectives and to take all necessary measures to protect the civilian population in the occupied Gaza Strip. Article 53 of the Fourth Geneva Convention prohibits the destruction of private and public property, except where the destruction is absolutely necessary for military operations, whilst taking into consideration the interests and welfare of the protected civilian population. In addition, extensive destruction of property not justified by military necessity may amount to a war crime, giving rise to individual criminal responsibility under the Rome Statute of the International Criminal Court.
The international community must urgently and immediately take action to hold Israel to account for its widespread and systematic violations of international law, including those amounting to grave breaches in the OPT. Over the past five decades of its occupation, Israel has been allowed to enjoy a culture of impunity as it continued to violate the human rights of the occupied Palestinian population, denying them their rights to life, to return to their homes and villages of origin, and to self-determination, including permanent sovereignty over natural resources. The international community must finally take decisive action to bring Israel's occupation and closure to an end.
[1] Amos Harel, Yaniv Kubovich, Jack Khoury, Almog Ben Zikri, and Noa Landau, "Senior Israeli Officer Killed During Special Forces Op in Gaza" (Haaretz, 12 November 2018), available at: https://www.haaretz.com/israel-news/israeli-army-confirms-one-officer-killed-another-wounded-during-gaza-raid-1.6639735 (accessed 13 November 2018).
[2] Article 52(2), Additional Protocol I (1977).
[3] Elad Benari, "Watch: IDF strike on the building of Hamas' television network" (Israel National News, 12 November 2018), at: http://www.israelnationalnews.com/News/News.aspx/254632 (accessed 13 November 2018).
[4] "Final Report to the Committee Established to Review the NATO Bombing Against the Federal Republic of Yugoslavia", paras. 75-76.
[5] ICRC, Customary IHL Database, "Rule 14. Proportionality in Attack", available at: https://ihl-databases.icrc.org/customary-ihl/eng/docs/v1_cha_chapter4_rule14 (accessed 13 November 2018).
[6] See, e.g., Al Mezan's twitter post and images of the damages sustained by their Gaza office: https://twitter.com/almezancenter/status/1062291447104311296?s=12 (accessed 13 November 2018).
[7] Article 51, Additional Protocol I (1977).
[8] Article 51(5)(a), Additional Protocol I (1977).
[9] Article 33, Fourth Geneva Convention (1949).
[10] Al-Haq, Divide and Conquer – A Legal Analysis of Israel's 2014 Offensive against the Gaza Strip, 2015, available at: http://www.alhaq.org/publications/publications-index/item/divide-and-conquer?category_id=4