Joint Urgent Appeal to UN Special Procedures on Israeli Suppression of Palestinian Resistance at Jabal Sbeih against Settlement Expansion
Joint Urgent Appeal to UN Special Procedures on Israeli Suppression of Palestinian Resistance at Jabal Sbeih against Settlement Expansion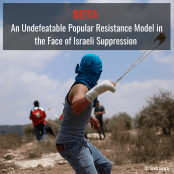 On 06 November 2021, Al-Haq, Addameer Prisoner Support and Human Rights Association, Jerusalem Legal Aid and Human Rights Center (JLAC), and Palestinian Centre for Human Rights submitted a joint urgent appeal to United Nations (UN) Special Procedures on Israeli suppression of Palestinian resistance at Jabal Sbeih in occupied Nablus.
Since 5 May 2021, Palestinians have been protesting at Jabal Sbeih against the Evyatar colonial outpost which was illegally established on 3 May 2021 on Jabal Sbeih, seizing private land of three Palestinian villages in occupied Nablus: Beita, Yitma, and Qabalan, and preventing the access of some 30,000 residents of the three villages to the land, including agricultural land they had been ploughed and cultivated. While the Israeli settlers left the colonial outpost on 2 July 2021, the structures remain intact, as per an agreement signed on 30 June 2021, between the Israeli occupying authorities and the Evyatar settlers, stipulating the temporary evacuation until the Occupying Power examines 'the legal status of the land'.
Regardless of the temporary evacuation, the protesters, who call themselves the 'Guards of the Mountain', have been demonstrating on an almost-daily basis at Jabal Sbeih, to express refusal of Israel's settler-colonial regime, and to protect themselves from further land appropriation, natural resources exploitation and settler violence. They have mobilised rotation units to provide constant protection for the mountain and vowed their lives until the last structure of the colonial outpost is removed from Jabal Sbeih, providing a creative and resilient popular resistance model.
As part of Israel's intent to maintain its apartheid regime, it has systematically suppressed Palestinian opposition through excessive use of force, mass arbitrary detention, as well as widespread measures of collective punishment, with the ultimate goal of undermining any effort seeking to challenge its apartheid. The case of Jabal Sbeih exemplifies the use of such suppressive measures. As soon as Palestinians started protesting at Jabal Sbeih, the Israeli Occupying Forces (IOF) have responded with excessive, disproportionate and indiscriminatory use of force, killing seven protesters, including two children. According to the Palestinian Red Crescent Society, 4508 Palestinian protesters were injured in the context of Jabal Sbeih protests between 10 May and 29 October 2021, including 143 injuries with live bullets, and 720 with rubber-coated bullets, dozens of whom have been left with disabilities.
As part of its collective punishment measures and efforts to deter Beita residents from proceeding their struggle, Israel has closed the entrances and routes leading to Beita on more than one occasion; raided the village several times at dawn hours in search and arrest operations, arresting 55 of its residents between as of 14 October 2021, 26 of whom remain in Israeli prisons as of 1 November 2021; punitively revoked work permits for residents working inside the Green Line; and levelled routes where protests usually happen to impede mass protesters and ambulance movement.
In light of the deliberate failure of the Israeli occupying authorities to dismantle the Evyatar colonial outpost, and the ongoing suppression of Palestinian resistance at Jabal Sbeih, the urgent appeal calls on the UN Special Procedure mandates to call on the Israeli occupying authorities to immediately dismantle the Evyatar colonial outpost and all existing settlements, and to bring their rules of engagement for the use of live ammunition in line with international human rights law.
The urgent appeal further calls on the UN Special Rapporteurs to urge the international community to recognise Israel's excessive use of force, collective punishment, and arbitrary arrests, as policies and measures designed to maintain its apartheid regime over the Palestinian people; refrain from rendering aid or assistance towards the maintenance of the illegal regime, and cooperate to bring its maintenance to an end, including by imposing sanctions.
Please find the joint urgent appeal here.