Palestinian Authorities in the West Bank and Gaza Strip Must Uphold the Right to Freedom of Opinion and Expression
Palestinian Authorities in the West Bank and Gaza Strip Must Uphold the Right to Freedom of Opinion and Expression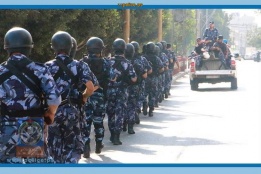 The Cairo Institute for Human Rights Studies and Al Haq are concerned with the ongoing crackdown on the freedom of opinion and expression targeting Palestinian journalists and activists by the Palestinian authorities in the occupied West Bank and Gaza Strip. In recent months, there has been an alarming increase in harassment, summoning, and arrests of journalists and activists for their work and criticism of the Palestinian authorities. In a time of a global pandemic, these arrests and detentions of individuals are all the more alarming as they are being put at risk of contracting COVID-19 in detention centres.
In the occupied West Bank, there have been violations of the right to freedom of opinion and expression by the Palestinian Authority. However, there has been an uptick in "politically motivated arrests" throughout the COVID-19 pandemic as documented by Palestinian civil society organisations, including Lawyers for Justice and Al-Haq, among others. Since March 2020, the Palestinian Authority has imposed a state of emergency to confront the spread of COVID-19, which has been repeatedly renewed contrary to Palestine's Basic Law.
The arrest of activist Nizar Banat in Hebron on 23 August 2020 by the Palestinian security forces after posting videos critical of the Palestinian Authority on his Facebook page is one example. Nizar's arrest is only the latest in ongoing efforts to intimidate and silence activists, journalists, and human rights defenders who are peacefully expressing their views. In another case, Abdel-Rahman Thahir, a 38 year old filmmaker, was arrested in Nablus on 19 August 2020 on charges that included "defaming authorities," and released on 21 September 2020. Moreover, the authorities handling of the pre-trial process has undermined Abdel-Rahman's ability to have a fair trial by preventing lawyer visits and denying access to the investigation file. Moreover, nine Palestinians were detained for preparing to participate in a peaceful protest against deteriorating economic conditions and the Palestinian Authority's poor performance.
In the occupied Gaza Strip, the de facto authority has continued to arrest and arbitrarily detain journalists and activists for peaceful expression, including threatening media freedom. On 19 July 2020, security services detained Muthanna al-Najjar, a correspondent for Al Quds Radio and Al-Hadath newspaper, and journalist Tariq Abu Ishaq. Earlier this year in March 2020, writer Abdullah Abu Sharkh and cartoonist Ismael el-Bozom were arrested by security forces without a warrant as the latest incident in an ongoing series of arrests and harassment for their writings that have been critical of the de facto authority.
In the context of this worrying continued pattern of attacks on freedom of expression in the West Bank and Gaza, we call upon the Palestinian authorities to immediately and unconditionally cease its practice of arresting and harassing Palestinian activists, journalists, and human rights defenders for exercising their right to freedom of expression in the West Bank and Gaza. Freedom of opinion and expression is guaranteed under the amended Palestinian Basic Law. As signatories of international conventions, including the International Covenant on Civil and Political Rights, the Palestinian authorities in the West Bank and Gaza Strip must meet their obligations to ensure the protection and fulfillment of basic rights in accordance with international law.