On World Habitat Day, COVID-19 Accentuates Threats to the Palestinian Environment 
On World Habitat Day, COVID-19 Accentuates Threats to the Palestinian Environment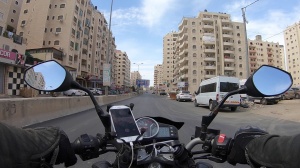 Every first Monday of October, World Habitat Day marks the occasion to address advancement of the right to adequate housing. In the midst of the COVID-19 pandemic, adequate housing has never been so needed, not only to secure a safe home, but also to face human rights challenges. In the Occupied Palestinian Territory (OPT), the COVID-19pandemic has seen Israel, the Occupying Power, bolstering its house demolition policies and creating coercive environments to permanently force the transfer of Palestinian communities.
Denial of Right to Adequate Housing
It should be recalled that the right to adequate housing comprises part of the right to an adequate standard of living.[i] As the Occupying Power in charge of maintaining public order and safety, while respecting the laws in force in the OPT,[ii] Israel is responsible for the protection of the right to adequate housing and living conditions of the protected Palestinian population.[iii] As such, Israel is strictly prohibited from destroying property unless rendered absolutely necessary by military operations.[iv] Israel, has nonetheless, consistently applied a discriminatory planning and permit regime with the purpose of facilitating the forcible transfer of Palestinians from their lands.
In illegaly annexed and occupied East Jerusalem, for example, Palestinians are subjected to a discriminatory planning and zoning regime, shortage of access to public services, evictions and house demolitions all under the illegal application of Israel's domestic law.[v] Between March and September 2020, Al-Haq documented 53 house demolitions in East Jerusalem, displacing 385 Palestinians, including 195 women and 174 children.[vi] In 2020, Al-Haq recorded a sharp increase in house demolitions in East Jerusalem, with demolitions in Jerusalem comprising 46 percent of the overall demolitions carried out in the OPT.
Basic infrastructure neglect leads to deficiencies in sanitation, sewage and drainage services, with 53 percent of Palestinians in East Jerusalem lacking appropriate legal connection to water distribution system.[vii] Over the past few months, Israel has methodically spurned healthcare needs in East Jerusalem, including by delaying the opening of testing centers and quarantine facilities, hampering community-based initiatives to counter the pandemic, putting Palestinian communities under tremendous health risks, especially in the neighbourhoods of Silwan, Shu'fat refugee camp, Kufr 'Aqab and Issawiyeh, already plagued with housing shortages and overcrowding challenges.[viii]
Similarly in Area C, the Israeli Occupying Forces (IOF) apply a restrictive planning and building permit system for the 150,000 Palestinian living under military occupation, enforcing restrictive planning policies under military orders for the purpose of limiting Palestinian urban development and illegally appropriating Palestinians lands for the transfer in of Israeli settlers. Accordingly, 70 percent of Area C is earmarked for illegal Israeli settlements, military zones, nature reserves, state land and seam zone, with only one percent of Area C actually allotted to Palestinian construction.[ix]Such prohibitive policies coerce Palestinians into building their houses without permit, thereby putting them at risk of demolition orders and expulsions. Between, March and August 2020, Al-Haq documented the demolition of 114 houses in Area C, including 111 administrative demolitions for lack of building permits, and 3 punitive demolitions as collective punishment, prohibited under international law.[x]
While Israel imposes a restrictive and discriminatory planning process on Palestinian communities, this contrasts with the favourable treatment reserved to illegally transferred in Israeli settlers, who benefit from building opportunities enhanced through financial incentives and subsidies, full consultation and participation in planning decision-making, and a wide range of infrastructure and services.[xi] Some 70 percent of Israelis, illegally settled into the Palestinian territory, were motivated by Israel's policies of providing low cost of living coupled with high living standards, rather than by ideological reasons.[xii] In sharp contrast with the discriminatory apartheid policies and practices inflicted on Palesinian communities, outpost settlements even when built by settlers in contravention of Israeli domestic law, still benefit from administrative leniency and are often formally legalized post facto.
Pressure on adequate housing for Palestinians constitutes one of the mechanisms that fosters the forcible transfer of the Palestinian people from their lands, and the reciprocal transfer of Jewish-Israelis, the Occupying Power's own population, into the occupied territory of East Jerusalem and the West Bank, actions strictly prohibited under international law.[xiii] Meanwhile Israel's enabling environment of incentives to facilitate settler transfer into East Jerusalem and the West Bank, is prohibited under international law and amounts to grave breaches of the Geneva Conventions, and to war crimes and crimes against humanity, prosecutable under the Rome Statute of the International Criminal Court.[xiv]
Gaza2020 Uninhabitable
In Gaza, Israel's military occupation and full land and sea closure has profoundly impacted the housing situation. As such, 2020 symbolizes the landmark year when the Gaza Strip would be considered as not "a liveable place" due to drastic shortages of basic infrastructures, electricity and fuel supplies.[xv] Only 10 percent of water consumption is deemed drinkable. Housing is constantly targeted and destoyed in major Israeli military offensives, in violation of principles of distinction and military necessity.[xvi] Regeneration projects aimed at improving infrastructure and access to services are systematically hampered and delayed by the Israeli Occupying Power, which controls entry of goods and construction materials.[xvii] Even in times of COVID-19 pandemic, Israel's continued closure continues to restrict entry for essential medicines, medical materials and equipment to respond to risk of infection, while impeding the issuance of medical permits for Palestinians from Gaza.[xviii]
Conclusion
On World Habitat Day, Al-Haq notes that the COVID-19 pandemic did not halt ongoing Israeli coercive policies towards Palestinian communities, Israeli protracted occupation and institutionalized discrimination, all of which remain major obstacles to the achievement of adequate housing for all Palestinians. Al-Haq therefore calls on Israel to terminate its closure of the Gaza Strip, and end its prolonged occupation of the Palestinian territory. In particular, Al-Haq calls upon Third States to comply with their international obligations to take all necessary measures to put an end to Israel's prolonged occupation, annexation and apartheid practices in the Palestinian territories, which violate jus cogens rights to self-determination and permanent sovereignty of the Palestinian population.
---