Settling Area C: The Jordan Valley Exposed
Settling Area C: The Jordan Valley Exposed
Download file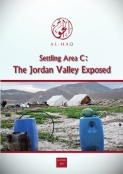 The Jordan Valley comprises over a fifth of the territory of the West Bank and contains vital land reserves for the natural expansion of Palestinian towns and cities. It has abundant water resources – including one-third of the underground water reserves in the West Bank – and has vast potential for agricultural, industrial and tourism industries. The economic development of the Jordan Valley is considered essential for Palestinian growth and recovery and is therefore crucial for the sustainability and viability of an independent Palestinian State.
Since the beginning of its military occupation in 1967, the Israeli authorities have been systematically appropriating Palestinian land for the establishment and expansion of Israeli settlements in the Jordan Valley, as well as unlawfully exploiting Palestinian natural resources in the area. Through these practices, the Israeli authorities continue to illegally exercise sovereign rights over the Jordan Valley and create facts on the ground with the intent of forcibly transferring the Palestinian population from the Jordan Valley and permanently annexing the land. Over the past 50 years, Israel's practices and policies in the occupied territory have contributed to the creation of an increasingly unliveable environment for Palestinian communities in the Jordan Valley, often forcing them to relocate.
This report, Settling Area C: The Jordan Valley Exposed, examines the different legal mechanisms that Israel uses to appropriate land in the Jordan Valley to establish permanent settlements, applying both a legal and historical lens. It further documents the experiences of Palestinians affected by the coercive environments which Israel creates in terms of exploitation of water resources, movement and access restrictions and the application of a discriminatory planning policy, resulting in mass house demolitions.