Al-Haq Calls on the EU to Uphold a Consistent Policy and Impose an Arms Embargo on Israel
Al-Haq Calls on the EU to Uphold a Consistent Policy and Impose an Arms Embargo on Israel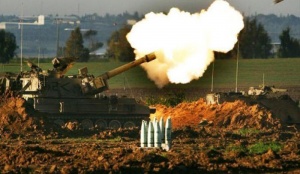 On 17 September 2020, the European Parliament urged all members of the European Union (EU) to impose an arms embargo on Saudi Arabia over the war in Yemen and the killing of journalist Jamal Khashoggi.[1] In response to the illegal annexation of Crimea and Sevastopol by Russia in 2014, the EU adopted countermeasures including sanctions against Russia, to comply with its legal obligations to reverse the illegal annexation.[2] Similarly, the crime of apartheid in South Africa was brought to end with the instrumental role of the international community, including through the imposition of an arms embargo on the South African government.[3]
Despite these progressive steps in comparative situations, the international community's responsibilities under international law, not to render aid and to cooperate to bring to an end the serious crimes committed by Israel, remain unmet. The countless recommendations by UN bodies to Israel and the international community remain persistently unimplemented, which "lies at the heart of the systematic recurrence of violations." [4] Today, not only has Israel expanded its colonization of the Occupied Palestinian Territory (OPT), it has openly outlined its intention to annex de jure significant parts of the occupied West Bank, maintained through policies and practices of an apartheid regime. On 12 May 2020, the European Union's foreign policy chief Josep Borrell confirmed that the EU is "far away" from sanctioning Israel on its recent annexation plans of the West Bank. [5]
Since 1948, Israel has established and continued to expand its settler-colonial project through a plethora of crimes including through the establishment and the maintenance of the crime of apartheid against the Palestinian people on both sides of the Green Line. Indeed, Israel's occupation of the West Bank, including East Jerusalem, and the Gaza Strip serves as a continuation and expansion of this settler-colonial project and apartheid regime. Since 1967, Israel has been systematically violating its fundamental obligations as an Occupying Power vis-à-vis the occupied Palestinian people by claiming sovereign rights over the Occupied Palestinian Territory (OTP), establishing an indefinite if not permanent occupation, and denying the Palestinian people their right to self-determination.[6]
Between 2015 and 2019, two EU states, namely Germany and Italy provided Israel with around 22 per cent of its arms import. [7] Between 2013 and 2017, an amount of €777 million worth of arms was supplied to Israel by EU states. This number does not include all EU states, as some states do not report their arms delivery date including Germany, which in the same period, issued licenses for arms sales to Israel worth €1.6 billion.[8] By providing military aid and assistance to Israel, certain EU Member States may be contributing arms to Israel used for the commission of war crimes and crimes against humanity, including its maintenance of an apartheid regime.
Israel has used its arms industry to systematically control the Palestinian people and repress all Palestinian challenges to its military occupation and apartheid. Israel uses unnecessary and excessive force in the context of suppressing protests, search-and-arrest operations, and at checkpoints in complete disregard for Palestinian life. Between 2008 and 2014, Israel launched three military offensives on the Gaza Strip, which remains under an unlawful blockade since 2007. Since 2018, Al-Haq has documented the Israeli Occupying Forces (IOF) killing of 468 Palestinians. During the Great Return March in the Gaza Strip, the IOF killed 216 Palestinians, including 47 children, and injured over 6,000 Palestinian protesters with live ammunition. In 2019, the UN Commission of Inquiry concluded that some violations committed in the context of the protest "may constitute war crimes or crimes against humanity." [9] At the same time, Israel markets its arms as "field-tested", at the expense of the lives of the Palestinian people, with Israel being among the top ten arms exporters in the world, enjoying a 77 per cent increase in arms exports between 2015 and 2019 compared to 2010 and 2014. [10]
In light of Israel's "long-standing systemic impunity for international law violations" which "has allowed for the recurrence of grave violations without consequence,"[11] Al-Haq calls on the EU to adopt a consistent policy on the recommendation of arms embargos and application of countermeasures, against third States responsible for the commission of internationally wrongful acts, including the unlawful acquisition of territory through use of force and denial of the right to self determination.
Noting that States, by rendering aid or assistance to Israel for its commission of internationally wrongful acts, itself constitutes an internationally wrongful act by that State. Further, the breach of peremptory norms of international law by Israel including the denial of the right of the Palestinian people to self-determination entails obligations on all states not to recognize the illegal situation, not to render aid or assistance in maintaining the situation and to cooperate to bring to an end the serious breach, in addition to the responsibility of the High Contracting Parties to the Geneva Conventions to ensure respect for the Convention. Accordingly, Al-Haq calls on the EU to recommend to its Member States, ending all trade in weapons with Israel through a two-way arms embargo and ending military-security cooperation.
[1] Al-Jazeera, "EU Parliament urges arms embargo on Saudi Arabia" 17 September 2020, available at: https://www.aljazeera.com/news/2020/09/17/eu-parliament-urges-arms-embargo-on-saudi-arabia/
[2] Council of the EU, "Illegal annexation of Crimea and Sevastopol: EU extends sanctions by one year, 19 June 2017, European Council" 19 June 2017, available at:
https://www.consilium.europa.eu/en/press/press-releases/2017/06/19/crimea-sevastopol-eu-extends-sanctions/
[3] UN Security Council Resolution 418 (1977)
[4] Human Rights Council, Report of the Independent Commission of Inquiry on the 2014 Gaza Conflict (24 June 2015) UN Doc A/HRC/29/52, para 82
[5] Haaretz, "EU Foreign Policy Chief: Israeli Annexation 'Most Important Item' in Foreign Ministers Meeting" 13 May 2020, available at: https://www.haaretz.com/israel-news/.premium-eu-foreign-policy-chief-annexation-most-important-item-in-upcoming-meeting-1.8841674
[6] See: Orna Ben-Naftali and Aeyal M Gross and Keren Michaeli, 'Illegal Occupation: Framing the Occupied Palestinian Territory' (2005) 23 Berkeley J Int'l L 551; Human Rights Council (HRC) 'Situation of human rights in the Palestinian territories occupied since 1967' (23 October 2017) UN Doc A/72/556.
[7] Stockholm International Peace Research Institute "Fact Sheet Trends In International Arms Transfers" 2019 available at: https://www.sipri.org/sites/default/files/2020-03/fs_2003_at_2019.pdf
[8] Campaign Against Arms Trade, available at: https://caat.org.uk/resources/countries/israel/
[9] UN, "UN Independent Commission of Inquiry on the Protests in the OPT Urges Israel to Review Rules of Engagement Before Gaza Protest Anniversary – OHCHR Press Release" 18 March 2019, available at: https://www.un.org/unispal/document/un-independent-commission-of-inquiry-on-the-protests-in-the-opt-urges-israel-to-review-rules-of-engagement-before-gaza-protest-anniversary-ohchr-press-release/
[10] Stockholm International Peace Research Institute "Fact Sheet Trends In International Arms Transfers" 2019 available at: https://www.sipri.org/sites/default/files/2020-03/fs_2003_at_2019.pdf
[11] UNHRC Resolution (18 March 2019) UN Doc A/HRC/40/L.25