Al-Haq Submits an oral intervention at the 44th Regular Session of the United Nations Human Rights Council
Al-Haq Submits an oral intervention at the 44th Regular Session of the United Nations Human Rights Council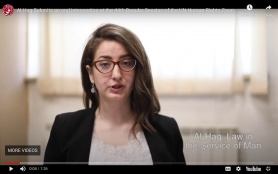 44th Regular Session of the United Nations Human Rights Council
30 June – 20 July 2020
Oral Intervention
Al-Haq, Law in the Service of Man
NGO in Special Consultative Status with ECOSOC
Item 3 – Interactive dialogue with the Special Rapporteur on the right of everyone to the enjoyment of the highest attainable standard of physical and mental health
Interactive Dialogue
Speaker: Ms Shahd Qaddoura, Al-Haq
Date: 9 July 2020
Thank you, Madam President.
It is with great alarm that we continue to address this Council on the prolonged denial of Palestinian rights since the Nakba. This June marks 53 years of prolonged Israeli military occupation and 13 years since the start of Israel's illegal closure of the Gaza Strip.
Prolonged refugeehood, occupation, and closure, in violation of Palestinian self-determination, undermine every aspect of Palestinian life, including their physical and mental health, through ongoing policies of displacement, colonial dispossession, and erasure.
For 13 years, Israel has maintained its illegal closure of Gaza, imposing unlawful collective punishment over two million Palestinians, resulting in profound levels of poverty, unemployment, aid-dependency and desperation, as well as the collapse of essential services, including healthcare.
Israel maintains an arbitrary permit regime, controlling access to essential healthcare outside of Gaza and preconditioning urgent and lifesaving treatment for thousands of Palestinians, in what amounts to ill-treatment and, in the most severe cases, arbitrary deprivation of life. Last month, two Palestinian infants, Anwar Harb, nine days, and Omar Yaghi, eight months, died after being prevented access out of Gaza to undergo the surgeries they needed to save their lives.
Madam President,
According to WHO, the occupied Palestinian territory has one of the highest burdens of adolescent mental disorders in the Eastern Mediterranean Region. In Gaza, 210,000 Palestinians suffer from severe or moderate mental health disorders. Since 2012, the UN has repeatedly warned that Gaza would become unliveable by 2020 should Israel fail to lift its illegal closure. It is 2020, it is time to lift the closure.
Thank you.