Al-Haq Submits Legal Position Paper to European Union on the Membership of Mr Haim Bibas, Mayor of Modi'in-Maccabim-Re'ut, in the Euro-Mediterranean Regional and Local Assembly (ARLEM)
Al-Haq Submits Legal Position Paper to European Union on the Membership of Mr Haim Bibas, Mayor of Modi'in-Maccabim-Re'ut, in the Euro-Mediterranean Regional and Local Assembly (ARLEM)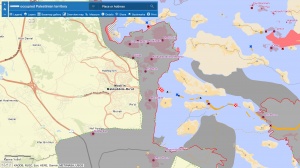 Al-Haq has submitted a legal position paper to the European Union (EU) on the membership of Mr Haim Bibas, president of the Federation of Local Authorities of Israel and mayor of Modi'in-Maccabim-Re'ut, in the Euro-Mediterranean Regional and Local Assembly (ARLEM).
ARLEM, a body comprised of representatives of European and Mediterranean local authorities, was established on the initiative of the EU to foster co-operation and cohesion between the EU and its Mediterranean partners. As such, it is regrettable that the Assembly's membership includes Mr Haim Bibas, the representative of Modi'in-Maccabim-Re'ut, parts of which lie beyond the Green Line, and thus constitute an illegal Israeli settlement in the occupied West Bank.[1]
Following a request for legal clarification by the municipality of Ramallah, Al-Haq drafted its position paper on the legal status of Israeli settlements as being contrary to established norms and practices of international law, in particular the prohibition on forcible transfer found in Article 49(6) of the Fourth Geneva Convention. Al-Haq further outlined that the construction and maintenance of illegal Israeli settlements necessarily involve the commission of war crimes and crimes against humanity, which fall under the jurisdiction of the International Criminal Court.
The position paper recalls that the EU has expressed a clear position on the illegality of Israeli settlements, both in law and policy. This has been expressed through various statements from EU representatives and the Court of Justice of the EU. In particular, the EU has excluded Israeli settlements, including Modi'in-Maccabim-Re'ut, from preferential treatment under the terms of the EU-Israel Technical Arrangement as being outside the de jure territory of Israel.
Accordingly, Al-Haq recommended, inter alia, that ARLEM immediately expel Mr Haim Bibas from its membership, that the EU ensure its subsidiary entities comply with its own laws and policies, and that third States, regional, and local authorities abide by their obligations under international law to refrain from such acts and omissions which would aid the continuation of Israel's illegal settlement enterprise, and to take positive steps to bring the illegal situation to an end.
Al-Haq's position paper is available here.