Palestinian and regional groups send joint urgent appeal to UN special procedures warning against the imminent deportation of Omar Barghouti
Palestinian and regional groups send joint urgent appeal to UN special procedures warning against the imminent deportation of Omar Barghouti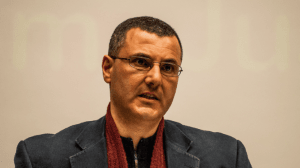 On November 6, 2019, four Palestinian and regional groups, including Al-Haq, the Cairo Institute for Human Rights Studies (CIHRS), BADIL, and Community Action Center at Al-Quds University (CAC) sent a joint urgent appeal to five United Nations (UN) special procedures, calling on them to take action to prevent the imminent risk of deportation of Palestinian human rights defender Omar Barghouti, following the initiation by the Israeli Interior Minister of proceedings to punitively revoke his residency status for so-called 'breach of allegiance' to the State.
As a Palestinian human rights defender and co-founder of the nonviolent Boycott, Divestment and Sanctions (BDS) movement for Palestinian rights, Omar Barghouti has been repeatedly targeted by Israel for his calls for freedom, justice, and equality for the Palestinian people in accordance with international law. On 6 October 2019, Israeli Interior Minister Arye Deri announced that he is working towards revoking the residency status of Omar Barghouti, placing him at imminent risk of deportation. Prior to this announcement, Israel's Attorney-General, Dina Zilber, had confirmed that the Minister of Interior has the prerogative to revoke the residency status of a person who is accused of 'breaching allegiance' to Israel.
In the joint urgent appeal sent to UN human rights experts on Nov. 6, the four Palestinian and regional organisations argued that the threatened revocation of Barghouti's residency status on the basis of his human rights work, including his calls for justice and accountability, has grave implications for further repression, silencing, and intimidation by the Israeli Government of anyone advocating for the rights of the Palestinian people and seeking to challenge Israel's institutionalised regime of racial domination and oppression. Israel's policy and practice of revoking the residency status of Palestinians, including on punitive grounds for so-called 'breach of allegiance' to the State, is in clear violation of its obligations under international law and has been used as a tool to suppress Palestinians' activism and to restrict their right to freedom of expression when challenging Israel's violations and suspected crimes.
The joint urgent appeal was addressed to the UN Special Rapporteur on the situation of human rights in the occupied Palestinian territory, Mr. Michael Lynk, the Special Rapporteur on the situation of human rights defenders, Mr. Michel Forst, the Special Rapporteur on the promotion and protection of the right to freedom of opinion and expression, Mr. David Kaye, the Special Rapporteur on the rights to freedom of peaceful assembly and of association, Mr. Clément Nyaletsossi Voule, and the Independent Expert on human rights and international solidarity, Mr. Obiora C. Okafor.
In their urgent appeal, the organisations urged the relevant special procedures mandates to recognise Israel's policy and practice of residency revocation as illegal and to call on Israel to repeal its racist Entry into Israel Law, including the 'breach of allegiance' criterion used to threaten the residency rights of Palestinians. Read the joint urgent appeal here.