House Demolitions and Forced Evictions in Silwan: Israel's Transfer of Palestinians from Jerusalem
House Demolitions and Forced Evictions in Silwan: Israel's Transfer of Palestinians from Jerusalem
Download file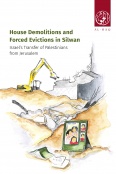 Al-Haq's new report titled "House Demolitions and Forced Evictions in Silwan: Israel's Transfer of Palestinians from Jerusalem" examines Israel's house demolition policy as a tool of forcible transfer, the different types of demolition orders, including incidents of 'self-demolition,' and forced evictions. Looking at Silwan, in particular, the report analyses the impact of Israel's systematic policies and practices of forced displacement, including Israel's applied framework to govern planning and zoning in Jerusalem.
While the city of Jerusalem enjoys a special protected status under international law, Israel has illegally annexed West Jerusalem in 1948, forcibly displacing and dispossessing around 60,000 Palestinians from the western part of the city and its neighbouring villages. In 1967, Israel occupied the West Bank, including East Jerusalem, and the Gaza Strip, further illegally annexing occupied East Jerusalem and the occupied Syrian Golan. Ever since, Israeli policies governing Jerusalem have sought to achieve one main goal: alteration of the character, status, and composition of Jerusalem in favour of an Israeli-Jewish demographic majority, through the forcible transfer of Palestinian residents from the city.
Located in close proximity of Jerusalem's Old City, Silwan lies at the forefront of Israel's ongoing settler-colonial enterprise in Jerusalem. Since the early 1990s, Silwan has exemplified Israel's systematic erasure of Palestinians in and around the Old City of Jerusalem to the benefit of Zionist settler organisations. Driven by a Zionist settler-colonial narrative, and in less than three decades, religious and ideological settler groups such as El'Ad and Ateret Cohanim have managed to increase the Israeli-Jewish settler population in Silwan from none to over a thousand individuals.
During the Nakba in 1948 and following the 1967 War, thousands of Palestinian families were forcibly displaced and uprooted from their homes, lands, and property by Zionist forces, applying the logic of "a land without a people for a people without a land." Until this day, in a less visible and more insidious manner, this report shows that this logic remains Israel's modus operandi in occupied East Jerusalem, led by both the Israeli Government and illegal settler organisations. In Silwan, like in many other Palestinian neighbourhoods in Jerusalem, the Palestinian people face the imminent threat of population transfer and deportation through a complex and institutionalised process, fuelled by public and private pressure.
With the international community's failure to hold Israel accountable for its systematic and wide-spread human rights violations, Israel's discriminatory policies and practices will continue to seek to rid Silwan of its Palestinian people, identity, and heritage, for the benefit of Israel's illegal settlement enterprise.