The Killing of Al-Sharif and Al-Qasrawi in Hebron
The Killing of Al-Sharif and Al-Qasrawi in Hebron
- [21- 27 March] - Ref.: 24/2016
02، Apr 2016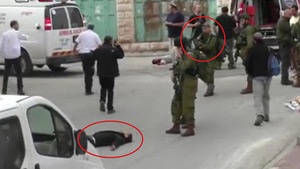 That morning at approximately 8:20 am, gunshots were heard in Tal Rumeida, near the gilbert checkpoint in the old city of Hebron. A man wearing a black jacket, later identified as Abd Al-Fattah Al-Sharif, was holding a pocket knife while running, apparently trying to escape after he had stabbed a soldier and slightly injured him. An Israeli soldier shot at Abd Al-Fattah twice from a distance of approximately 10 metres and as a result he fell to the ground. The same soldier then shot two other bullets at Ramzi's head, who had already been shot at and on the ground, from a distance of approximately three and a half metres.
Four ambulances arrived to the scene and provided medical assistance to the injured soldier but not to Abd Al-Fattah or Ramzi who were both bleeding heavily. Settlers arrived to the scene, called Abd Al-Fattah and Ramzi "dogs" and "terrorists" and pointed out to the soldiers that Abd Al-Fattah was still alive. A soldier then shot at Abd Al-Fattah's head from a distance of approximately three metres. The soldier had spoken to a higher rank officer before he shot Abd Al-Fattah. (Al-Haq affidavit no. 213/2016)
This excessive use of force by the Israeli soldiers may amount to extra-judicial killings of Ramzi and Abd Al-Fattah. Although only one killing was captured on video, the circumstances were similar. The shooting at Ramzi's head came 20 minutes after he had been shot and subdued on the ground. Abd Al-Fattah had also been shot and subdued on the ground. Given their state, the additional shots indicate an intent to kill.
Since October 2015, there have been numerous cases similar to Abd Al-Fattah and Ramzi, where Palestinians were shot and killed unlawfully.[1] The IOF could have avoided these killings and controlled the situation through other means. The case of Ramzi and Abd Al-Fattah exemplifies Israel's occupation practices, including its shoot-to-kill policy against Palestinians. The policy and Israel's disregard for Palestinian lives was again underscored by Israeli officials' statements on the incident, including those made by Avigdor Lieberman the head of a right-wing Israeli party in support of the soldier that killed Abd Al-Fattah.
While Israel did arrest the soldier seen killing Abd Al-Fattah and released him to house arrest[2], the solider that killed Ramzi should also be investigated. Given this disparity, Al-Haq calls into question Israel's ability and willingness to hold perpetrators accountable - especially those not caught on video.
Al-Haq reiterates that Israel must ensure prompt, impartial, independent, effective, and transparent investigations into the killing of Abd Al-Fattah and Ramzi, and hold all perpetrators accountable. Accordingly, the role of the Israeli paramedics and doctors, who were at the scene and did not assist either Ramzi or Abd al-Fattah, should also be examined. Under the principle of medical neutrality, health care workers should provide care without discrimination.[3] This principle is in line with Article 12 of the International Covenant on Economic, Social and Cultural Rights, which requires State Parties to provide everyone, without discrimination, equal and timely access to health services.[4].
Due to Israel's continued failure to carry out such investigations and subsequent prosecutions of individuals, as well change state practices in order to respect the right to life of Palestinians, the international community must take effective measures to ensure the protection of the occupied Palestinian population. This includes full cooperation with the Office of the Prosecutor of the International Criminal Court.
---
[1] For more information please see: Al-Haq Special Focus: Unlawful Killings of Palestinians by Israeli Occupying Forces since September 2015 http://www.alhaq.org/documentation/field-updates-2015/970-al-haq-special-focus-unlawful-killings-of-palestinians-by-israeli-occupying-forces-since-september-2015 and From Killing to Burial: Questions Left Unanswered http://www.alhaq.org/documentation/weekly-focuses/1028-from-killing-to-burial-questions-left-unanswered
[2] Soldier Suspected of Hebron Manslaughter Released to Open Arrest, http://www.haaretz.com/israel-news/.premium-1.712166
[3]http://physiciansforhumanrights.org/library/multimedia/principle-of-medical-neutrality.html
[4]UN Committee on Economic, Social and Cultural Rights (CESCR), General Comment No. 14: The Right to the Highest Attainable Standard of Health (Art. 12 of the Covenant), (11 August 2000),UN Doc. E/C.12/2000/4.