Field Report: Collective Punishment in Jabal Al-Mukabir
Field Report: Collective Punishment in Jabal Al-Mukabir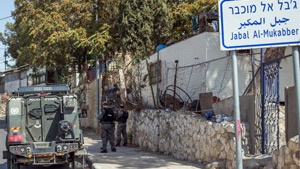 Since then, Israel has implemented a variety of oppressive measures against Fadi's family members and residents of Jabal Al-Mukabir. As previously described in Al-Haq's 2015 report "East Jerusalem: Exploiting Instability to Deepen the Occupation," as well as in other publications, "using security as a pretext, Israel has implemented unprecedented acts of collective punishment, excessive use of force, and other attacks against Palestinians and civilian infrastructure, including hospitals, and has exploited the present situation to expedite existing aims across the OPT."[1] These aims include changing the demography of occupied East Jerusalem through the displacement of the Palestinian population.
Over the past two weeks, Al-Haq has documented the implementation of this Israeli policy in Jabal Al-Mukabir. The following collective punishment measures implemented in the aftermath of Fadi's killing form a part of the ongoing, continuous campaign to transfer Palestinians.
Home raids
Nearly one hour after the operation on 8 January, the IOF raided "Al-Qanabara neighborhood" in Jabal Al-Mukabir, where Fadi's home was located, and closed all entrances to the neighborhood. Later, Israeli special and intelligence forces went to Fadi's home, that of his parents, and of his brothers. The homes were raided and searched, furniture was destroyed, and individuals in the homes, including children, were attacked.
Officers from the "engineering unit" took pictures of Fadi's home from outside and measured its area. During that time, one of the officers threatened Fadi's wife and relatives, stating that they would demolish Fadi's home as soon as possible. Fadi lived with his wife and four sons; the eldest is 6 and the youngest is 8 months. According to eyewitnesses, the IOF warned Fadi's relatives against putting up a mourning tent for him.
The arrest of family members
During the raids, the IOF proceeded to arrest Fadi's elderly father, who is 85, Fadi's wife Tahani, his two brothers Munther and Muhammad, and his sister Shadia. Two of Fadi's cousins were also arrested. The detainees were all taken to the "Russian Compound" prison in West Jerusalem for investigation. In the early hours of 9 January, Fadi's father and wife Tahani were released, but the others remained in detention. Shadia was also released on the condition that she remain under house arrest for two days and that a third party guarantor provides 5,000 shekels.
Sources stated that the Israeli Magistrate Court extended the detention of the four relatives and another young man that were arrested on 8 January. Lawyer Muhammad Mahmoud clarified that the judge extended the detention of: Muhammad Omran Al-Qanbar, Muhammad Ahmed Al-Qanbar, Hamza Al-Qanbar, and Munthar Al-Qanbar, as well as Mutasim Sari, all of whom were arrested on 8 January, until 15 January 2017.
Additional raids and the destruction of the mourning tent
At around 8am on 9 January 2017, the IOF raided the area near Fadi's home and began dismantling the mourning tent that was setup in Jabal Al -Mukabir. The IOF smashed chairs and confiscated some of the poles and the tarp for the tent. The IOF then rearrested Fadi's father. At around 12pm, Fadi's father was released; shortly after the IOF raided Fadi's house for a second time at 12:30 pm, and again warned Fadi's family against putting up a mourning tent.
On 10 January, at around 10am, the IOF again raided Fadi's family home and forced everyone that was there to stay in one room in his father's home. The IOF then took measurements of both Fadi's and his father's homes, inspected the walls, and took pictures from inside and outside the homes. Fadi's home is composed of 2 rooms, a kitchen, and a bathroom, and does not exceed 60 meters squared. It is adjacent to his parents' house; in the past it was part of Fadi's father's single home, and was divided into two when Fadi got married around 12 years ago.[2]
Delivery of demolition notices and demolition of a horse stable
At the same time of the raids on the 10th, the IOF raided several neighboring homes, and delivered to the residents (some of whom were Fadi's relatives) administrative demolition orders under the pretext that the buildings did not have permits. Eyewitnesses said that at least 10 families received demolition notices in the area.
Also on 10 January, the IOF demolished a horse stable belonging to Fadi's family, under the pretext of building without a permit.[3] According to eyewitnesses, the IOF raided the stable and put up a demolition order on it. The IOF moved away from the area, and returned 10 minutes later with a bulldozer to demolish the stable, which is about 25 meters squared and composed of wood and iron. The IOF also confiscated two sheep and some chickens from the stable; neighbors were able to lead a horse away before the IOF arrived.
Revocation of residency rights and family unification
During the evening of 10 January, the IOF delivered notices on the revocation of residency and family unification permits[4] for members of Fadi's family from the Minister of Interior Aryeh Deri.
These notices, which are subject to appeal, include:
Manwa Al-Qanbar, 65, Fadi's mother. Revocation of Jerusalem ID (which she received in 1988 after going through the family unification process).
Murad Issa Ewisat, 35, Fadi's brother-in-law. Rejection of application for family unification.
Nagham, 10, Wadae, 8, Muhammad, 6, and Lana Murad Issa Ewisat, 4, children of Fadi's sister, Suha, and Murad Ewisat. Revocation of family unification permits.
Riyad Hasan Mashahira, 25, Fadi's nephew. Revocation of family unification permit.
Hasan Ahmed Mashahira, 25, Fadi's brother-in-law. Revocation of family unification permit.
Diya Ibrahim Ewisat, 20, Fadi's nephew. Revocation of family unification permit.
BasamEwisat,37, Fadi's niece's husband. Revocation of family unification permit.
Ahmed Hussein Al-Qanbar, 65, Fadi's cousin. Revocation of temporary ID received through family unification procedure.
Muhammad Hussein Al-Qanbar, 67, Fadi's cousin. Revocation of temporary ID received through family unification procedure.
Saleh Hussain Al-Qanbar, 50, Fadi's cousin. Revocation of temporary ID received through family unification procedure.
Zakaria Hussain Al-Qanbar, 45, Fadi's cousin. Revocation of temporary ID received through family unification procedure.
Younes Hussain Al-Qanbar, 45, Fadi's cousin. Revocation of temporary ID received through family unification procedure.
Manal Atwa Al-Qanbar, 37,Fadi's sister-in-law. Revocation of family unification permit.
Other measures targeting residents of Jabal Al-Mukabir
Alongside measures targeting Fadi's family, Al-Haq also documented actions against both individuals and the community of Jabal Al-Mukabir as a whole, including:
8 January-On the evening of 8 January, the IOF closed Madaris Street in Jabal Al-Mukabir with cement blocks. Madaris Street is considered one of the main streets in Jabal Al-Mukabir, as it is one of the main entrances to the area. Because of the closure, public transportation is forced to take detours thus creating traffic jams on other roads in the village. Notably, 8 schools where approximately 3,000 students study, are located on Madaris Street; students and teachers are now obstructed from reaching their schools due to the closure.
A medical center is also located on the street, approximately one kilometer away from where the closure occurred. In the event that the street remains closed, this could lead to ambulances not being able to reach the medical center in a timely fashion in order to transfer patients, since it will increase the transit time. The same street was closed four times during 2016.
As of 21 January, Madaris Street remains closed.
11 January-According to eyewitnesses, Ahmed Warad, the owner of a store which sells building materials near the "Al-Qanabara neighborhood" in Jabal Al-Mukabir, was given an order by the IOF to evacuate the premise on January 10 within 24-hours. The notice period was insufficient for the owner to do so.
On the morning of 11 January 2017, the IOF, accompanied by individuals from the Jerusalem Municipality, raided Ahmed's store. The IOF arrived with a bulldozer and demolished a metal container, and confiscated 2 other containers, which were placed in the store's area, under the pretext that they were placed there without a license.
Sources told Al-Haq that Ahmed established the store in 2013 and had 6 employees.
12 January- The Jerusalem Municipality, guarded by the IOF, stormed a private facility owned by Muhammad Sari which was used to sell building materials in the Sala'a neighborhood in Jabal Al Mukabir and delivered a notice that the facility had to be evacuated within 24 hours under the pretext of not having a permit. The municipal inspector stated that if things were not removed, everything would be destroyed and the owner would be fined. Muhammad removed 4 caravans, three of which were used for storing iron, cement bags, and tiles, while the fourth was used as an office and an area to receive patrons. The owner was also forced to self-demolish a structure made of bricks and tin, which was used to exhibit tiles. The owner sought to postpone the order, however, the court rejected his request. Muhammad's relative estimates a loss of approximately 100,000 shekels due to the demolition and removal of containers. This will also delay their work, and may damage building materials due to weather-exposure. The family business employed 5 brothers and 4 other employees.[5]
16 January- The IOF demolished a barn belonging to Ali Saleem Hamdan Zakariya in the neighborhood of Ras Jabal Al-Mukabir. The barn is located near the illegal settlement of Armon HaNetziv. According to the owner, the barn was built decades ago and his livelihood is dependent on it (the breeding and selling of livestock and poultry). One day before the barn's demolition, the IOF posted a notice stating "the law prohibits the raising of livestock in the area."[6]
The case of Ramzi Abeidat. On 10 January, Ramzi Abeidat was driving his truck in Talipiot, West Jerusalem, and carrying building materials to a workshop in that area. Ramzi told Al-Haq:
"I was driving normally when I was stopped by the occupying police, they asked me where I was from, and I told them Jabal Al-Mukabir. They immediately asked for my ID, and... I heard them say in Hebrew "I caught a truck from Jabal Al-Mukabir." The officer then told me to come down from the truck, and to face the wall with my hands raised. He then began to search my body. He gave me back my ID and told me to park nearby. He told me to go to the "Bniyan Klal" building in a police station in west Jerusalem. I took the truck to my home, and went to the police station, there I went to the office of an officer in the Special Unit.
He asked me to show my ID, driver's license, and papers for the truck. While the documents were still in my hand, the officer grabbed my driver's license and told me to come back for it on 1 February 2017. I asked him under what law are you doing this, and he stated that it was because I was from Jabal Al-Mukabir, and he refused to give me any sort of document saying that he took my license. I went back home, and since then my truck has been parked. I cannot drive it (work) without carrying my driver's license. I bought the truck 10 days before the officer took my license."
Ramzi told Al-Haq that he and his brothers established business facilities, including a horse stable and chicken farm on a plot of land belonging to his father in Jabal Al-Mukabir. On 12 January 2017, two days after his driver's license was taken, individuals from the Jerusalem Municipality guarded by the IOF arrived to his workplace. Ramzi stated:
"An individual from the municipality named 'Rami Rapheal' gave me a notice that I had 12 hours to demolish all facilities under the pretext that they were built without a license. He said that if it was not demolished within the time frame given, the municipality would carry out the demolition and I would be charged a fee for it. My family had no other choice than to begin the demolitions.[7]...My brothers and I began to demolish with axes, shovels and electric drills which took several days. While we were demolishing everything, an inspector from the municipality came on the evening of 15 January, and told me that I have to complete the demolitions and evacuation. He threatened me and said that if he came back the following morning, and found that the demolition was not complete, he would give me a hefty fine (but did not say how much it would be). This forced my brothers and I to expedite the demolition process, and to not add to our losses by being fined. Notably, in the past year, the IOF demolished a store belonging to my father that sold cell phones, which was located right across the street from the facilities that we destroyed."
Ramzi noted that considering everything that happened, he had no way to make a payment for his new truck which totaled 12,700 shekels. He emphasized that he and his brothers lost their livelihoods: "I am not sure how I will feed my kids."[8]
Collective Punishment as a means of forcible transfer
Collective punishment measures undertaken by Israel against the protected Palestinian population in the Occupied Palestinian Territory (OPT) are a mainstay of Israel's occupation. In 2017, Gaza's closure enters its tenth year, and the Annexation Wall will have been dividing Palestinian land and isolating communities for 15 years. While the closure and the Wall target the Palestinian population in its entirety, as documented above, Israeli collective punishment measures also target individuals and families.
Indeed, according to Israeli media, Israel's Minister of Interior Aryeh Deri stated following Fadi's operation: "Let this be known to all who are plotting, planning or considering carrying out an attack, that their families will pay a heavy price for their actions and the consequences will be severe and far-reaching."[9] Although the measures against residents in Jabal Al-Mukabir have been previously implemented across the OPT, attention should be focused on the broad number of individuals impacted and the silence of the international community in the face of stark violations of international law.
Al-Haq has repeatedly highlighted the illegality of punitive home demolitions,[10]punitive residency revocations,[11] and other collective punishment[12] acts in East Jerusalem, and how such acts violate international humanitarian law and international human rights law. In addition to punitive home demolitions, Al-Haq has noted the impact of Israel's discriminatory planning policies and practices in East Jerusalem, which force Palestinians to build "illegally" and risk administrative demolitions.[13] These "illegal" buildings are then used as a political card[14] by Israeli authorities when they decide to exert more pressure on Palestinian communities or, as in the case at hand, punish the population at-large.
In line with the recent UN Security Council Resolution which condemns "all measures aimed at altering the demographic composition, character and status of the Palestinian Territory occupied since 1967, including East Jerusalem, including, inter alia, the construction and expansion of settlements, transfer of Israeli settlers, confiscation of land, demolition of homes and displacement of Palestinian civilians, in violation of international humanitarian law and relevant resolutions,"[15] Al-Haq calls upon the international community to condemn Israel's recent actions in Jabal Al-Mukabir which are part and parcel of the aforementioned Israeli aims, and to take measures that ensure the protection of the occupied Palestinian population in East Jerusalem. Accordingly, Al-Haq further calls on the international community to take effective action against Israel's illegal settlement enterprise, including by "distinguishing, in their relevant dealings" between Israel and the OPT.[16]
---
[2]According to the Israeli organization HaMoked, the IOF issued a punitive sealing order against the home where Fadi's family, including his wife, children, and parents, live on 12 January. 18 January 2017 update available at
http://www.hamoked.org/Document.aspx?dID=Updates1827
[3] The family preferred not to disclose the name of the owner, for fear of the IOF to impose a fine on him/her.
[4] For more information on residency rights and family unification permits, see Al-Haq's report "The Jerusalem Trap."
[5] Al-Haq field documentation
[6] Al-Haq field documentation
[7] Ramzi stated that this included:"1) Vacating a store which sells building materials, in area that is around 350 meters squared, including by dismantling a tin building which was around 36 meters squared which was used to store building materials. Three workers worked there. 2) Vacating a car wash with a concrete floor with an area of around 250 meters squared, a caravan was on it which was used as an office and a sitting area, and three individuals worked there.3) Vacating an iron caravan, of an area of 18 meters squared, which was rented by Ahmed al-Sarkhi who used it to sell cell phones. 4) Demolishing a building made of brick and a tin roof, with an area of around 30 meters squared, that was used as a restaurant to sell sandwiches and drinks and three of my nephews worked there. 5) Demolish an empty building made of brick walls and corrugated iron roof, with an area of approximately 12 meters squared, which was used sometimes as storage. 6) Demolish a building, walls made of bricks and corrugated iron roof, with an area of about 10 meters square, which was used as a henhouse. 7) Dismantle an iron horse stable which was also used to keep sheep."
[8] Al-Haq Affidavit 10/2017
[15] UNSC 2334 (2016), 23 December 2016, p.1
[16]UNSC 2334 (2016), 23 December 2016, Paragraph 5