Gaza: Dialysis Patients Face Death and Denial of Medical Transfer Causes Death, Violates Right to Life and Amounts to Inhuman, Cruel, Degrading Treatment
Gaza: Dialysis Patients Face Death and Denial of Medical Transfer Causes Death, Violates Right to Life and Amounts to Inhuman, Cruel, Degrading Treatment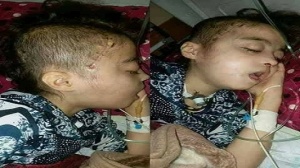 Due to a lack of fuel, the Ministry had been forced to operate smaller generators in hospitals and warned that services departments (i.e. washing, sterilization, administration, kitchens and diagnostics) may be taken off generator power.3 Notably, the Ministry of Health requires about 450 thousand liters of diesel per day to maintain the health service due to electricity outages of 18 hours per day and this could increase to 650 thousand liters per day should electricity outages last for 20 hours a day.4
In particular, the imposed fuel crisis threatens dialysis services for 400 patients with kidney failure in the Gaza Strip.5 Currently, the Ministry is unable to conduct 200 operations daily in Gaza's hospitals due to the corruption and subsequent waste of hundreds of units of blood because of the lack of cooling required - a consequence of the deliberately imposed electricity shortage on Gaza.6 On 23 January 2018, the Ministry of Health in Ramallah allocated allocated NIS 1 million to the Ministry of Health in Gaza to purchase fuel.7 However this amount is only enough to buy fuel to run the ministry's facilities for ten days and will not resolve the structural electricity crisis imposed by Israel.
The Case of Hidayat Muhammad Mutlaq Abu 'Obeid.
On 24 January 2018, Al-Haq documented the case of 27-year-old, Hidaya Muhammad Abu 'Obeid, who has been suffering from severe kidney infections since 2013, and which led her to miscarry. In 2015, a hospital examination in Jerusalem revealed that she had fibrosis of the liver and was unable to excrete fluids. Doctors there decided that she needed dialysis at Shifa Hospital in Gaza City. In 2016, Obeid suffered kidney failure and has been on dialysis since. She has also been on cortisone, causing her left hip to corrode. The latter required a medical transfer to An-Najah University Hospital in Nablus to install the replacement joint, as the operation is unavailable in Gaza due to lack of capacity in the health services from Israel's forced closure of the Gaza Strip. Despite this, the hospitals in Gaza tried to insert artificial veins, but each attempt failed. Instead, she has been doing the dialysis through a vein in her neck, causing her severe pain and inability to move without the help of others, and she has become completely dependent on her family.
Since October 2016, 'Obeid has tried to obtain a medical transfer to travel to the West Bank for treatment. She has applied for travel permits through the Health Coordination Office and the Palestinian Liaison Office, but her applications have been rejected numerous times by the Israeli authorities, who do not state the reasons for the refusals. Almost every month, the Israeli authorities claim that the application is under review. Every month that the treatment is delayed, is a month of extended suffering for 'Obeid, who fears she may die if she is not granted the travel permit to obtain treatment.
The Case of Nahil Mahmoud Al Thalathini
On 22 October 2017, 8-year-old Nahil Mahmoud Al Thalathini complained of pains in her head and face. Medical tests at Al-Nasr Children's Hospital in Gaza revealed a 2-cm brain tumor. With the help of doctors at Al-Shifa Hospital in Gaza, Nahil and her mother obtained a medical referral for treatment at Al-Makassed Charitable Society in Jerusalem, whereupon the hospital diagnosed a benign brain tumour. However, when Nahil returned to Gaza her condition deteriorated. In Gaza, doctors at Al-Shifa Hospital examined a sample of the tumor, this time diagnosing a malignant tumor that had spread to the head and face and throat. Doctors decided that she should be transferred to a hospital in Jerusalem or the rest of the West Bank for treatment.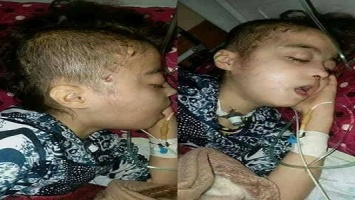 At the start of January 2017, Nahil's father tried to seek a medical transfer to Al-Maqassed Hospital in Jerusalem, having secured 'financial coverage' from the Ministry of Health in Ramallah. Initially, Al-Maqassed Hospital declined the child's referral, without giving reasons. Following pressure from the Director of the Outpatient Department in Gaza, the Maqassed Hospital accepted the referral but gave her a very late appointment date on 8 February 2018. Once again, the Director pressured the hospital for an urgent referral to remove the tumour and obtain medical treatment. However the hospital could only facilitate the request by 16 January 2018 and for a second appointment on 21 January 2018.
In the meantime, Nahil's condition deteriorated rapidly. She could not eat or drink liquids, because of the closure of her throat caused due to the expanding tumor, leaving her feeling suffocated. In Gaza's Al-Shifa Hospital, Dr. Maher Abu Al-Khair performed surgery after doctors found that the continuous nasal hemorrhage was caused by an internal hemorrhage in the brain. The doctors also inserted a breathing tube to help her breathing after the tumor had spread. Nahil stayed in Al-Shifa hospital for more than a month. However she remained unable to eat or drink, she completely lost her vision and was only able to communicate through signs with her fingers.
The family launched a media and website appeals campaign to seek treatment for Nahil. Following renewed pressure, the family secured treatment in Hadassah Hospital in Israel on Monday 16 January 2018, whereupon Nahil travelled by ambulance with her mother for treatment. After performing medical tests, the hospital informed that the size of the cancerous mass was more than 16 cm, and they could not do anything to save her life. Two days later they returned to the Gaza Strip, and Nahil stayed in intensive care for three days at Al-Quds Hospital in Gaza. Nahil died on Monday 22 January 2018, at approximately 22:00.
Legal Analysis
As belligerent occupant, Israel has continued obligations to ensure the maintenance of civil life in the Gaza Strip, which includes the supply of basic services and infrastructure to the civilian population.8 In 2010, Palestinian human rights organizations expressed "concern and outrage at the systematic dismantling of the Gaza Strip's vital systems by preventing the residents of Gaza, a territory under Israel's occupation, from obtaining the fuel they need to generate electricity [to] power hospitals". Some eight years later, the inhumane situation imposed on Gaza through Israel's relentless closure of the Gaza Strip has brought Gaza's hospitals to a stand-still. In 2017, a group of United Nations Special Rapporteurs condemned the denial and restrictions of fuel into the Gaza Strip as " a complete failure of all parties to uphold their fundamental human rights obligations, including the inalienable right to life." Israel is reminded of its human rights obligations to the civilian population in the Gaza Strip, including the right to health, the right to life, and in particular, its obligations to ensure adequate electricity supply for the realization of the right to health. Critically, "a State which is unwilling to use the maximum of its available resources for the realization of the right to health is in violation of its obligations under article 12 [of the ICESCR]".9 Furthermore, wilfully causing great suffering or serious injury to body or health may constitute a grave breach of the Fourth Geneva Convention, and is prosecutable as a war crime under the Statute of the International Criminal Court.
Al-Haq condemns the serious violations on Palestinian's right to health and access to health care facilities. Al-Haq warns that denial of travel permits leading to delays in accessing treatments, not only violates the rights to health and the right to life, but may also constitute inhumane, degrading treatment, in violation of Articles 7 of the International Covenant on Civil and Political Rights (ICCPR) and Article 1 of the Convention Against Torture and Other Cruel, Inhuman or Degrading Treatment or Punishment.10 Furthermore, Article 24, of the Convention on the Rights of the Child provides that "State parties recognize the right of the child to the enjoyment of the highest attainable standard of health and to facilities for the treatment of illness and rehabilitation of health." In this respect, the Committee on the Rights of the Child requires that "barriers to children's access to health services, including financial, institutional and cultural barriers, should be identified and eliminated."11 Al-Haq calls on the Palestinian Authority to remove all impediments to access to healthcare for children travelling from Gaza, and to ensure urgent cases are immediately prioritized, for all cases within its competence.
---
1Jack Khoury, 'Gaza Hospital Suspends Services Due to Diesel Shortage' Haaretz (29 January 2018) https://www.haaretz.com/middle-east-news/palestinians/gaza-hospital-suspends-services-amid-diesel-shortage-1.5770830 accessed 3 February 2018.
2Palestine Information Centre, (2 February 2018)
3Palinfo, 'Two Hospitals To Be Shut Down Due to Power Crisis' (29 January 2018).
4World Health Organisation, 'Gaza's Health Sector Faces Fuel and Energy Crisis' http://www.emro.who.int/pse/palestine-infocus/gazas-health-sector-faces-fuel-and-electricity-crisis.html accessed 3 February 2018
5Gisha, 'Fifth day without electricity: The fuel for hospital generators in the Gaza Strip is running out and there are fears of sewage floods' http://gisha.org/updates/1753 accessed 3 February 2018
6Dr Ashraf Elqedrah, The Israeli-led siege is devastating Gaza's health sector, Middle East Monitor (31 January 2018) < https://www.middleeastmonitor.com/20180131-the-israeli-led-siege-is-devastating-gazas-health-sector/> accessed 3 February 2018
7Palinfo, 'Gaza's Health System Close to Collapse' (2 February 2018)
8Article 43, Hague Regulations of 1907.
9Committee on Economic, Social and Cultural Rights, Substantive Issues Arising in the Implementation of the International Covenant on Economic, Social and Cultural rights, General Comment No. 14 (2000) The right to the highest attainable standard of health (article 12 of the International Covenant on Economic, Social and Cultural Rights)
10For recent in-depth analysis see, Al-Mezan, 'Medical Care Under Siege, Israel's Systematic Violation of Gaza Patient's Rights' (February 2018) https://reliefweb.int/sites/reliefweb.int/files/resources/15174966411875.pdf accessed 3 February 2018.
11CRC, General Comment No 15 (2013), para. 29 < https://www.each-for-sick-children.org/images/2013/General_Comment_No_15_Right_of_Child_to_Health_-_17_april-1.pdf> accessed 3 February 2018.