Al-Haq International Law Online Summer School Program: May 31st – June 12th 2021 
Al-Haq International Law Online Summer School Program: May 31st – June 12th 2021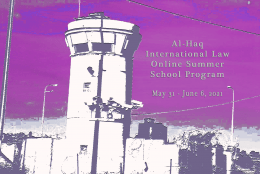 Al-Haq Center for Applied International Law is pleased to announce its Seventh International Law Summer School for professionals, legal researchers, post-graduates and academics in the fields of international law and human rights. The 2021 program will run entirely online through ten days from 31st May – 12th June 2021.
The summer school aims to assist professionals in developing a coherent understanding of the legal and human rights situation in the OPT while closely studying the application of international law. The summer school offers lectures by human rights professionals, civil society organizations and human rights groups on key human rights issues and trends of violations witnessed in the OPT. This year the program will take place online and sessions will run morning to afternoon in English, and in accordance with Jerusalem time zone.
Al-Haq's summer school is a unique opportunity for professionals interested in the Palestinian context, the history and the future of the OPT and includes virtual field visits to a diverse number of locations, giving participants a chance to see and hear firsthand accounts of violations committed by different state and non-state actors.
Al-Haq[1] is an independent Palestinian non-governmental human rights organization based in Ramallah, OPT. Established in 1979, Al-Haq's mission is to protect and promote human rights and the rule of law in the Occupied Palestinian Territory. The organization monitors and documents violations of human rights, conducts legal research; human rights education; prepares reports, studies and interventions against the violations of international human rights and humanitarian law in the OPT; and undertakes advocacy before local, regional and international bodies.
For more information about the Al-Haq Center for Applied International Law and the International Law Summer School, watch our introductory video here.
The ten-day online program will include sessions on various topics, including:
Historical overview of the Palestinian struggle;

International human rights framework applicable in the OPT;

International humanitarian framework applicable in the OPT;

Business and Human Rights in the OPT;

Current human rights situation and developments in the OPT;

The historic and ongoing displacement "Nakba" of the Palestinian people.

International accountability mechanisms;
The international law summer school is open to professionals and post-graduate students of law and related fields, legal scholars, human rights defenders and researchers. We encourage particularly the applicants and participation of professionals from the Arab region, from Palestinian origin and from other professionals that might have difficulty or no-access to the country. The program can only accommodate a limited number of participants, it is free of charge and those participants attending all the sessions online will be granted a certificate of completion.
For more information, please contact: [email protected].
Interested candidates should send their CV and a cover letter elaborating on their interest in joining the school. All application documents need to be sent to: [email protected], no later than 9 of May.
Application deadline: 9 May 2021
Selection and confirmation of participation: by 15 May 2021
Online program: 31 May – 12 June 2021
A note from the Al-Haq Center:
"The 2021 Al-Haq Online Summer School Program, is dedicated to the memory of Salah Ajarmeh. Salah served as the General Director of Lajee Center in the Aida Refugee Camp in Bethlehem as a leading advocate for the right of return and the rights of Palestinian refugees. Salah was a long-time friend of our summer school and we will miss him dearly. Lajee Center, a community-based organization in Aida camp was always one of our main stops in the area of Bethlehem, and Mr. Ajarmeh had been the main speaker to our groups on behalf of the camp and Lajee Center. On April 14th 2021, Salah Ajarmeh passed away at the age of 48. In his memory and in respect to his endless efforts to represent the case of Palestinian refugees and defend their right of return, we dedicate our efforts for this year's Online Summer School in his honor."
---
[1] Al-Haq has special consultative status with the United Nations Economic and Social Council and is the West Bank affiliate of the International Commission of Jurists - Geneva, and is a member of the Euro-Mediterranean Human Rights Network (EMHRN), the World Organization against Torture (OMCT), the International Federation for Human Rights (FIDH), Habitat International Coalition (HIC), and the Palestinian NGO Network (PNGO).