Al Haq Center for Applied International Law Concluded a Course on International Law
Al Haq Center for Applied International Law Concluded a Course on International Law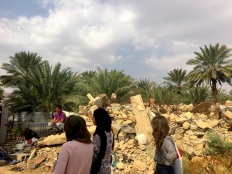 Ramallah – Al-Haq Center for Applied International Law has concluded a three-day course on International Law tailored towards NGOs staff, law students, journalists, and human rights defenders.
The course was held at the Al-Haq Center for Applied International Law in Ramallah, on 4-6 November, 2019, and was attended by 25 participants. The course included presentations by Al-Haq legal professionals on key legal issues in regards to the Occupied Palestinian Territory (OPT).
The first day included presentations on international humanitarian law (IHL), international human rights law (IHRL) and their applications, armed conflict and human rights violations, and war crimes. The second day included presentations on the internal Palestinian human rights situation, monitoring and documentation of human rights violations, and methods of documentation.
The third day was a field visit to the Jordan valley to oversee how the Israeli occupation is violating international law in which forcible transfer and access to natural recourses by Palestinians were observed especially in Al Jiftlik, Khirbet Makhoul and Al-Oja communities, which are located in (Area C) of the OPT. This was an opportunity for participants to enhance their understanding of the OPT legal context, impact of occupation and settlement expansion policies on the human rights situation, and expand their knowledge on the applicability of the different international legal framework applied in the OPT and some of the key violations taking place.
Al-Haq Center for Applied International Law specializes in the practical application of international law and aims to combine theory and practice to enhance the capabilities of human rights defenders by providing them with essential applied knowledge for defending human rights issues at the national, regional and international levels.