Al-Haq Concludes its Fifth International Law Summer School Program
Al-Haq Concludes its Fifth International Law Summer School Program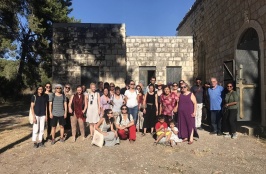 July 8, 2019, Ramallah. Al-Haq Centre for Applied International Law concluded its Fifth International Law Summer School Program. The summer school program brought together 24 professionals and post-graduate students from 18 different countries to expose them to the human rights situation and international law violations in the Palestinian context.
Over the period of two weeks, participants attended lectures, field visits and engaged in discussions with civil society and human rights organizations on various topics impacting lives of Palestinians.
Lectures were delivered by professionals and covered diverse topics including forcible transfer of population, children rights under military occupation, administrative detention, the right of return of Palestinian refugees, as well as the applicable laws in the Occupied Palestinian Territory. Field visits included tours to the Old City of Hebron, Aida Refugee Camp, Bedouin communities in Area C such as the community of "Abu Nuwwar", villages west of Bethlehem, Jerusalem, Nabi Samuel, Lifta and Ma'loul depopulated villages, Nazareth, Haifa, Occupied Syrian Golan and Akka.
In addition, participants met with numerous human rights and civil society organisation, including Addameer, Badil, Lajee Center, Diakonia, OCHA, DCIP, PCHR, Adalah, 7amleh, Al-Marsad; Arab Human Rights Centre, Gisha- Maslak, B'tselem, Zochrot, ADRID and Baladna Youth Organization, alongside many other independent academics and professionals.
Al-Haq organizes the International Law summer School Program every year targeting professional and academics in the fields of International Law and human rights. This year, Al-Haq welcomed participants from: Australia, Bosnia, Canada, China, Finland, France, Germany, Greece, India, Italy, Ireland, Nepal, New Zealand, South Africa, Spain, Sweden, United States, and Palestine.
In the closing ceremony of the program, the participants had pledged their full support of Palestinian rights, especially their rights to freedom, an end to the occupation, justice and equality.