Visiting a Ghost Town: Drawing attention to the plight of al-Nu'man village
Visiting a Ghost Town: Drawing attention to the plight of al-Nu'man village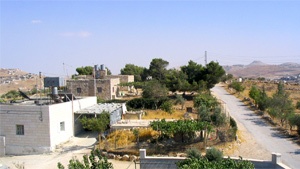 However, the inhabitants of the village were not recorded in the 1967 census of Jerusalem and many were given West Bank IDs. Villagers are considered by Israel to be illegally residing in Jerusalem simply by being in their homes.
To make matters worse, in 2002 al-Nu'man's residents were informed that the village lay adjacent to the planned route of the Wall and, with the settler bypass road already passing through the village, they would have no access to Jerusalem or the West Bank. In 2006, a military checkpoint was established at the entrance to the village allowing only al-Nu'man residents to pass through.
As part of the 10 Years Too Long campaign marking the 10th Anniversary of the construction of the Annexation Wall, Al-Haq has been conducted field visits to the village of al-Nu'man to raise awareness and call for action amongst international media and the diplomatic community.
For those unable to visit the village, Al-Haq have produced a Virtual Field Visit – a 3D Google Earth tour – of al-Nu'man and the surrounding area.
In this second short film produced by Al-Haq last year you can hear residents of al-Nu'man describe the problems of daily life in the village and see the problems children face crossing the checkpoint every day to go to school.
Now that you know what is going on, it is time to take action. Al-Haq is calling on the international community to pressure Israel to dismantle the Annexation Wall in the OPT in line with the 2004 ICJ Advisory Opinion.
Everyone has a role to play. Go to
Al-Haq's campaign website
to find out what you can do to make this happen and help the residents of al-Nu'man.