Al-Haq Attends Open Consultation on Development of States' National Action Plans on Business and Human Rights at the United Nations
Al-Haq Attends Open Consultation on Development of States' National Action Plans on Business and Human Rights at the United Nations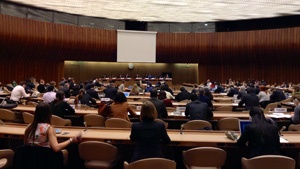 The Working Group encourages all States to develop, enact and update an NAP as part of their responsibility to disseminate and implement the Guiding Principles on Business and Human Rights (the Guiding Principles). Al-Haq attended the open consultation in order to draw attention to the need for States' NAPs to address the activities of businesses operating in conflict zones. In particular, Al-Haq called for NAPs to include the responsibility of corporations to respect international conventions and international customary law or general principles of law, including international humanitarian law, as a means for enterprises to fulfil their commitment to respect human rights standards.
In addition, Al-Haq emphasised that States' NAPs must recognise that the mere fact that companies comply with the national laws of the host-State is not sufficient in ensuring that the companies' activities do not violate human rights standards. In cases in which the host-State's legislation contradicts international law, companies must respect the latter.
Finally, Al-Haq called for the NAPs to include references to the legal risks and consequences companies may face under the national law of the State in which they are domiciled if they cause, contribute to or benefit from violations of human rights and international law, wherever it is that they operate.
- Ends -