Al-Haq Demands that Israel immediately ceases its Indiscriminate Attacks against Palestinians in the Gaza Strip
Al-Haq Demands that Israel immediately ceases its Indiscriminate Attacks against Palestinians in the Gaza Strip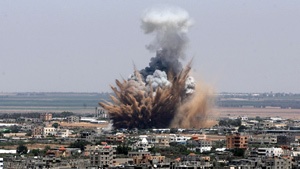 The population of the Gaza Strip has been living under an Israeli imposed closure for the past seven years, constituting a form of collective punishment. As a result, 70 per cent of Palestinians in the Gaza Strip are dependent on humanitarian assistance and Palestinians have been hindered from recovering from damage and destruction caused during previous Israeli offensives, including 'Operation Cast Lead' and 'Operation Pillar of Defense'. It must be emphasised that 'Operation Protective Edge' erupted in the context of an already ongoing armed conflict and belligerent occupation. As such, Israel cannot rely on the right to self-defence according to Article 51 of the UN Charter and must therefore act in accordance with the laws regulating the conduct of hostilities.
Al-Haq reiterates that international humanitarian law must be abided by all parties engaged in hostilities during armed conflict. The principle of distinction requires all parties to distinguish between civilians and combatants, as well as between civilian objects and military objectives. Furthermore, the principle of proportionality dictates that launching an attack, which may be expected to cause incidental loss of civilian life, injury to civilians or damage to civilian objects, which would be excessive in relation to the concrete and direct military advantage anticipated, is prohibited. Failure to abide by these principles of international humanitarian law may result in the commission of war crimes.
Furthermore, Palestinian civilians in the OPT are protected persons under the Fourth Geneva Convention. As an Occupying Power, Israel must ensure the welfare and safety of the occupied population and respect Palestinians' right to life and dignity. As such, prior to launching a military attack Israel is obliged to provide "effective advance warning" of attacks that "may affect the civilian population" and take precautions in the choice of means and methods of attack with a view of avoiding and minimizing civilian casualties.
In April 2014, Palestinian accession to relevant international humanitarian and human rights gave rise to additional obligations on the part of Palestinian actors in the conflict as well as opened up for additional opportunities. As a High Contracting Party, the Palestinian leadership must call for a meeting of the High Contracting Parties to address Israel's prolonged occupation of the Palestinian territory and the international humanitarian law violations committed therein. Furthermore, accession to the Rome Statute of the International Criminal Court should be pursued without further delay in order to ensure that an international forum will be accessible to address the crimes committed during the course of ongoing hostilities in the OPT as well as previously committed and continuing crimes.
--- ENDS ---