Al-Haq Attends 36th Regular Session of the UN Human Rights Council
Al-Haq Attends 36th Regular Session of the UN Human Rights Council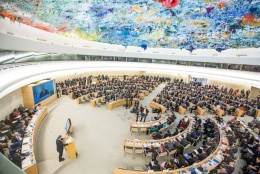 Prior to the session, Al-Haq submitted a written statement that focused on the impact of Israeli impunity, which includes continued excessive use of force and the continued policy of withholding the bodies of deceased Palestinians. Al-Haq further issued a joint oral statement and a written submission under Item 7 with Community Action Center-Al Quds and Adalah on Israel's use of residency and citizenship revocation as a punitive measure.
Al-Haq also participated in a side event organized by Badil Resource Center for Palestinian Residency and Refugee Rights, titled Israeli Policies of Colonization, Annexation and Forcible Transfer. Other participating organizations included Community Action Center- Al Quds, St. Yves, Addameer, and the Cairo Institute for Human Rights. During the side event, Al-Haq focused on Israel's policies and practices that target the Jordan Valley which serve to obstruct the Palestinian agricultural sector while bolstering Israeli agricultural settlements. Al-Haq underscored the importance of the forthcoming OHCHR database on businesses that "directly and indirectly, enabled, facilitated and profited from the construction and growth of the settlements.1" In addition, during meetings with states throughout the session, Al-Haq further continued to advocate for positive action related to business and human rights issues, including by ensuring that businesses domiciled within their territory and present and/or operating in Israeli settlements or have ties to Israel's settlement enterprise, understand their obligations under the UN Guiding Principles on Business and Human Rights.
Al-Haq is deeply troubled from the continued non-participation by the European Union, European states, and the United States in Item 7. Although this has been a recurring policy, as Palestinians have surpassed 50 years of occupation and with each HRC session passing with dwindling participation, the unabashed unwillingness by the international community to hold Israel accountable for its violations of international law becomes starker. Al-Haq calls on the international community as a whole to fulfill its obligations under international law and end Israel's 50 year occupation of Palestinian territory. Al-Haq further calls on states to respect the significance of Agenda Item 7, given the exceptional situation imposed on the occupied Palestinian and Arab territories by Israel's prolonged occupation and settler colonialist endeavor, and the resultant human rights violations and international crimes committed.
1Report of the independent international fact- finding mission to investigate the implications of the Israeli settlements on the civil, political, economic, social and cultural rights of the Palestinian people throughout the Occupied Palestinian Territory, including East Jerusalem, A/HRC/22/63, 7 February 2013, para. 96.