30 March: 15 Palestinians Killed, More than a Thousand Injured, as IOF Violently Suppress Palestinian Protestors in the Gaza Strip
30 March: 15 Palestinians Killed, More than a Thousand Injured, as IOF Violently Suppress Palestinian Protestors in the Gaza Strip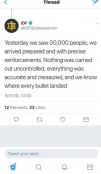 Prior to the protests, Israeli officials and the IOF sent threatening messages in the form of leaflets scattered in some areas, posts on official social media accounts,[2] as well as phone calls to bus drivers warning them against transporting the protestors. In a calculated, unnecessary, disproportionate and indiscriminate use of lethal force, the IOF killed 15 Palestinians and injured at least 1,416 others, 758 of whom with live ammunition, on 30 March.[3] The demonstrators were targeted as they marched the border areas, with distances ranging between 300 and 700 metres away from the border fence, in Rafah, Khan Younis, the Central Governorate, Al-Shuja'iyya, and Jabaliya Refugee Camp, where they had set up tents named after the villages of origin from which they were dispossessed in 1948. It should be noted that the Gaza Strip's population consists of about 65.3 per cent Palestinian refugees,[4] constituting at least 1.3 million refugees spread over eight refugee camps.[5]
According to Al-Haq field monitoring and documentation, hundreds of fully armed IOF members, including tens of snipers and military vehicles, spread behind the border area in these locations. As the number of protestors increased, the IOF augmented its excessive and lethal force, by shooting live ammunition, rubber bullets, heavy tear gas fired by drones and military vehicles, targeting Palestinian protestors. In the North Governorate, five Palestinian young men were killed between 12:30 and 6:15 pm and at least 244 others were injured, including 54 children and seven women. Of the 244 injured, 214 were shot with live bullets. At 12:30 pm, Muhammad Kamal Al-Najjar, 25, was killed by the IOF who shot him in the stomach, while Bader Fayeq Al-Sabbagh, 21, was shot dead in the head at approximately 4:30 pm. Abd Al-Fattah Bahgat Abd Al-Nabi, 19, was fatally shot in the head at approximately 5:00 pm. In a footage circulated, Abd Al-Fattah appears to be running away, carrying a tire, with his back to the border fence at the time he was shot – posing no threat to the IOF. Meanwhile, at approximately 6:15 pm, the IOF fired two artillery shells north-east of Beit Hanoun, killing two members from the armed resistance positioned in their locations: Sari Waleed Abu Odeh, 27, and Hamdan Ismail Abu 'Amsha, 23.
In east Gaza city, the IOF killed four Palestinian protestors who were approximately 100 metres away from the border fence, and injured at least 336, including 70 children and 11 women, of whom 203 were shot with live ammunition. Ahmad Ibrahim Odeh, 19, was killed with a bullet in the head, while Mahmoud Sa'di Rahmi, 33, died from a bullet in the chest. Muhammad Nai'm Abu Amro, 26, was fatally shot in the stomach, and Jihad Ahmad Farina, 34, was killed after he was shot in the face and neck. Meanwhile, in Khan Younis, at approximately 4:30 am, before the protests had begun, the IOF fired two artillery shells at two Palestinian farmers who had been harvesting parsley since 2:00 am in an agricultural field approximately two kilometres away from the border fence, east of Al-Qarara, killing Omar Waheed Samour, 26, and injuring the other. Later that day, and during the protests, the IOF killed Jihad Zuheir Abu Jamous, 29, by shooting him in the head. In total, the number of Palestinians injured in Khan Younis was 207, including 31 children and 11 women.
In east of Al-Breij Refugee Camp, Abd Al-Qader Mardi Al-Hawajri, 42, and Naji Abdallah Abu Hajir, 25, were killed by the IOF after they had been shot in the stomach. At least 166, including 30 children and two women, were injured with bullets. Meanwhile, in east of Rafah, the IOF killed Amin Mahmoud Mu'ammar, 25, and Ibrahim Salah Abu Sha'ar, 17, by shooting them in the head. In total, 93 Palestinians were injured with live ammunition in east Rafah, including 33 children and four women.
Over the past few months, Palestinian youth repeatedly protested in the Gaza Strip, especially following Trump's announcement on Jerusalem, during which the IOF continued to excessively and disproportionately use force and lethal force against Palestinian civilian protestors, including children, and exercised an evident shoot-to-kill policy.[6] Between 15 December 2017 and 31 March 2018, the IOF shot and killed 21 Palestinian protestors in the Gaza Strip, killed three fishermen and farmers, and four others in artillery shells and air strikes.[7] At the same time, the Gaza Strip has been under Israeli-imposed closure for almost 11 years, turning it into an open air prison, with dire humanitarian conditions, encompassing shortages in basic needs, such as water, food and medical equipment, and the destruction of all aspects of life therein.
The IOF's use of force and lethal force against Palestinian protestors, including in the Gaza Strip on 30 March 2018, is in breach of international law and human rights standards. The IOF deliberately and systematically eases fire regulations and opens fire, including live fire, at Palestinian protestors, placing them at an imminent risk of physical injury. In fact, the IOF's spokespersons have explicitly reiterated their readiness to counter the March protests throughout the Gaza Strip by all means necessary.[8] This is in contradiction to Israel's obligations as Occupying Power, and which require it to respect the right to life of the occupied population, refrain from using lethal force, and be guided by the principles of proportionality and necessity when resorting to the use of force. The Basic Principles on the Use of Force and Firearms by Law Enforcement Officials dictate an obligation to not resort to excessive and lethal force which should only be used "when strictly unavoidable in order to protect life."[9]
In fact, there is no necessity or consideration of proportionality stemming from the shooting of young Palestinians and families peacefully demonstrating, and at times escaping the IOF's heavy fire, a common practice illustrated in the case of Abd Al-Fattah Abd Al-Nabi above. Where the IOF often shoots at Palestinian civilians in the upper parts of their bodies, this proves the IOF's intent and policy of shoot-to-kill. On Friday, Palestinian youth wounded and killed during the protests were shot in the head, stomach, neck or face, while not posing an imminent threat to the lives of the fully armed soldiers stationed behind the border fence. Furthermore, in a post published by the IOF on their official Twitter account ("IDF Spokesperson"), which appears to have been deleted shortly after, "nothing was carried out uncontrolled; everything was accurate and measured, and we know where every bullet landed," proving knowledge and intent of the violations committed. The intentional and unjustified killings of protected persons during law enforcement operations may amount to wilful killing, a grave breach of Article 147 of the Fourth Geneva Convention, and a war crime under the Rome Statute of the International Criminal Court (ICC).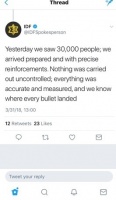 The Israeli occupying authorities and its forces continue to disregard the fundamental human rights of the Palestinian population therein, primarily the right to life, through the excessive use of force and collective punishment. The attacks on Palestinian protestors on 30 March 2018 further establish Israel's unremitting suppression of Palestinians' right to peaceful protest, but most importantly the right to realize the right of return which Israel continues to deny. The right of return for Palestinians is enshrined under international law, also recognised by UN General Assembly resolution 194 of 1948 and UN Security Council resolution 237 of 1967 which requires Israel to "ensure the safety, welfare and security of the inhabitants of the areas where military operations have taken place and to facilitate the return of those inhabitants who have fled the areas since the outbreak of hostilities."[10]
Al-Haq condemns Israel's systematic and continuous targeting of Palestinians across the Occupied Palestinian Territory (OPT), especially in the Gaza Strip. Al-Haq warns against the deteriorating situation in the Gaza Strip and calls for immediate and urgent action by the international community to combat Israel's longstanding impunity in the face of human rights violations, grave breaches, and crimes committed against the occupied Palestinian population. In light of this, Al-Haq calls for:
Immediate and concrete measures, as part of Third States' obligations under international law, to ensure protection for the occupied Palestinian population, including by realizing their right to life and right to self-determination;
The High Contracting Parties to the Fourth Geneva Convention to convene an urgent meeting, addressing Israel's serious breaches of the Convention and accordingly protection for the Palestinian civilian population;
The establishment of an independent investigative commission by the United Nations Secretary General into the killings committed on 30 March 2018 in the Gaza Strip, as highlighted in his statement on 30 March 2018,[11] and as part of Israel's continued attacks against Palestinian civilians and imposed closure;
End the Israeli-imposed closure on the Gaza Strip, including by lifting the sea blockade, and guarantee the occupied population's right to freedom of movement, and ensure the territorial contiguity of the OPT;
Protect, realize and facilitate Palestinian refugees' right of return, including by protecting and ensuring the functions of UNRWA facilities and services;
The International Criminal Court to open an investigation into the situation in Palestine and to examine all cases in which international crimes are alleged to have been committed in the OPT.
---
[1] See: Michael Bachner, IDF Chief: 100 Snipers Authorized to Use Live Fire During Gaza March (Times of Israel, 28 March 2018) available at: https://www.timesofisrael.com/idf-chief-100-snipers-authorized-to-use-live-fire-during-gaza-march/; Judah Ari Gross, With Extra Troops, Snipers, Drones, Israel Braces for Land Day Border Protest (Times of Israel, 26 March 2018) available at: https://www.timesofisrael.com/with-extra-troops-snipers-drones-israel-braces-for-land-day-border-protest/
[2] See for example: Minister of Defense Twitter Account post on 30 March 2018 stating "anyone who approached the Wall will be endangering their life", available at: https://twitter.com/AvigdorLiberman/status/979617499640729601
[3] The numbers provided of Palestinians injured during the protests on 30 March 2018 in this statement are according to Al-Haq field monitoring and documentation as of 30 March 2018 at 9:00 pm.
[4] PCBS, On the Occasion of the International Day of Refugees, 20 June 2017, available at: http://www.pcbs.gov.ps/post.aspx?lang=en&ItemID=1957
[5] Al-Haq, Gaza's Untold Story: From Displacement to Death, 17 September 2015, available at: http://www.alhaq.org/advocacy/topics/gaza/959-gazas-untold-story-from-displacement-to-death
[6] Al-Haq, Israel Targets and Kills Unarmed Palestinian Juveniles in the Gaza Strip Using Heavy Weapons of War, 3 March 2018, available at: http://www.alhaq.org/documentation/weekly-focuses/1193-israel-targets-and-kills-unarmed-palestinian-juveniles-in-the-gaza-strip-using-heavy-weapons-of-war [7] Al-Haq, Escalation in the Gaza Strip: Israel Attacks Civilian Protesters and Launches Airstrikes, 15 December 2017, available at: http://www.alhaq.org/documentation/weekly-focuses/1159-escalation-in-the-gaza-strip-israel-attacks-civilian-protesters-and-launches-airstrikes
[8] See: the Official Israel Defense Forces Twitter, available at: https://twitter.com/IDFSpokesperson?ref_src=twsrc%5Egoogle%7Ctwcamp%5Eserp%7Ctwgr%5Eauthor; The Jerusalem Post, IDF Issues Further Statement on Gaza Border Clashes, 30 March 2018, available at: http://www.jpost.com/Breaking-News/IDF-issues-further-statement-on-Gaza-border-clashes-547526
[9] Basic Principles on the Use of Force and Firearms by Law Enforcement Officials, adopted 1990, Principle 9
[10] UN Security Council, Resolution 237 (1967) of 14 June 1967.
[11] UN Secretary General, Statement Attributable to the Spokesman for the Secretary-General on the Situation in Gaza, 30 March 2018, available at: https://www.un.org/sg/en/content/sg/statement/2018-03-30/statement-attributable-spokesman-secretary-general-situation-gaza