Cycling for Discrimination: Giro d'Italia's Launch in Jerusalem Whitewashes Israel's Occupation
Cycling for Discrimination: Giro d'Italia's Launch in Jerusalem Whitewashes Israel's Occupation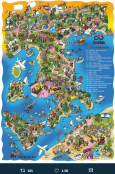 Giro d'Italia's choice of location, along with its partners, sponsors, and participating teams and individuals, is an indication of its support for Israel's occupation and violations against Palestinians, including in East Jerusalem. Giro d'Italia has contributed to Israel's unlawful alteration in Jerusalem, by visibly marking the Old City in occupied East Jerusalem as being part of 'Israel proper', through its official visual publication ahead of the 2018 launch: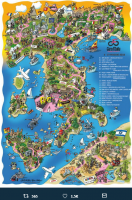 In light of ongoing Israeli violations and racist policies and practices against Palestinians, notably in occupied East Jerusalem, as well as the United States' declaration of Jerusalem as Israel's capital, in violation of international law, Giro d'Italia's decision to host its first event outside of Europe in Jerusalem, disregarding Palestinian objections, further serves to entrench Israel's occupation, annexation, and unlawful alteration of Jerusalem's legal status. The status of Jerusalem, as corpus separatum, is notably protected under international law as recognised by United Nations (UN) Security Council resolutions 252 (1968), 267 (1969), 271 (1969), 475 (1980), 476 (1980), and 478 (1980).
Israel's targeting of Palestinians' lower limbs to 'shoot-to-disable' peaceful protesters
While the Giro d'Italia race took place in Jerusalem on Friday, 4 May 2018, 195 Palestinians were injured by the IOF during peaceful protests near the Gaza fence. The Great Return March continued for the sixth consecutive week, with Palestinians protesting for the realisation of their right of return as well as an end to Israel's unlawful 11-year closure of the Gaza Strip. Since the launch of the Great Return March, Al-Haq has documented Israel's deliberate 'shoot-to-disable' practice, targeting protected persons in the Gaza Strip with intention to main and at times permanently disable Palestinians by targeting specific body parts, including the lower limbs.[1]
Over the past six weeks, Israel's excessive use of lethal force has led to the killing of 50 Palestinians in the Gaza Strip, including 40 during peaceful Great Return March protests, in addition to the injury of thousands of Palestinians. Throughout this period, Al-Haq has documented some 28 cases of amputation of limbs as a result of IOF injuries during the Great Return March.[2] One of the injured protesters who required amputation is Alaa Al-Dali, 21, a Palestinian cyclist who was shot by an Israeli sniper with a live bullet under his right knee on 30 March 2018, while he was standing some 200 metres away from the fence. Alaa, who had been training for the 2018 Asian Games for months reportedly stated: "I knew the moment I was shot and fell to the ground, I knew that I would never be able to ride a bicycle again in my life".[3]
Legalising the illegal: The forcible transfer of Palestinians from Jerusalem
Israel's 'Greater Jerusalem' plan, advanced since the beginning of its fifty-year occupation and unlawful annexation of East Jerusalem in 1967, aims to forcibly transfer Palestinians from the city of Jerusalem by artificially increasing the Israeli-Jewish population therein, while decreasing the number of Palestinians. 'Greater Jerusalem' bills are currently being fast-tracked at Israel's Parliament, following the green light seemingly given to Israel by the United States' declaration on Jerusalem. These bills provide for the incorporation of the illegal Israeli settlement blocs of Gush Etzion, Ma'ale Adumim, Giv'at Ze'ev, and Beitar Illit into Israel's Jerusalem municipality, in an attempt to increase the Jewish presence in Jerusalem, while removing a third of the Palestinian population from the city in areas already separated by the illegal Annexation Wall.[4]
Israeli authorities, through discriminatory policies, deny Palestinians building permits in occupied East Jerusalem, levy high housing taxes, and monitor Palestinian residents Jerusalem via an onerous 'centre of life' policy, which requires that all Palestinians living in East Jerusalem prove to the Israeli occupying authorities that they live and work only in Jerusalem. Should the Israeli authorities decide that a Palestinian from East Jerusalem does not satisfy the 'centre of life' requirement, their so-called 'permanent residency' status may be revoked and they become effectively stateless. The measure is essentially a formal mechanism to drive the forcible transfer of Palestinians from East Jerusalem, and to date, has resulted in the revocation of residencies and removal of over 14,500 Palestinians from occupied East Jerusalem.[5]
Within the context of Israel's deliberate design to alter the status and demographic composition of Jerusalem, Al-Haq condemns Giro d'Italia's presence in Jerusalem as a quest to 'normalise' Israel's continued forcible transfer of Palestinians. Al-Haq calls upon the corporate sponsors and partners of Giro d'Italia to conduct proper and effective due diligence prior to sponsoring and/or promoting such events and to fulfil their obligations under international law by abiding by the UN Guiding Principles on Business and Human Rights.[6] States of participating teams must also uphold their third State responsibility under international law and ensure that their official representatives and flag holders respect international human rights and humanitarian law.[7]
15 May 2018 marks 70 years since the Nakba, when Palestinians were forcibly expelled from their homes and property in Mandate Palestine by Zionist forces in 1948, denied their right of return ever since. While Palestinians continue to protest for the realisation of this inalienable right in the Gaza Strip, ahead of the landmark commemoration of the Nakba, the Giro d'Italia's 2018 launch in Jerusalem only served to whitewash Israel's longstanding impunity for widespread and systematic violations of international law against the Palestinian people.
---
[1] Al-Haq, "13 April: Palestinian Determination to Peaceful Protest Continues to be met with Excessive Use of Force by the IOF"(19 April 2018), available at:http://www.alhaq.org/advocacy/topics/gaza/1216-13-april-palestinian-determination-to-peaceful-protest-continues-to-be-met-with-excessive-use-of-force-by-the-iof.
[2]See Al-Haq, "Al-Haq Condemns War Crimes Committed during Great Return March in the Gaza Strip, Urges International Criminal Court to Open Investigation" (27 April 2018), available at: http://www.alhaq.org/advocacy/targets/international-criminal-court-icc/1222-al-haq-condemns-war-crimes-committed-during-great-return-march-in-the-gaza-strip-urges-international-criminal-court-to-open-investigation.
[3] Maha Hussaini, "Israeli bullet destroys dream of Gaza cyclist heading to Asian Games" (Middle East Eye, 27 April 2018), available at: http://www.middleeasteye.net/in-depth/features/israeli-sniper-ends-palestinian-cyclist-s-dream-1587355566.
[4] Al-Haq, "The Occupation and Annexation of Jerusalem through Israeli Bills and Laws" (5 March 2018), available at: http://www.alhaq.org/advocacy/topics/wall-and-jerusalem/1195-the-occupation-and-annexation-of-jerusalem-through-israeli-bills-and-laws. See also UN Security Council, Resolution 2334 (2016), 23 December 2016, UN Doc S/RES/2334 (2016).
[5] Refer to infographic available at: http://www.alhaq.org//cached_uploads/download/alhaq_files/publications/papers/VP-ResidencyRevocation-FINAL-20170612.pdf.
[6] UN, The State Duty to Protect Human Rights "Guiding Principles on Business and Human Rights: Implementing the United Nations "Protect, Respect, and Remedy" Framework" (2011).