Impunity for Extrajudicial Killing: Israeli Soldier and Killer of Abdel Fattah Al-Sharif Released after Mere 9 Months in Prison
Impunity for Extrajudicial Killing: Israeli Soldier and Killer of Abdel Fattah Al-Sharif Released after Mere 9 Months in Prison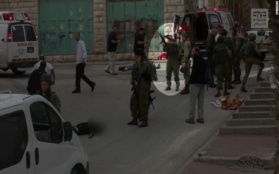 In January 2017, the trial of Elor Azaria took place. The charges were reduced from murder to manslaughter, a crime that usually carries a maximum sentence of 20 years. The military court convicted Azaria of manslaughter, sentencing him to a mere 18 months in jail. At the time, United Nations human rights spokesperson, Ravina Shamdasani, expressed outrage at the 18 month sentence, stating "We are deeply disturbed at the lenient sentence given by the Tel Aviv Military Court earlier this week to an Israeli soldier convicted of unlawfully killing a wounded Palestinian in an apparent extrajudicial execution of an unarmed man who clearly posed no imminent threat... This case risks undermining confidence in the justice system and reinforcing the culture of impunity...This is a chronic culture of impunity we are talking about."[3] Later the Chief of Staff of the Armed Forces reduced the term, by a further four months. On Tuesday, 8 May 2018, some 9 months after his jail term started, and at his request to attend his brother's wedding, Elor Azaria was released from prison early.[4]
Azaria's killing of Abdel Fattah al-Sharif, represented an implementation of Israel's shoot to kill policy,[5] and amounts to willful killing, a grave breach of the Geneva Conventions and a war crime for which there is individual criminal responsibility under the Rome Statute of the International Criminal Court (Rome Statute). Notably, the object and purpose of the Rome Statute as expressed in the preamble, is "to put an end to impunity for the perpetrators of these crimes and thus to contribute to the prevention of such crimes." As such, the sentencing of crimes of the magnitude of war crimes should be applied to ensure general deterrence where the punishment "serves to strengthen the legal order, in which the type of conduct involved is defined as criminal, and to reassure society of the effectiveness of its penal provisions."[6] It is notable in this respect that Israel's Minister for Transport and Intelligence called on "President Reuven Rivlin to act now to delete Elor's criminal record."[7]
Instead, the reduction on Azaria's jail term to months effectively shields him from criminal responsibility and illustrates the unwillingness of the State of Israel to hold perpetrators of atrocity crimes to account. Under Article 17(1)(a) of the Rome Statute, a case may be considered admissible despite having been heard in a domestic court, where the State concerned is "unwilling or unable genuinely to carry out the investigation or prosecution." Furthermore, the deliberate reduction in sentence appears to be a matter of State policy. In February 2017, Israel's Minister for Education Naftali Bennet, warned that Azaria "cannot go to jail, or we will all pay the price."[8] In July 2017, Israel's Prime Minister Benyamin Netanyahu called for a pardon stating "When the issue comes up for discussion, I will give my recommendation for a pardon to the relevant authorities."[9]
The reduction of the sentence and release of Azaria follows a pattern of light sentencing for willful killing by the State of Israel, of unarmed Palestinians, calling into question the independence and impartiality of the judicial system.[10] On 25 April 2018, the Israeli District Court in Jerusalem sentenced Israeli 'border policeman', Ben Deri, to nine months imprisonment and a 50,000 Shekel-fine (approximately USD 14,285) for the killing of 17-year-old Nadim Nuwwara. At the same time, Palestinians before the military courts are administered harsh lengthy sentences for minor acts. For example, in March 2018, Palestinian child activist, Ahed Tamimi was sentenced to eight months in prison, with three years suspended and a 5,000 shekels fine, for slapping an Israeli soldier.[11] Israel has demonstrated its continued failure to uphold the rule of law and due process guarantees. As a matter of urgency, Al-Haq calls on the International Criminal Court to swiftly move to open an investigation into Israel's continued violations of international humanitarian law, amounting to war crimes and crimes against humanity in the OPT.
---
[1] Al-Haq, "PHROC Condemns the Excessively Lenient Sentence for Israeli Soldier Responsible for Palestinian Death" (2 March 2017), available at: http://www.alhaq.org/advocacy/targets/palestinian-human-rights-organizations/1108-phroc-condemns-the-excessively-lenient-sentence-for-israeli-soldier-responsible-for-palestinian-death
[2] Sheren Khalel, "Israeli settlers attack Palestinian videographer of Hebron shooting in attempt to 'silence documentation and resistance" Mondoweiss (9 January 2017) available at: http://mondoweiss.net/2017/01/videographer-palestinians-documentation/
[3] "UN: Jail term for Israeli soldier 'excessively lenient'," Al-Jazeera, 24 February 2017. Available at http://www.aljazeera.com/news/2017/02/jail-term-israeli-soldier-excessively-lenient-170224133219648.html
[4] AFP, "Ex-IDF soldier convicted of manslaughter freed from prison to hero's welcome" I24 News Israel (58 May 2018), available at: https://www.i24news.tv/en/news/israel/174202-180508-ex-idf-soldier-convicted-of-manslaughter-released-from-prison
[5] See, Al-Haq, "Unlawful Killing of Palestinians by Israeli Occupying Forces" (31 October 2015), available at: http://www.alhaq.org/advocacy/topics/right-to-life-and-body-integrity/982-unlawful-killing-of-palestinians-by-israeli-occupying-forces
[6] ICTY, Prosecutor v. Miodrag Jokić, Case No. IT-01-42/1-S, Sentencing Judgment (Trial Chamber), 18 March 2004, paras 30 ff. (extract from para. 34).
[7] Stuart Winer, "Ministers welcome release of Hebron shooter Elor Azaria" The Times of Israel (8 May 2018), available at: https://www.timesofisrael.com/ministers-welcome-release-of-hebron-shooter-elor-azaria/
[8] "Israeli soldier sentenced to 18 months for shooting disarmed Palestinian attacker" The Washington Post (21 February 2017), available at: https://www.washingtonpost.com/world/middle_east/israeli-soldier-sentenced-to-18-months-for-shooting-disarmed-palestinian-attacker/2017/02/21/3e9035dc-f811-11e6-bf01-d47f8cf9b643_story.html?noredirect=on&utm_term=.1187fe92cfa4
[9] Herb Keinon, Anna Ahronheim, Gil Hoffman, "NETANYAHU CALLS TO PARDON AZARIA" The Jerusalem Post (30 July 2017), available at: https://www.jpost.com/Israel-News/Netanyahu-calls-to-pardon-Azaria-501171
[10]Al-Haq, "Impunity Prevails Once Again: Israeli Court Sentences IOF Killer of Nadim Nuwwara to Nine Months Imprisonment" (26 April 2018), available at: http://www.alhaq.org/advocacy/targets/accountability/81-general/1221-impunity-prevails-once-again-israeli-court-sentences-iof-killer-of-nadim-nuwwara-sentenced-to-nine-months-imprisonment
[11] Amnesty International, Palestinian Child Activist Ahed Tamimi Sentenced to 8 Months in Prison (21 March 2018), available at: https://www.amnesty.org/en/latest/news/2018/03/israelopt-palestinian-child-activist-ahed-tamimi-sentenced-to-8-months-in-prison/