Al-Haq Welcomes States' Decision to Recall and Summon Ambassadors
Al-Haq Welcomes States' Decision to Recall and Summon Ambassadors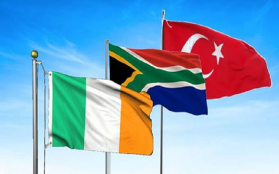 Al-Haq continues to monitor and document the IOF's persistent attacks against Palestinians in the Gaza Strip who have been peacefully demonstrating for seven weeks, calling for the realisation of their fundamental right to self-determination and their right of return, guaranteed by international law. Between 30 March and 15 May 2018, 103 Palestinians have been killed by the IOF, while more than seven thousands have been injured, hundreds by live fire. As part of its continued efforts towards accountability and achieving justice, Al-Haq continues to communicate with the Office of the Prosecutor of the International Criminal Court (ICC), and provide it with evidence on the commission of internationally recognized crimes that fall within the ICC's jurisdiction.
In light of the above, Al-Haq calls on the:
High Contracting Parties to the Geneva Conventions to fulfil their obligations under Common Article 1 of the Geneva Conventions, particularly to ensure respect for the Fourth Geneva Convention in all circumstances.
United Nations (UN) Secretary-General to bring to the attention of the UN Security Council the crimes committed by the IOF, in line with his powers under Chapter XV, notably Article 99, of the Charter of the United Nations, as these crimes threaten the maintenance of international peace and security.
Israel's systematic and ongoing violations of international law committed against the Palestinian people require collective work towards ensuring accountability of the Occupying Power, Israel, to bring to an end Israel's prolonged occupation and colonization, and to achieve international justice.
Ends