Two Palestinians Killed, including a Volunteer Paramedic, during 20th Great Return March Protests
Two Palestinians Killed, including a Volunteer Paramedic, during 20th Great Return March Protests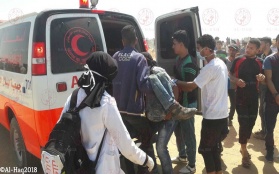 On that day, the IOF continued to use unnecessary, excessive, and disproportionate force, including lethal force, against peaceful Palestinian protesters in the Gaza Strip. Thousands of Palestinian protesters had gathered that afternoon near the fence across the five governorates of the Gaza Strip, and continued to demonstrate until about 8:00 pm, at distances ranging between 50 and 400 metres from the fence. The protesters raised Palestinian flags, chanted national slogans, set tires on fire, and flew kites and balloons, while tens of others approached the fence to throw stones at the IOF. Meanwhile, hundreds of IOF soldiers, including snipers, gathered behind sand mounds and barriers and inside military jeeps, positioned some 30 to 60 metres beyond the main fence, firing live ammunition and tear gas canisters directly at the protesters.
At approximately 6:15 pm, the IOF fired live ammunition towards the protesters east of Rafah, fatally injuring two Palestinians, including volunteer paramedic Abdallah Sabri Al-Qatati, 22, who was shot in the back, and Ali Said Al-Aloul, 55, who sustained an injury with a bullet that entered the right side of his chest and exited through the left side. Both Abdallah and Ali were shot while they were about 100 metres away from the fence, and were pronounced dead less than an hour after their injury, at the Gaza European Hospital in Khan Younis. It should be noted that Abdallah is the third health worker killed since the start of the Great Return March on 30 March 2018.
In east of Jabaliya in the North Gaza Governorate, 32 Palestinians were injured by the IOF, including 28 by live fire and four as a result of direct tear gas canister hits. Among the 32 injured, there were seven children and one paramedic. In east of Al-Shuja'iyah neighbourhood in Gaza, 43 Palestinians were injured, amongst them 32 as a result of the IOF's use of live fire. Meanwhile, in the Central Governorate, 13 Palestinians were injured, including 11 by live fire during the protests east of Al-Breij Refugee Camp. In east Khuza'a, east of Khan Younis, 30 Palestinians were injured, including four children and three paramedics. Of the 30 injured, 23 were shot with live bullets. During protests in Al-Shawka in the Rafah Governorate, 25 Palestinians, including nine children and two journalists were injured, 18 of whom as a result of live fire. In addition, one ambulance belonging to the Palestine Red Crescent Society (PRCS) was directly hit with bullets.
Legal Analysis
Twenty weeks since the Great Return March began on Land Day, Palestinians in the occupied Gaza Strip have continued to protest against the unlawful 11-year closure and blockade imposed by Israel, the Occupying Power, while demanding the full realisation of their rights under international law, including their right of return. Israel's violent suppression of the Great Return March protests violates the rights of the occupied Palestinian people to peaceful assembly, expression, freedom from torture and other ill-treatment, as well as the fundamental right to life, which Israel, as Occupying Power, is obligated to respect, protect, and fulfil.[1] Under international human rights law, Israeli forces are prohibited, in the policing of peaceful assemblies, from resorting to lethal force unless "strictly unavoidable in order to protect life," while the use of force may only be justified when strictly necessary, in line with human dignity and the human rights of all persons.[2]
In addition, the deliberate targeting of civilians and civilian objects, including medical staff and paramedics, constitutes a serious violation of the laws and customs of war and amounts to a war crime giving rise to individual criminal responsibility under the Rome Statute of the International Criminal Court.[3]
Al-Haq calls for an independent, transparent, and impartial investigation into all killings perpetrated by the IOF since the beginning of the Great Return March on 30 March 2018, in accordance with United Nations Human Rights Council resolution S-28/1 adopted on 18 May 2018, which called for the protection of civilians "against any further assaults" by the IOF in the occupied Gaza Strip.[4]
---
[1] Articles 6, 7, 19, and 21, International Covenant on Civil and Political Rights (ICCPR).
[2] Principle 9, UN Basic Principles on the Use of Force and Firearms by Law Enforcement Officials (1990). Article 3, UN Code of Conduct for Law Enforcement Officials (1979). See also Al-Haq, "'Bloody Monday' – Documentation of the Shoot-to-kill, Egregious Killings Committed by the Israel Occupying Force (IOF) on 14 May 2017" (26 May 2018), available at: http://www.alhaq.org/advocacy/topics/gaza/1262-bloody-monday-documentation-of-the-shoot-to-kill-egregious-killings-committed-by-the-israel-occupying-force-iof-on-14-may-2017.
[3] Articles 8(2)(b)(i), 8(2)(b)(ii), 8(2)(b)(iii), and 8(2)(b)(iv), Rome Statute of the International Criminal Court (1998). See, e.g., Al-Haq, "Israel Deliberately Injures and Maims Palestinian Civilians, Prevents Evacuation of Wounded, and Denies Access to Vital Healthcare Facilities Outside the Gaza Strip" (18 April 2018): http://www.alhaq.org/documentation/weekly-focuses/1215-israel-deliberately-injures-and-maims-palestinian-civilians-prevents-evacuation-of-wounded-and-denies-access-to-vital-healthcare-facilities-outside-the-gaza-strip. See also Al-Haq, "Israeli Forces Kill Paramedic and Injure 100 Palestinians as Great Return March Enters 10th Week" (3 June 2018), available at: http://www.alhaq.org/advocacy/topics/gaza/1266-israeli-forces-kill-paramedic-and-injure-100-palestinians-as-great-return-march-enters-10th-week.
[4] See Al-Haq, "Al-Haq Attends 28th Special Session of the UN Human Rights Council on the Situation in Palestine, Calls for Accountability" (22 May 2018), available at: http://www.alhaq.org/advocacy/targets/united-nations/1255-al-haq-attends-28th-special-session-of-the-un-human-rights-council-on-the-situation-in-palestine-calls-for-accountability.