Press Release: Al-Haq Participates in the First Negotiations Since the Release of Zero Draft Treaty on Transnational Corporations and Human Rights
Press Release: Al-Haq Participates in the First Negotiations Since the Release of Zero Draft Treaty on Transnational Corporations and Human Rights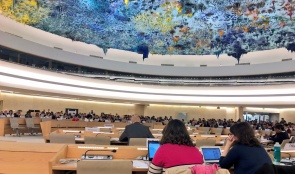 Al-Haq actively contributed to the discussions of the Zero Draft Treaty, along with partner organisations, such as ESCR-Net and FIDH, focusing on the inadequate language of the Draft Treaty in relation to conflict-affected areas and the lack of protection afforded to human rights defenders therein. Besides lobbying Member States, Al-Haq delivered two oral interventions throughout the Session. The first joint oral statement delivered on 18 October, on behalf of Al-Haq, ALTSEAN-Burma, Association for Women's Rights in Development (AWID), Cairo Institute for Human Rights Studies (CIHRS), ESCR-Net, International Federation for Human Rights (FIDH), Women's International League for Peace and Freedom (WILPF), the African Coalition for Corporate Accountability (ACCA), and the Centre for Research on Multinational Corporations (SOMO), addressed the current text of the Zero Draft Treaty and how it seriously fails to sufficiently prioritize the rights and protections afforded to individuals, communities and peoples against corporate abuses; victim's access to remedy; and corporate accountability in conflict areas. The statement urged the Working Group to amend the Treaty to include a specific provision surrounding conflict areas, emphasizing the applicability of international human rights and humanitarian law under Article 7. It further called for the Treaty to require states to impose mandatory and enhanced due diligence for businesses, operating or planning to operate in conflict areas, including more urgent and immediate preventive measures, divestment and disengagement policies, to avoid corporate involvement in or contribution to human rights abuses in their activities and relationships.
Meanwhile, the second joint oral intervention, delivered on behalf of Al-Haq, AWID, Franciscans International, and ESCR-Net called for more attention and provisions to address the role of corporations in restricting women's social and economic rights, political participation, intensifying patriarchal norms, and exacerbating abuses experienced by women in conflict-affected areas. In addition, Al-Haq participated in a side even, organised by FIDH and ESCR-Net, on human rights defenders and how the treaty should consider human rights defenders in the fight for corporate accountability. During the side event, Al-Haq highlighted the plight of human rights organisations, defenders and civil society organisations in Palestine, and the increasing shrinking space, including when monitoring, documenting and seeking accountability for violations of non-state actors, including business enterprises.
Throughout the Session, civil society organisations recommended the Working Group to continue to carry out informal intersessional consultations and guarantee the participation of civil society; called for national consultations; commitment to continue with the discussion in a fifth session; and to publish a strengthened Draft One Treaty based on inputs and comments made during the Fourth Session, including that of civil society and affected communities.
For commentaries on the Zero Draft Treaty, consult with ESCR-Net's Advocacy Position Papers, available at: https://www.escr-net.org/sites/default/files/advocacy_position_papers_igwg2018.pdf and FIDH's Preliminary Comment on the "Zero Draft" Convention, available at: https://www.fidh.org/IMG/pdf/fidh_preliminary_comment_vf_web_version.pdf. For the coverage of the Fourth Session and reactions from states and civil society, visit the Business and Human Rights Resource Centre at: https://www.business-humanrights.org/en/binding-treaty/intergovernmental-working-group-sessions/fourth-un-intergovt-working-group-session-on-proposed-business-human-rights-treaty-15-19-oct-2018