Al-Haq Welcomes Chilean Parliament Resolution Calling on the Government to Review Treaties with Israel
Al-Haq Welcomes Chilean Parliament Resolution Calling on the Government to Review Treaties with Israel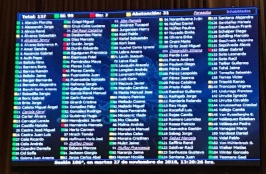 The Chilean Parliament further calls on its Government to establish mechanisms to ban the entry of Israeli settlement products into Chile. In addition, the resolution calls on the Government to issue guidelines for potential investors, tourists, and regular citizens who want to visit Israel and the OPT or invest therein, so as not to contribute to Israel's occupation and colonization of the Palestinian territory, as well as understand the consequences of such activities and any potential violations of international law.
The Chilean Parliament's vote came following the Irish Seanad vote in favour of adopting the Control of Economic Activity (Occupied Territories) Bill 2018, on 28 November 2018. The Occupied Territories Bill 2018 differentiates between settlement products and products originating from Israel and prohibits the import of illegal settlement goods and services into Ireland. Furthermore, the Bill criminalizes engagement or work with Israeli settlements, through investments in or import of settlement goods.
The votes by both the Irish and Chilean parliaments are in line with UN Security Council Resolution 2334, which urges all Member States to distinguish in their relevant dealings between the territory of the State of Israel and the settlements established in the territories occupied since 1967, as settlements constitute a flagrant violation of international law. The resolution also calls upon States not to give effect to Israel's unlawful settlement enterprise.
Al-Haq applauds the significant efforts by the Chilean and Irish parliaments as important measures towards fulfilling their obligations as third States and a step further, the full implementation of international law in Palestine, and putting an end to Israel's prolonged occupation, and holding perpetrators of gross human rights violations and grave breaches to account. Accordingly, Al-Haq urges further States to follow suit, and to comply with their obligations under international law.