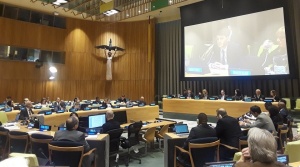 The Forum comes shortly after the United States unlawfully recognized Israeli sovereignty over the Occupied Syrian Golan, and over a year after the United States recognized unlawfully annexed Jerusalem as Israel's capital. In continuing on the path of illegal annexation, Israeli Prime Minister Benjamin Netanyahu announced on 6 April 2019 that he would begin annexing the West Bank should he be reelected.
Al-Haq emphasizes that after over 50 years of occupation, the failure of the international community to hold Israel accountable for its violations of international law has led to the current situation where Israeli officials brazenly announce and implement their continued colonization of Palestinian territory. In January 2019, United Nations Special Rapporteur for the Occupied Palestinian Territory, Professor Michael Lynk warned the international community that "if the settlements steps by Israel are left unanswered by the international community, we will be driving past the last exit on the road to annexation".
As highlighted by experts at the UN Forum, Third States must act to ensure that they uphold their obligations under international law, including as delineated in relevant UN resolutions. This should include an immediate ban on settlement products by third States, and as recently recommended by the UN Commission of Inquiry, an investigation into Israeli war crimes and, if appropriate, the prosecution of suspected perpetrators of international crimes.
Panel Expert, Conor O'Neil, pointed out, "Annexation is not just some abstract concept that is being threatened, because the feedback from colleagues and civil society in the region is that, annexation is a pretty accurate description of the reality on the ground already. There might come a specific moment, a specific event, that marks a formal de jure annexation, but in reality that moment will only be the high watermark of a process that took place over decades - it will have been inch by inch, settlement by settlement, fact on the ground, by fact on the ground. As an international community, we will not be able to say that we didn't see it coming, or that it happened over night, or that it was a specific moment. It does not happen in a moment, it happens gradually. It happens as the result of decades of missed opportunities"
The United Nations Forum on the Question of Palestine can be watched here and here.