Six Human Rights Organisations Submit an Urgent Appeal to UN Special Procedures on Israel's Imminent Deportation of Palestinian Jerusalemite
Six Human Rights Organisations Submit an Urgent Appeal to UN Special Procedures on Israel's Imminent Deportation of Palestinian Jerusalemite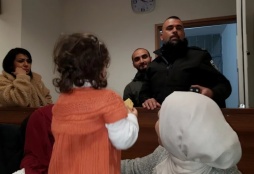 On 22 January 2019 at around 3:00 am, Israeli occupying forces arrested Mustafa Al-Kharouf from his home in Jerusalem under the pretext that he is an "unlawful resident." Since then, Mustafa has been held in Givon prison in Al-Naqab and faces imminent deportation to Jordan. Mustafa, who was born in Algeria but moved to Jerusalem when he was 12 years old with his Palestinian Jerusalemite father and their family, has never acquired a residency permit to allow him to live in Jerusalem. Instead, he has long struggled with the different Israeli ministries, institutions, and courts to allow him to remain in Jerusalem with his family.
In December 2018, the Israeli Ministry of Interior rejected Mustafa's family unification application on alleged security grounds, which the occupation authorities have tied to Mustafa's work as a photojournalist, and which Mustafa denies. It should be noted that neither Mustafa nor his lawyer have been able to access any of the evidence brought against Mustafa by the Israeli authorities. In April 2019, the Jerusalem District Court rejected Mustafa's appeal for his family unification application that was rejected in December 2018. The Israeli District Court further upheld the Ministry of Interior's order to deport Mustafa to Jordan. Mustafa was given until Sunday, 5 May 2019 to appeal the decision at the Israeli High Court of Justice.
In the joint urgent appeal, the Organisations highlighted the numerous pertinent violations under international human rights and humanitarian law, stemming from the measures and decisions taken by the Israeli authorities against Mustafa Al-Kharouf. Notably, Mustafa has been arbitrarily detained for more than 90 days and is at the risk of being forcibly transferred and deported. In addition, Mustafa's residency rights, his right to freedom of movement and his right to family life, among others, have all been obstructed and violated. Accordingly, the Organisations have called on the relevant UN Special Procedures to:
Take all necessary action to stop the deportation of Mustafa Al-Nadir Iyad Al-Kharouf to Jordan, or elsewhere, away from Jerusalem, his wife, child and family, or any schemes of forcible transfer, and to ensure his immediate release;
Call on the State of Israel, as Occupying Power, to grant Mustafa a permanent residency status that would allow him to live with his family in Jerusalem and realise his rights;
Call on Israel, as Occupying Power, to halt its continued policies and measures of restricting and revoking residency rights for Palestinians in East Jerusalem, resulting in the displacement and forcible transfer of the protected population;
Publicly condemn the continued unlawful arbitrary detention of Mustafa and call on the State of Israel, as Occupying Power, to release him;
Publicly condemn Israel's wider policy of unlawful detention of Palestinians and call on the State of Israel, as Occupying Power, to comply with its duties in this regard;
Condemn any attempts to hinder Mustafa's work as a photojournalist, and other restrictions on his right to freedom of expression and opinion.
For more details and to read the urgent appeal sent by the six human rights organisations, click here