Al-Haq Receives a Delegation of Chilean Members of Parliament
Al-Haq Receives a Delegation of Chilean Members of Parliament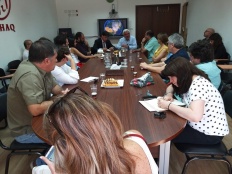 The briefing, which was held at Al-Haq, shed light on the deteriorating situation of human rights and the oppressive Israeli policies against Palestinians, which results in a situation of mass violations of rights. In the meeting, Mr. Shawan Jabarin, the General Director of Al-Haq, elaborated on the grave violations resulting from the settlement enterprise on the Palestinian land and people, the policy of forced displacement of Palestinians, and the looting of natural resources and properties such as water, especially in the Jordan Valley, all constituting serious violation of international humanitarian law and international human rights law.
During the meeting, a short movie on a specific settlement product, Ahava, was screened as a case example to demonstrate the illegal operation of private businesses in occupied territory, looting the lands and resources and the implications on Palestinian human rights as a result of such operation.
The briefing was followed by an interactive discussion, where, given Israel's prolonged occupation and oppression, the importance for third Party States to take proactive steps to respect and ensure respect of international law was stressed, as mandated under the responsibility of the third contracting parties under article 1 of the Geneva Conventions. This is particularly important to counter the prevailing culture of impunity and the relentless attempts to undermine the principles of international law, and international justice. The discussion highlighted the importance of the role of parliament, media and Palestinian communities in Chile in taking positive steps to ensure respect for the international law in the OPT, and to accordingly engage with the Chilean Government and civil society.
During the meeting, Al-Haq commended the efforts of the Chilean Parliament in supporting the inalienable rights of the Palestinian people based on international law and the resolution adopted by the Chilean Parliament on the prohibition of goods from Israeli settlements built illegally on Palestinian land, which constitutes a grave violation of international law.
The Parliamentarian delegation reiterated its position which fully supports for the enactment of the Chilean law prohibiting products of illegal Israeli settlements, and strengthening the efforts to move towards an enforcement mechanism upon the adoption of the law. A field visit will be organized today, 22 May 2019, for the guest delegation, to the old city of Hebron, to brief them on the violations committed by Israel, the Occupying Power, on the ground and the apartheid regime. This field visit is significant for the visiting delegation to transfer their observations on Israeli violations to the Parliament, Government and civil society in the Republic of Chile.