Urgent international intervention is needed to protect Palestinians in northern Gaza
Urgent international intervention is needed to protect Palestinians in northern Gaza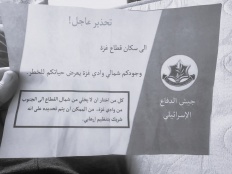 On 13 October, Israel ordered over one million Palestinians in northern Gaza to evacuate their homes and move to the southern districts of Rafah, Khan Younis and the Middle area, including Deir al-Balah, Al-Nusairat, Al-Maghazi, Al-Bureij, and Al-Zawayda. As reported by Al Mezan, Al Haq, and PCHR since then Israel has continued to relentlessly carpet-bomb the entire Gaza Strip by air, land and sea, including the southern districts, where most Palestinians have sought shelter. Facts on the ground are irrefutable: nowhere is safe in Gaza. This further suggests that Israel's 'evacuation order' was indeed intended to forcibly displace hundreds of thousands of Palestinians and bring them closer to the border with Egypt.
On Saturday, 21 October, Israeli warplanes dropped warning leaflets in Gaza's northernmost districts. The leaflets said: "An urgent warning to the residents of the Gaza Strip. Your presence in the north of Wadi Gaza puts your lives at risk. Those who choose not to evacuate from the North of the Strip to south of Wadi Gaza, could potentially be identified as accomplices in a terrorist organization."
As we write, there are tens of thousands of Palestinian civilians in northern Gaza who are either unwilling or unable to evacuate—including the wounded and sick, medical personnel, humanitarian workers, people with disabilities, the elderly, children and women, including women in an advanced stage of pregnancy. Several medical facilities, including the Al-Shifa and Al-Quds hospitals in Gaza City, have already announced that they are unable to evacuate as they continue to treat thousands of wounded. Many Palestinians who evacuated south have also returned to northern Gaza, citing the incessant Israeli attacks in southern Gaza and the lack of adequate shelter and facilities as the main reasons behind their decision.
In light of this, Israel's 'urgent warning' and its explicit indication that it may consider the remaining civilians in northern Gaza to be military targets should be considered a dire red flag and prompt the international community to immediately intervene.
The principle of distinction provides that in the conduct of hostilities, parties to an armed conflict must "at all times distinguish between the civilian population and combatants and between civilian objects and military objectives and accordingly shall direct their operations only against military objectives". The International Court of Justice has defined this principle as "cardinal" and "intransgressible". We also note that intentionally directing attacks against the civilian population as such or against individual civilians not taking direct part in hostilities are war crimes under Article 8 of the ICC Rome Statute. Willful killing of protected persons is also a grave breach of the 1949 Geneva Conventions.
The same day Israel delivered this 'urgent warning' to Palestinians in northern Gaza, 20 trucks of humanitarian aid entered Gaza through Rafah crossing. Palestinian civil society organizations called on the international community and UN agencies involved in the delivery of humanitarian aid to ensure the entry and delivery, without impediment, of sufficient quantities of humanitarian aid and relief—including fuel—as well as to ensure that the delivery of such aid will not be conditioned or limited to Gaza's southern districts.
Regrettably, we note that not only is the quantity of humanitarian aid that entered Gaza insufficient to satisfy the most urgent needs of the civilian population, but that such aid, which did not include fuel, has not reached Gaza's northern districts. Fuel—along with water, food and medical supplies—is among the most needed goods in Gaza, as it is used to power generators. Hospitals cannot work without electricity. As we write, there are 130 premature babies in neonatal intensive care units in Gaza hospitals, including at Al-Shifa and Nasser hospitals, who are in imminent danger if fuel does not enter Gaza soon. Ambulances and civil defense crews cannot move without fuel. Households also need fuel to be supplied with water.
Considering Israel's seven-decade track record of forced displacement and ethnic cleansing of Palestinians, the fact that the distribution of humanitarian aid has been so far limited to southern Gaza raises concerns that relief efforts could be instrumentalized to force more Palestinians to move south. Such instrumentalization should be strongly condemned by the international community, and should not be condoned or abetted by the UN agencies involved in the delivery and distribution of humanitarian assistance in Gaza.
Accordingly, Al Mezan, Al-Haq, and PCHR call for immediate international intervention to protect Palestinians in northern Gaza. All States who have leverage on Israel—particularly the United States, the United Kingdom, the European Union and its Member States—should exercise it and demand Israel to refrain from considering the entirety of north Gaza as one military objective and from attacking Palestinian civilians who remained or returned there, as they continue to be protected under international humanitarian law.
The international community must also urge Israel to restore water and electricity supplies to Gaza's civilian population and to allow humanitarian aid and relief supplies that enter Gaza to be properly delivered to all Gaza districts, including North Gaza and Gaza City. Pressure must also be applied for fuel to enter.

We further call on all UN agencies involved in the delivery of aid and relief—including the WHO, the WFP, OCHA, and UNICEF—to adhere to the humanitarian principles of neutrality, independence, impartiality and humanity and categorically reject Israeli-imposed conditions aimed at forcibly transferring Palestinians from north to south Gaza.