BRILL Publishes Landmark Al-Haq book, "Prolonged Occupation and International Law" on Palestinian Land Day
BRILL Publishes Landmark Al-Haq book, "Prolonged Occupation and International Law" on Palestinian Land Day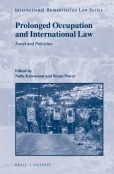 Today, on Palestinian Land Day, Al-Haq is pleased to announce that the prestigious BRILL Nijhoff academic publishing house, has published a landmark text on Palestine, Prolonged Occupation and International Law,edited by former Al-Haq, Head of Europe Office, Nada Kiswanson and Head of Legal Research and Advocacy at Al-Haq, Dr Susan Power. The authoritative text on prolonged occupation, is the sequel to Al-Haq's seminal and inaugural tome, published over thirty years ago, International Law and the Administration of Occupied Territories, edited by Emma Playfair.
The International Law and the Administration of Occupied Territories book edited by Emma Playfair, evolved from a conference of international legal experts hosted by Al-Haq in December 1987, and became a cornerstone text for academics and those pursuing advanced legal research. Similarly, the current BRILL Nijhoff publication, Prolonged Occupation and International Law, derived and has been developed from an important reflective conference, "The Threshold from Occupation to Annexation" held at Birzeit University in October 2018, hosted by Al-Haq, Birzeit University - Institute of Law, the Palestinian Centre for Human Rights, and the International Federation for Human Rights.
Emma Playfair writes a foreword for the BRILL Nijhoff sequel, neatly drawing the two books together, and placing Al-Haq's substantive contributions to academic discourse into contextual relief. In light of the developments in the intervening years, the sequel necessitates an examination of apartheid, colonialism, the prolonged and indefinite nature of the occupation and its subsequent illegality. The 16-chapter book includes a kaleidoscope of unique and important contributions, from former UN Special Rapporteurs, professors, lawyers, practitioners and policy makers, along with an introduction and chapters from the editors.
Distinguished contributors to the BRILL Nijhoff sequel, Prolonged Occupation and International Law include, amongst others, former UN Special Rapporteur, Professor John Dugard, writing on "Israel's Impunity from Peremptory Norms", Professor John Quigley, who examines "Israel's Unlawful 1967 Invasion of Palestine", Professor Ray Murphy et. al, who highlight, "The Occupation of Palestine from a TWAIL Lens" and Professor Aeyal Gross, illuminating on "Reducing the Friction: A Functional Analysis of the Transformed Occupation of the Gaza Strip".
Eminent Palestinian academics Professor Halla Shoaibi and Professor Asem Khalil discuss "Criminal Jurisdiction under Occupation: the Oslo Accords and the International Criminal Court", while Dr Rimona Afana examines "The Occupation-Colonialism Continuum: Impact on Transitional Justice in Palestine/Israel". Prominent Palestinian lawyer Sahar Francis investigates, "Israel's Use of the Military Justice System as an Annexationist Tool", while Palestinian practitioners and academics, Marya Farah and Maha Abdallah, highlight the Israeli policies and practices of, "Domination, Transformation, and Annexation via Utilities". The last chapter to the first section, ends with a poignant contribution from the late human rights defender, Suha Jarrar, on "Adaptation under Occupation: Climate Change Vulnerability in the Occupied Palestinian Territory".
Further, Thomas Hammarberg provides important reflections on "Palestinian Refugees and International Law", Professor Shane Darcy' contributes on, "Private Sector Responsibility for the Treatment of Palestinian Prisoners and Detainees in light of the Law and Policy of the International Criminal Court", Professor John Reynolds, addresses "Apartheid and International Law in Palestine", while Vito Todeschini warns of the illegality of the occupation in his Chapter, "Out of Time: on the (Il)legality of Israel's Occupation of the West Bank".
…………..
Al-Haq's authoritative new sequel edited by Nada Kiswanson, Susan Power, Prolonged Occupation and International Law (2023) receives international acclaim:
This collection is the best and most comprehensive scholarly work to date on International Law and the longest illegal occupation in modern world; a monumental achievement and a must read for anyone interested in human rights and ensuring accountability and justice for all violations of International Law in Occupied Palestine.
Nur Masalha, Historian and Professor, SOAS University of London
Scholarly and comprehensive, this impressive collection of essays by renowned experts, assembled by Nada Kiswanson and Susan Power, offers a tour d'horizon of the fundamental legal issues raised by Israel's prolonged occupation of Palestine as well as potential remedies that can confront the illegalities.
William A. Schabas, Professor of International Law, School of Law, Middlesex University
This volume reminds us forcefully that international law is alive and vibrant and can, with imagination and in concert with social movements, move us forward in the struggle for justice in Palestine, and elsewhere. It is a signal achievement.
George Bisharat, The Honorable Raymond L. Sullivan Professor of Law, University of California Hastings College of the Law
Prolonged Occupation and International Law is an outstanding excursus into the main international law issues raised by the prolonged occupation of Palestine. The book brings new perspectives to familiar debates, such as the constraints humanitarian law places on Israel as occupier, and the legality of settlements and population transfer. It also examines very current issues, such as the cases brought by Palestinians to the International Criminal Court, the legality of Europe's trade with Israeli settlement products, the apartheid framework, and whether Israeli occupation is--or always has been--annexation. The chapters are written by acknowledged experts on each issue, are thoroughly readable, and provide a wealth of new and updated information. The book is a must-read for anyone seeking to understand the complex legal issues underlying Israel's occupation of Palestine, and will be a reference work for those working on any one of its topics.
Susan M. Akram, Clinical Professor and Director, International Human Rights Clinic, Boston University School of Law
An indispensable resource for anyone who wishes to understand the ways law was abused to perpetuate the occupation of Palestine, and the role law could and should have in ending it and bringing much awaited justice for millions.
Michael Sfard, Israeli Human Rights Lawyer and the author of "The Wall and the Gate: Israel, Palestine and the Legal Battle for Human Rights"
Into today's "deepening environment of political inertia" (co-editor Nada Kiswanson) comes this searing collection of essays examining international legal frameworks and legal responsibilities closely and tangibly informed by the painful realities of Palestinian life under prolonged Israeli occupation. The editors, authors, convenors and everyone else involved are to be congratulated on producing a volume that will surely become a seminal resource for anyone serious about studying what Palestine has to teach us about international law.
Lynn Welchman, Professor, School of Law, SOAS University of London
At a time when human rights advocates are under siege and the oppression of marginalized communities is normalized, works like this edited volume cut through the noise. Prolonged Occupation & International Law forces diplomats, international lawyers, and scholars to take notice: those who oppose structural violence and systematic human rights abuses won't go quietly, even where prevailing powers prefer to silence them.
Mark Kersten, Consultant, Wayamo Foundation, and Senior Researcher, Munk School of Global Affairs and Public Policy