Al-Haq Joins a Press Conference on the Killing of Shireen Abu Aqleh
Al-Haq Joins a Press Conference on the Killing of Shireen Abu Aqleh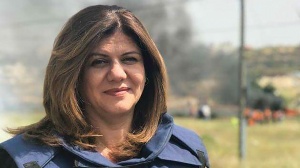 Today, 20 September 2022, the International Federation of Journalists (IFJ), International Centre of Justice for Palestinians (ICJP), and Palestinian Journalists Syndicate (PJS) will deliver a new legal complaint to the International Criminal Court on the killing of the Palestinian journalist Shireen Abu Aqleh and the shooting of Palestinian journalist Ali Samoudi, on behalf of Abu Aqleh's family and Samoudi. Following the hand delivery of the legal complaint, a press conference will be held, announcing the submission of the complaint, with Anton Abu Aqleh, Shireen's brother, and representatives of IFJ, ICJP, PJS, Forensic Architecture and Al-Haq.
Relying on the findings of the forensic investigation into the killing of Shireen, which was carried out by Forensic Architecture along with Al-Haq's new Forensic Architecture Investigation Unit, Al-Haq prepared a legal brief highlighting that the Israeli Occupying Forces' (IOF) intentional targeting of the journalists, including Shireen Abu Aqleh, is clearly in violation of international humanitarian law and international human rights law. Specifically, the targeting and killing of Shireen Abu Aqleh amount to wilful killing, a grave breach of the Fourth Geneva Convention and a war crime under the Rome Statute, and contribute to the commission of the crime against humanity of murder, considering the IOF's widespread and systematic shoot-to-kill policy and excessive use of force against Palestinians on both sides of the Green Line.
Read Al-Haq's short legal brief here.