As Israel Announces a Ceasefire, Leaving Gaza with 11th Day of Indiscriminate Destruction of Civilian Properties, War Crimes must be Investigated by International Courts
As Israel Announces a Ceasefire, Leaving Gaza with 11th Day of Indiscriminate Destruction of Civilian Properties, War Crimes must be Investigated by International Courts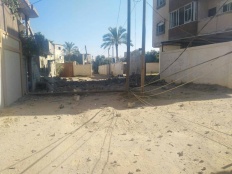 (Reporting Period 20 May 2021)
On the 11th day of the Israel's military offensive on the Gaza Strip, and while Israel and Hamas announced a ceasefire taking effect as of Friday 21 May 2021, 2:00 am, the Israeli Occupying Forces indiscriminate and systematic raids on Gaza continues to target more civilian residential properties, agricultural lands, and road infrastructures.
As of 21 May 2021, at 10:00 pm, the Palestinian Ministry of Health in Gaza reported 248 Palestinian casualties, including 39 women and 66 children, and 1,948 wounded.
Al-Haq documented the Israeli Occupying Forces (IOF) relentless daily aerial bombardments across the entire Gaza Strip, in addition to shelling both from IOF tanks stationed behind the border, and IOF gunboats stationed at sea, placing the densely populated Gaza Strip and its mostly civilian population, under danger of direct and indiscriminate attack.
20 May 2021: Al-Haq Documentation Continues from the Previous Bombardments
On 20 May 2021, Al-Haq documented the killing of Yahya Muhammad Subhi Al-Hadidi, 10, along with his mother and his three siblings, in the bombing of Alaa Abu Hatab's house, without prior warning some days previously, on 15 May, at 1:30 pm, next to the Al-Sousi Mosque, Al-Shati refugee camp, west of Gaza City. Civil defense teams are still searching for missing people, and at the time of reporting, the casualty toll has reached nine civilians, including:
Muhammad Khamis Abu Hatab, 30,

Alaa Abu Hatab's wife and their four children,

Yusef Alaa Muhammad Abu Hatab, 10

,

Bilal Alaa Muhammad Abu Hatab, 9,

Maryam Alaa Abu Hatab, 7,

Yamen Alaa Abu Hatab, 5,
Maha Muhammad Abd Al-Aal Abu Hatab "Al-Hadidi", 34

Alaa Abu Hatab's sister, and her children,

Suhaib Muhammad Subhi al-Hadidi, 12,

Abdul-Rahman Muhammad Subhi al-Hadidi, 7,

Yahya Muhammad Subhi Al-Hadidi, 10

.
On 20 May 2021, Al-Haq reported that the death of a previously unknown civilian, killed during the Israeli bombing of the fifth floor of the Zoroub building, center of Gaza City, the previous day, had since been identified as Hosni Muhammad Ali Salem, 22. His body had been reduced to pieces due to several burns that concealed the features of his face.
On 19 May 2021, Aysar Abdel Rahim Taha Al-Halabi, 48, was reported killed by suffocation, at Al-Shifaa Hospital, Gaza City, after the bombing of a tunnel in an unknown location.
19 May 2021: Destruction of Civilian Properties, Leading to Civilian Deaths
At least three civilians were killed as a result of the Israeli Occupying Forces' targeting of residential units:
At approximately 2:00 pm, on 19 May, the Israeli artillery, stationed behind the border in the northern Gaza Strip, shelled the homes of civilians located in the town of Beit Hanoun, including the property of Zakaria Muhammad Hamad's, killing his son Raed Zakaria Muhammad Hamad, 32, and wounding another civilian.
At 8:00 pm on the same day, IOF warplanes targeted Saad Ali Asali's house, Shashaa neighborhood, east of Jabalia, in the northern Gaza Strip. His daughter, Dima Saad Ali Asalia, 10, succumbed to multiple shrapnel injuries in different parts of the body, as she was hit while returning from her sister's next-door apartment, where she had gone to bring an electric cooker to bake some bread for the family.
The following morning at 5:10 am, on 20 May, Israeli warplanes bombed Mohammed Khaled Al-Khawalda's house, located in Al-Satar Al-Gharbi neighborhood, Khan Yunis. This resulted in extensive damage to it, and severe damage to a neighboring house, and resulted in the death of Hoda Salah Rabi` al-Khazindar, 36, and the injury of nine civilians.
At the same time, the IOF targeted a number of residential units, some of them inhabited by large extended families, including children, without causing any casualties:
At 12:50 pm on 19 May 2021, IOF warplanes bombed Oudeh Deif Allah Odeh Abu Mustafa's three-storey house, Bani Suhaila.
At

2:30 pm on 19 May, warplanes bombed the house of Nasser Al-Attar, south of Rafah, with two missiles. The shelling destroyed it completely. Several nearby homes were partially damaged

.

At 3:45 pm on Wednesday 19/5/2021, the Israeli occupation warplanes bombed with two missiles the house of Muhammad Al-Bawab, in Al-Jeneina neighborhood in Rafah, completely destroying it.

At 10:00 pm on 19 May, an Israeli warplane bombed Ali Muhammad Abu Zerqa's two-story house, Emirati neighborhood, west of Khan Yunis, inhabited by two families consisting of 16 people, including 10 children and 4 women.

At

11:40 pm on 19 May, Israeli drones bombed the house of Hussein al-Mughayir, located in the Shabura area of the Rafah refugee camp, with two missiles, causing partial damage to it

.

At approximately 00:10 on Thursday 20 May, IOF warplanes targeted the house of Muhammad and Munis Muhareb, in the customs police area, east of Maan. The missile fell in the house without exploding, and penetrated the walls of the house, resulting in the injury of three civilians, including two children.

At approximately 6:00 am, on 20 May, IOF warplanes targeted, Hazem Muhammad Antar Aslam's apartment, on the fifth floor of his son's five-storey building, near to the Abdullah Azzam Mosque, Zeitoun neighborhood, east of Gaza City.

The bombing wounded four children while they were sleeping. According to medical sources, the wounds of Farah Hazem Muhammad Aslam, 10, are so extreme that doctors may have to amputate her leg.

At 6:30 am, an Israeli warplane bombed Mohammed Ahmed Al-Ghamri's house, inhabited by four families, consisting of 20 people, including 10 children and five women.

At the same time, Israeli warplanes targeted

Al-Batniji and Al-Badrasawi Residential Building, consisting of six floors and 16 apartments, in Al-Quds Open University Street, west of Gaza City. The bombing destroyed the two apartments located on the first and second floors of the northeastern side, damaged the rest of the apartment, as well as Bakr Ali Ahmed Sabah's house, located in front of the targeted building, an ambulance parked nearby and a number of neighboring houses.

At approximately 7:30 am on 20 May, Israeli warplanes bombed Darwish Abdul Karim Ammar's house in Al-Bureij camp, inhabited by seven families consisting of 36 persons, including 17 children, resulting in the massive destruction of the house, as well as severe and partial damage to a number of neighboring houses, without causing any injuries.
Targeting of other Civilian Objects, including a School, Factories, Agricultural Fields, Public Transport Vehicles and Road Infrastructure
Agricultural Lands. On 19 May, at noon, an Israeli aircraft bombed an agricultural land in the Al-Mashaleh neighborhood in Deir Al-Balah, injuring one civilian. At 16:10 pm, on the same day, Israeli Occupying Forces bombed towards agricultural lands east, of the village of Juhr Al-Deek, south of Gaza City, killing Hassan Sami Al-Borno, 63, while he was on his agricultural land.
Public Transport Vehicles. At approximately 9:00 pm on 19 May, an Israeli warplane bombed a public transport truck belonging to Abdullah Jamal Muhammad Darwish, 33, while it was parked near his home in Ard al-Najjar in Camp 2, West of Nuseirat camp, severely damaging the truck, damaging the windows of another bus transporting passengers as well as several houses around the site.
School. The following day, at around 7:30 am, on May 2021, a missile landed in the vicinity of Al-Nasr Islamic Model School, located near Al-Nasr Children's Hospital, and Al-Ayoun Hospital, northwest of Gaza City, and the bombing caused partial damage to the school's sports field.
Road Infrastructures. On 20 May 2021, at approximately 2:30 am, the Israeli warplanes bombed the main road on Jabalia Camp, with two missiles, which separates Block 7 and Block 9, located in front of Safi building materials stores in Jabalia camp. The bombing wounded 7 civilians, including 3 women and one child, and damaged many residential homes and infrastructures. The occupation warplanes simultaneously bombed the main street in the Al-Saftawi neighborhood near Al-Saftawi Junction, causing severe damage to the place, and destroying the asphalt road and parts of the sewage networks in the place.
Factories. At dawn on 20 May, IOF tanks and vehicles stationed behind the borders east of Gaza City, with a number of artillery shells, randomly targeted different areas of Gaza City. They bombed several civilian properties including two factories – the Foam Line Factory for the manufacture of cork dishes and Al-Sawafiri factory for home furniture, located east of Gaza City, as well as three residential units and the Al-Nasr Islamic Model School. [For more attacks on commercial property see Attacks on Business Properties by Israel's Offensive in Gaza: Sweeping and Indiscriminate Destructions Designed to have an Enduring Economic Effect]
Conclusion
The 11th day of the Israeli Occupying Forces' offensive on Gaza reveals a pattern of indiscriminate and systematic attacks on civilian properties, most of them residential units inhabited by large families.
During the conduct of hostilities, Israel must comply with the principle of distinction between civilian and military objects, as per Article 48 of the First Protocol to the Geneva Conventions, as well as the prohibition of indiscriminate attacks "which may be expected to cause incidental loss of civilian life, injury to civilians, damage to civilian objects, or a combination thereof, which would be excessive in relation to the concrete and direct military advantage anticipated" as per Article 51(5)(b) of the First Protocol to the Geneva Conventions, also considered as customary law.
As a ceasefire announces the end of open hostilities, Israel has to take responsibility for its numerous violations amounting to war crimes and crimes against humanity. Al-Haq urges the international community to take immediate concrete and effective measures to bring Israel in compliance with its obligations to spare and protect the Palestinian civilian population. Al-Haq also calls on the Prosecutor of the International Criminal Court to include Israel's 2021 military offensive on the Gaza Strip into the scope of its investigation for war crimes and crimes against humanity.