Open Letter to UN Security Council: Palestinians call for concrete and immediate actions to address root causes of prolonged denial of Palestinian rights, words of condemnation are not enough
Open Letter to UN Security Council: Palestinians call for concrete and immediate actions to address root causes of prolonged denial of Palestinian rights, words of condemnation are not enough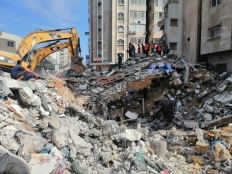 Today, Sunday 16 May 2021, the United Nation Security Council (UNSC) will finally meet and discuss publicly the on-going Israeli military assault on the Gaza Strip, and the escalation of attacks against the Palestinian people, on both sides of the Green Line. The UNSC, has reached 'a compromise over' United States (U.S.) 'objections' to a meeting last Friday[1] and the U.S. blocking of a common statement initiated by UNSC member States, at a time when Israel has launched a full-scale military offensive on the besieged Gaza Strip, with the Palestinian Ministry of Health reporting 164 Palestinians, including 47 children, killed and 1,050 wounded in the Gaza Strip, as of Sunday 16 May 2021.[2]
Whilst the U.S. has acknowledged the 'steadfast partnership between the United States and Israel'[3] and the U.S. Secretary of State has repeatedly assured U.S. support for its ally, Israel[4] - the Palestinian people as a whole, are omitted from the diplomatic narrative, an omission that is detrimental to the public discourse in general. Critically, recent 'tensions' and 'violence' are the result of Israel's settler-colonial strategy of fragmentation, constructed through laws, policies and practices that amount to the crime of apartheid, as examined and highlighted by Palestinian, regional and international experts and organisations.[5] Instead, Palestinians, a colonized people and protected population, are addressed as one of the parties that are responsible for the state-sponsored 'violence' of Israel, the Occupying Power. The international community and all States must recognise the root causes of the situation to be finally able to achieve justice.
In several statements, U.S. officials have expressed 'concerns over Israeli security', and reiterated U.S. support for 'Israel's right to defend itself' while blocking any attempts by the UNSC to issue a statement allowing for the bilateral and collective diplomatic efforts. The unliveable conditions Palestinians in Gaza have suffered during the 14-years long illegal military blockade and closure from air, land and sea of the 51 kilometre long Gaza Strip, densely populated with two million Palestinians (incl. one million children), were, most recently, reasserted by the UN Special Rapporteur Michael Lynk, as amounting to the crime of collective punishment.[6]
Notably Israel has strategically fragmented the Palestinian people depending on their place of residence,[7] a tactic which Israel uses to control and dominate the Palestinian people as a whole, under the administration of Israel's military rule and apartheid regime. This does not happen in a political vacuum - the neutral diplomatic narrative led by foreign policy concerns and bilateral relations with Israel, affects and prevents many States and officials from the immediate intervention required by international law.[8] This has resulted in disproportionate U.S. support for Israel and its so-called 'right to defend' itself over the right to life of Palestinian civilians who are separated and segregated under Israel's apartheid regime.
This power dynamic overrides any attempts by the Palestinian people as a whole to be 'admitted' by the international community to their right to self-determination and agency. It further compromises the rights of Palestinian citizens and residents of Israel not to be forcefully expelled from their houses in an on-going Nakba, infringes upon Palestinian rights to be protected from discrimination on a daily basis, and denies Palestinian refugees their right of return to their homes as guaranteed by international law.[9]
The power asymmetry seems to be ignored or not taken into account whilst talking about Israel and Palestine - two sides of an imagined conflict 'to reward Israel for its continued violations of international law and green light its colonization of Palestine'.[10]
Israel has used its arms industry to systematically control the Palestinian people and repress all Palestinian challenges to its military occupation and apartheid regime. Israel uses unnecessary, disproportionate, and excessive force while suppressing peaceful protests, at search-and-arrest operations, and at checkpoints, in complete disregard for Palestinian life. Israel's excessive use of force is further evidenced now, as Israeli forces continue to attack Palestinians in the Gaza Strip, Palestinian protesters throughout the occupied West Bank, including East Jerusalem and Palestinian citizens of Israel.
In light of Israel's ongoing military assault and bombardment of the civilian population and infrastructure in the Gaza Strip, attacks on Palestinians throughout the Occupied Palestinian Territory, on-going dispossession and forced expulsion of Palestinian families in Jerusalem, in particular in Sheikh Jarrah and Silwan, as well as government-led incitement to racist assaults and hate crimes on Palestinians in Israel, Al-Haq urges all States to address the root causes of this violence, and:
Call for Israel to cease immediately its military offensive in the Gaza Strip, attacks on Palestinians in the West Bank, including East Jerusalem and Palestinian citizens of Israel;

Call for the international recognition and condemnation of Israel's apartheid regime over the Palestinian people as a whole, as an internationally wrongful act;

Ensure the implementation of international law and the protection of the Palestinian people, including through the implementation of economic sanctions and other measures, until Israel adheres to its international obligations under the UN Charter, including the prohibition on the acquisition of territory through use of force;

To unilaterally or collectively implement comprehensive trade sanctions against Israel, to ensure Israel's compliance with international law and prevent further erasure of Palestinian presence from the occupied territory. Particular emphasis should be given to the need to end the sale or supply of military products to Israel;

End all trade in weapons with Israel through a two-way arms embargo and end military-security cooperation;

Calls on third States to implement laws banning the import of goods produced in illegal settlements located in any occupied territory, having particular reference to UNSC resolution 2334 (2016) and the UN's 2020 report on business enterprises involved in certain activities relating to settlements in the Occupied Palestinian Territory;

Call on Israel to immediately repeal all laws it has enacted to further the Israeli policy of population transfer and achieve its demographic goals in Jerusalem, in violation of Palestinians' fundamental rights, including their right to self-determination and right to return and reclaim their properties, including 1950 Absentees' Property Law and the 1970 Legal and Administrative Matters Law;

Urge Israel to immediately and urgently lift the land and sea closure of the Gaza Strip;

Address Israel's settler-colonial regime, and take effective and concrete measures to dismantle such regime, end Israel's military occupation and de facto and de jure annexation of Palestine.

Al-Haq further calls on UN Member States to address the situation in Palestine at the General Assembly under the Uniting for Peace resolution 377 procedure. If the UN Security Council fails to exercise its primary responsibility to act as required to maintain international peace and security it is incumbent on the General Assembly to act in the face of ongoing acts of aggression, settler-colonisation and apartheid to implement concrete measures, including full countermeasures which will bring Israel's apartheid regime to an end, and enable Palestinians to exercise their right to self-determination".
---