Commemorating International Women's Day: Palestinian Women Continue to Challenge Israel's Apartheid Regime During a Global Pandemic
Commemorating International Women's Day: Palestinian Women Continue to Challenge Israel's Apartheid Regime During a Global Pandemic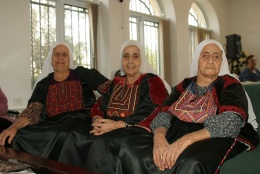 On International Women's Day, Al-Haq pays tribute to all women world-wide and to Palestinian women in particular, and affirms its appreciation and support for the steadfastness and resilience of Palestinian women subjected to, facing, and challenging, Israel's widespread and systematic human rights violations, the gendered implications of the prolonged military occupation, as well as bigoted and patriarchal social norms and discriminatory laws. This year, as the world faces and reacts to a global pandemic, Palestinian women, who juggle their dual roles in public life and family life, are the most affected by the impacts of the COVID-19 pandemic in the Palestinian society. In addition to being subjected to Israel's unabated, pervasive and unlawful policies and practices, Palestinian women's employment and labour force and their ability to access justice have been negatively affected by the COVID-19 pandemic.
Living under Israel's 72-year-old apartheid regime over the Palestinian people as a whole, a 53-year-old prolonged military and unrelenting occupation in the Occupied Palestinian Territory (OPT), and a 13-year-old closure in the Gaza Strip, Palestinian women continue to struggle against many forms of oppression and injustice, including Israel's excessive use of force and shoot-to-kill policy, movement restrictions, house demolitions, harassment, intimidation and ill-treatment at Israeli checkpoints scattered throughout the West Bank, including around East Jerusalem, alongside increased measures of collective punishment, such as punitive residency revocations and punitive home demolitions.
Since the start of the Israeli occupation in 1967, more than 10,000 Palestinian women have been arrested and detained by the Israeli occupying authorities. In 2020 alone, the Israeli occupying forces detained 4,636 Palestinians, including 543 children, and 128 women. Currently, 36 Palestinian females, including those who are mothers, injured and sick, commemorate International Women's Day away from their families, suffering harsh and unbearable living conditions in Israeli prisons and detention centres.
Meanwhile, gender-based violence continues to be a reality in the Palestinian society, as the State of Palestine fails to take sufficient and effective measures to prevent it and to ensure protection of women's rights, protected under various international conventions in which the State of Palestine joined without reservations. For example, the State of Palestine has failed, for almost 15 years, to advance and pass the Draft Law on the Protection of the Family from Violence. In fact, the current legislations further include discriminatory texts against women. Palestinian women and girls with disability further suffer from complex discrimination due to their disability, and child marriage is still largely practiced, in violation of their rights stipulated by the Palestinian Child Law and the Convention on the Rights of the Child.
Further, as the Palestinian society embarks on the long-awaited democratic process of elections, Al-Haq notes, with concern, the limited female participation in political life, and stresses that female empowerment should include involvement in political, social, and economic life, as well as decision making processes. In addition, Al-Haq underscores that importance of having proper representation of women during elections, which would require amendments of electoral laws and policies.
Accordingly, as the world celebrates International Women's Day, Al-Haq takes this opportunity to remind the international community of the Palestinian struggle for their fundamental and inalienable rights, including the right to self-determination and right of return, and the urgent need to finally put an end to decades of Israel's impunity, to achieve accountability for the Palestinian people. In particular, Al-Haq calls on:
The international community to address and recognise Israel's apartheid regime over the Palestinian people as whole, on both sides of the Green Line and in the diaspora as refugees and exiles abroad;
The international community to take effective measures to ensure international accountability for Palestinian victims, including by fully cooperating with the International Criminal Court to ensure the arrest and transfer to the Hague of persons investigated and accused of international crimes, and to prevent the continued perpetration of international crimes against the Palestinian people;
The State of Palestine to take immediate, effective and concrete measures to combat violence against women, promote their fundamental rights, and to ensure a wider participation for women at all levels, particularly in decision-making and public life; and
The State of Palestine to enhance women's access to justice, including by developing the legislative and procedural structure to ensure the achievement of fairness and respect for the human dignity of women.