Al-Haq Sends an Urgent Appeal Concerning Israel's Tightening Restrictions and COVID-19 Outbreak in Gaza
Al-Haq Sends an Urgent Appeal Concerning Israel's Tightening Restrictions and COVID-19 Outbreak in Gaza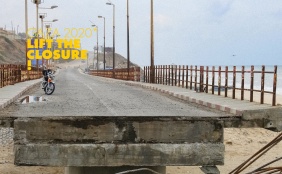 On 1 September 2020, Yousef Omar Mahmoud Al-Hazeen, 5 years old, his four-year-old brother, Mahmoud, and two-year-old brother, Mohammad, passed away in a house fire, caused by a candle. The family were forced to use candles as a result of Israel's punitive decision to prevent the entry of fuel to Gaza, which causes widespread power cuts. On 3 September 2020, in light of Israel's tightening of the restrictions on Gaza and the COVID-19 outbreak, Al-Haq sent an Urgent Appeal to UN Special Procedures, urging them to fulfil Palestinian rights, which are systematically violated by Israel's unlawful closure of Gaza, and urging them to call upon third States to take effective steps to ensure international accountability and justice.
As part of its campaign of collective punishment, designed to control and dominate the Palestinian population in order to maintain its apartheid regime, Israel has escalated its restrictions on Gaza's two million population by imposing a complete closure on the sea, and the only commercial checkpoint connecting Gaza with Israel. As a consequence of the restrictions on fuel imports Palestinians in Gaza are reduced to 3-4 hours of electricity a day. On 31 August 2020, a Qatari-mediated deal between the de-facto Hamas government in Gaza and Israel was announced, stipulating the cessation of launching incendiary devices from Gaza and of missiles from Israel, the reopening by Israel of the Karam Abu Salem (Kerem Shalom) checkpoint, and the restoration of the Palestinian fishing zone to 15 nautical miles.
Al-Haq's urgent appeal highlighted that the broader policy of collective punishment, while arbitrary, punitive, and unlawful, has been systematically and unceasingly applied by Israel. For 13 years, Palestinians in the Gaza Strip have been punitively and collectively punished by comprehensive and complex Israeli policies and practices, including the imposition of the prolonged closure.
Critically, Al-Haq stressed that in the absence of international justice and accountability, Israel will continue to ignore its legal obligations as Occupying Power, so long as it benefits from an unlawfully created culture of impunity. Accordingly, the appeal requests the intervention of UN human rights experts in urging the fulfilment of Palestinian rights, and urges them to call upon third States to take effective steps to ensure the implementation of international accountability and to achieve justice.
For the individual support civil society campaign, calling to lift the closure immediately, sign the petition in solidarity with Palestinians in Gaza.
tRead the full urgent appeal here.